Henan Jinrui garri processing machines were sold to Ghana
On October 17, 2023, garri processing machines from Henan Jinrui were sold to Ghana. These include cassava peeling machines, garri frying machines, vibration sieve, electronic scales, and manual bag sewing machines.
Transaction background
At the end of August 2023, a Ghanaian customer contacted us through the Jinrui company's website and expressed that he needed some garri processing machines. At present, the customer already has a grating machine and hydraulic dewatering machine, so he needs cassava peeling machines, garri frying machines, and vibration sieve. The important thing is that Ghanaian customers are more concerned about the power consumption, gas, or fuel consumption of garri processing machines. After getting the solution from Jinrui Company, the customer signed a purchase contract with us with confidence.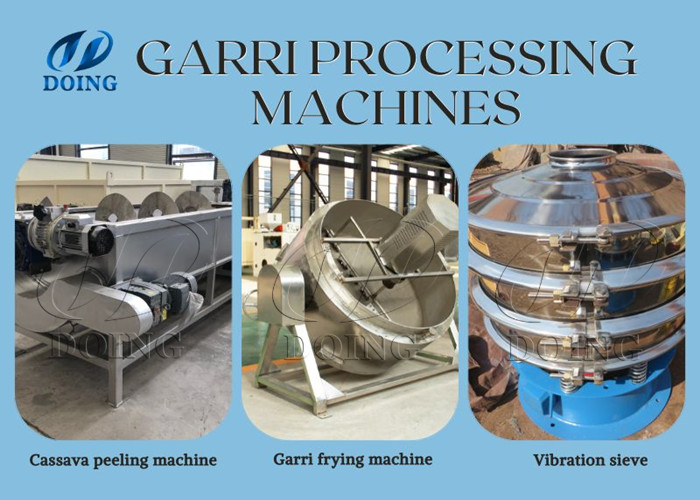 Garri processing machines from Henan Jinrui
Machine introduction
The cassava peeling machine adopts the latest design of emery roller peeling, the peeling rate can reach more than 95%. Emery roller peeling can peel the cassava epidermis and the second layer of skin, so the surface of the material after peeling is smoother and the material loss is low.
Henan Jinrui's garri frying machine is made of full stainless steel, which can ensure materials are clean hygienic, and easy to clean after frying. During the running of equipment, people don't need to stand by to stir fry garri to avoid the paste of materials. Besides it has the advantages of high working efficiency, uniform frying of materials, and easy operation.
Garri vibration sieve is kind a special screening machine with high precision and high efficiency. The vibration sieve vertical-motor system can separate garri, flour, or starch effectively, so it can promote the efficiency of the whole production line.
Henan Jinrui Company produces various types of cassava processing machines, including garri processing machines, cassava flour processing machines, cassava starch processing machines, and cassava chips processing machines. We have branches and factories in Nigeria, if you have any needs, please feel free to contact us.
CONTACT US
DOING company offers cassava processing machine from single machine to the complete production line. If you want to get more details about cassava processing machine, please contact us:
Do you want to buy machine?
Yes, I want to buy machine
No, I Just learning
What is your raw material?
Cassava
Potato
Sweet potato
Others
2. What is the final product you want to produce?
Garri
Cassava flour
Cassava starch
Cassava chips
Attiekie
Bammy
Others
3.What is your capacity plan?
Small scale garri machine
1ton per day
2tons per day
3tons per day
10tons per day
20tons per day
Others
3.What is your capacity plan?
Small scale
5tons per day
10tons per day
20tons per day
50tons per day
100tons per day
Others
3.What is your capacity plan?
Small scale
5tons per day
10tons per day
20tons per day
50tons per day
100tons per day
200tons per day
300tons per day
Others
3.What is your capacity plan?
Small scale
Middle type
Large scale
What is your capacity plan?
Small scale
5tons per day
10tons per day
20tons per day
50tons per day
100tons per day
200tons per day
300tons per day
Others

Chat Online

Tel/WhatsApp
0086 135 2661 5783

Leave Message