Home
>
Product
>
Potato starch processing machine
>
Advanced technology of potato starch processing plant
Advanced technology of potato starch processing plant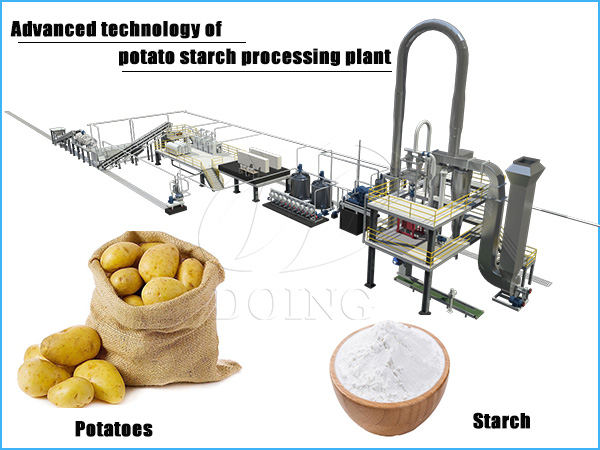 Factory direct sale contact number
The potato starch production process in potato starch processing plant comprises the steps such as delivery and unloading potatoes, cleaning and washing, wet milling or rasping, starch extraction, desanding, starch milk refining, dewatering of refined starch milk and starch drying.
Detailed description on the steps in potato starch processing plant are as following.
Step 1: Cleaning and washing
The potatoes will be cleaning and washing during transport to the next milling or rasping section by washing conveyor and de-stone washing machine.
Step 2: Milling/ rasping
After washing and de-stoning, the potatoes are transported to the hammer mill or rasper machine. After milling or rasping, potato slurry is pumped to the next starch extraction process.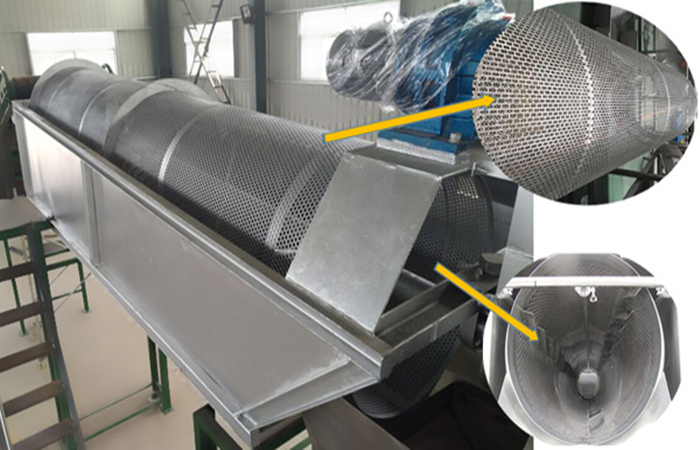 Potato washing machine
Step 3: Starch extraction
The starch extraction is separate the fiber and other insoluble impurities from potato slurry. It will need the centrifuge sieve and pressure sieve.
Step 4: Centrifuge sieve
Fiber residue long residence time, high cleaning rate, washing configuration need few units, lower in investment.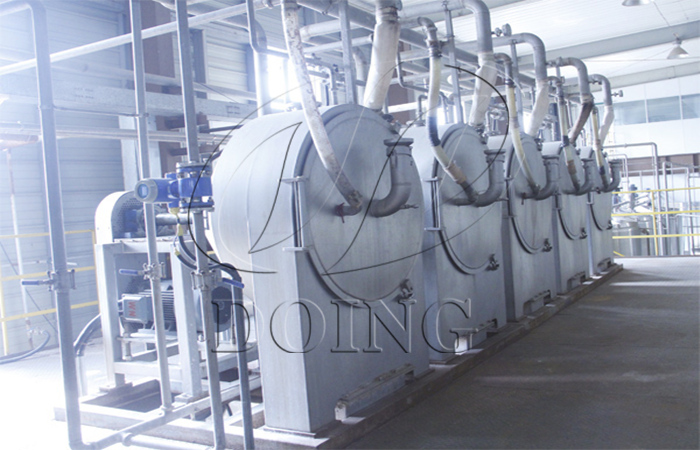 Potato starch separating machine
Step 5: Desanding
After separate the fiber, the starch milk is pumped to the de-sanding cyclone, which sand is collected into the collecting vessel and can be discharged periodically.
Step 6: Starch milk refining
The hydro cyclones are used for starch milk concentration and separate the protein purpose. The starch milk in hydro cyclones will be separate in two ways, one is for starch milk and another is for the protein and solubility impurity . Then purified and concentrated starch milk leaves hydro cyclone to vacuum filter for dewatering.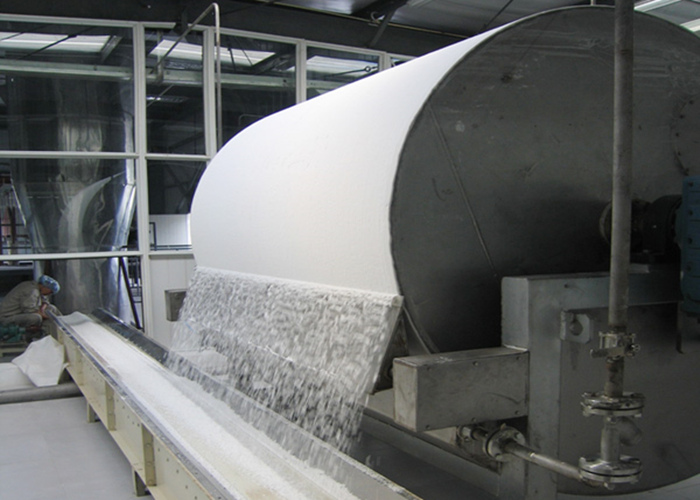 Potato starch dewatering machine
Step 7: Starch dewatering
The vacuum dehydrator dewater principle is by vacuum filter to separate the wet starch and water. The water will go inside of the drum through the filter cloth and pump away, the wet starch will stay on the surface of the filter cloth ,then scarped off by the scraper and fall into the inlet of the drying machine.
Step 8: Starch drying and sieving
The wet starch will be dried to commercial requirement by hot air in the starch dryer . Then the dry starch will be sieved to required size and can be packed directly.
Our potato starch processing plant is design based on the foundation of the processing technology in Europe – Hydro cyclone technology, with advantages as following:
1. High efficiency, high yield starch, high product quality.
2. Operational Simplicity.
3. Minimum of water and power consumption.
4. Low maintenance, simple operation.

Chat Online

Tel/WhatsApp
0086 135 2661 5783

Leave Message