The customer from Jamaica visits DOING cassava processing machine
On 1st November, 2019, the customer from Jamaica comes to visit DOING company for cassava processing machine. The customer from Jamaica need to make bammy. It is a local traditional food in Jamaica which is made from cassava.
In DOING's office, firstly the two sides has a friendly exchange. We learn about bammy is always made by manual operation in Jamaica. The process of making bammy is cleaning, washing, peeling, grating, dehydrating, sieving and cooking. DOING company can provide the cassava processing machine from cleaning to sieving for the customer from Jamaica. Then the customer from Jamaica see the 3D video of cassava processing machine in office. After preliminary understanding, the customer expresses affirmation to DOING' s company strength.
Next we drive to DOING' s factory. The field operation, demonstration and explanation are carried out by engineer in factory. After seeing these cassava processing machine, the customer from Jamaica is satisfied with the high-performance and high quality of cassava processing machine. He believes these modern machines will definitely increase production efficiency and has a high output for his bammy processing business.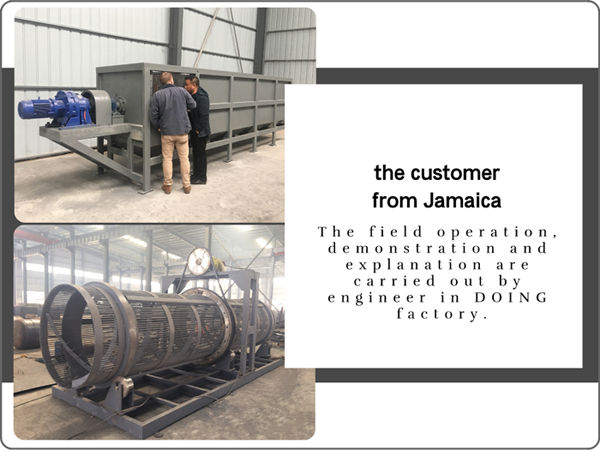 The customer from Jamaica are visiting cassava processing machine in DOING factory
After the visit, the customer from Jamaica has a deeper understanding for DOING' s cassava processing machine. In the subsequent conversation, the two sides reach a further consensus on several cooperation intentions.
With strong technical strength, advanced process, excellent product quality and perfect service system, DOING has become a manufacturer highly praised and trusted by customers. We adhere to the principle of "customer first, service first", so that DOING cassava processing machine to win the trust of customers and set up a good corporate image. If you want to start your cassava processing business, welcome to visit DOING company.

Chat Online

Tel/WhatsApp
0086 135 2661 5783

Leave Message