Drum washer
Factory direct sale contact number
1. Drum washer overview
The rotary drum washer is mainly used in the production of starch, potato flour to wash the raw material.
The drum washer works according to the principle of countercurrent washing. The material flows from the inlet to the outlet along the twisted bar while the water in the rinse bath flows in the converse direction. Such movement can eliminate the sand and mud effectively.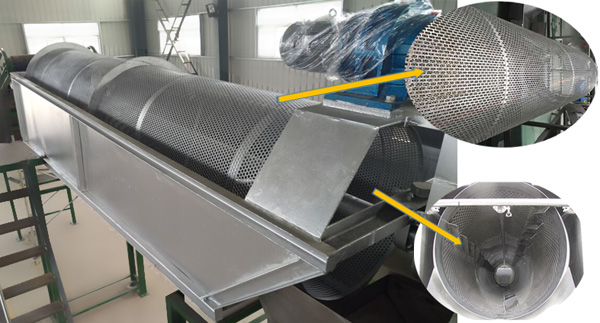 Drum washer
2. Structure and principle of drum washer
The drum washer is comprised of frame, major axis, rolling container, twisted bar, rinse bath and driving medium. The drum washer structure is simple and reasonable with a lower breakage rate and water consumption.
The material moves forward along the twisted bar to the outlet where the hopper brings the cleaned material to the conveying belt and then to the next step.
Technical parameter of drum washer:
| | | | |
| --- | --- | --- | --- |
| Model | Output (kg/h) | Power (kw) | Outer size (mm) |
| QZL50 | 3000 | 1.5 | 4000 x 500 x 600 |
| QZL60 | 4000 | 2.2 | 4500 x 520 x 620 |
| QZL70 | 5000 | 3 | 5000 x 600 x 700 |
Drum washer can applied in following starch production line:
(1) Potato starch production line
(2) Sweet potato starch production line
(3) Cassva starch production line

PREV:Washing conveyor

NEXT:Rotating vacuum filter

Chat Online

Tel/WhatsApp
0086 135 2661 5783

Leave Message