Sweet potato washing machine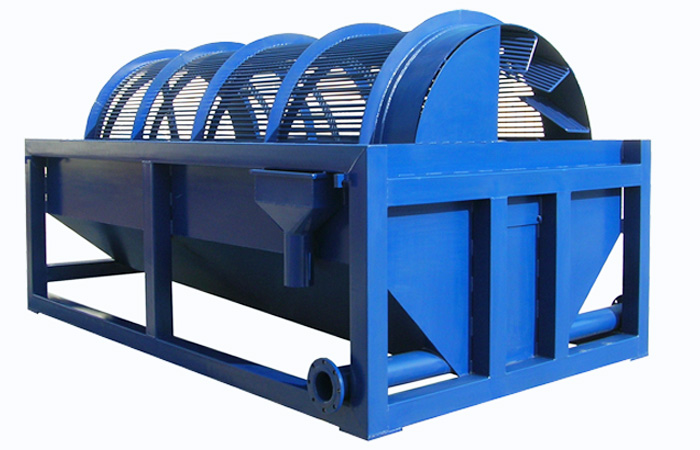 Factory direct sale contact number
Sweet potato washing machine developed by Doing company is designed reasonably, energy saving and water saving. It is widely used in the washing of sweet potatoes, potatoes, carrots, ginger, lotus root and other fruits and vegetables. It is especially suitable for cleaning the fruits and vegetables grown in the soil. It is also widely used in the cleaning of apple, pear, pineapple and green vegetables. To a certain extent, the washing efficiency and the washing rate is much better than other washing equipment. For another, as a professional sweet potato starch making machine manufacturer, our washing machine is professional in the potato and sweet potato cleaning and washing. By the way, this sweet potato washing machine also suitable for potato washing. You can click to see our sweet potato starch processing machine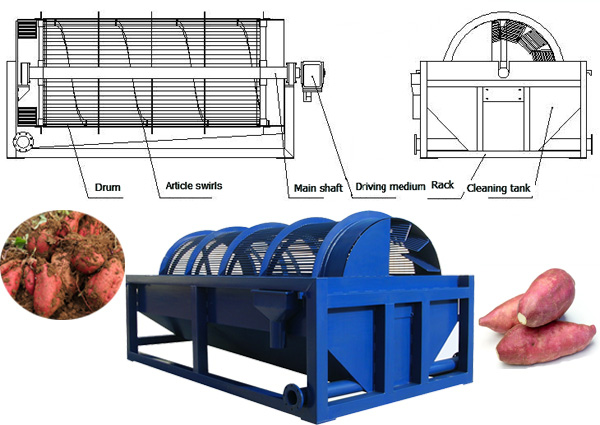 The shape of sweet potato washing machine is cylinder, it makes full use of the water to generate the spray effect. The 2.2 kilowatt motor can be used to clean 3-4 tons sweet potato per hour. The cleanliness is about 95%, and the red skin of sweet potato is removed to a great extent. The utility model has the advantages of less personnel, low labor intensity, simple structure and easy maintenance.
Sweet potato washing machine is the washing section machine in starch or flour processing line with features of simple design and sturdy construction. All the contact parts are made of stainless steel. The material is fed into the hopper continuously and gets washed by slow tumbling action of the rotary drum for long time usage. The length of the potato rotary washing machine can be customize according to capacity requirement.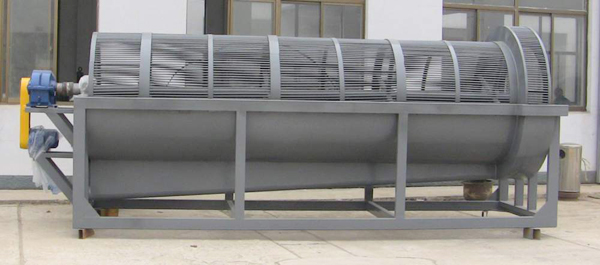 DOING sweet potato washing machine made for one customer
Features of sweet potato washing machine:
1. Reducing the damage rate of raw material an getting high extraction yield.
2. Adopting method of countercurrent washing, excellent washing result, mud and sand removing.
3. Reasonable feeding structure.
4. Compact design, big capacity, energy and water saving
5. Stable operation, easy to installation and maintenance
6. The rotating drum is made of high quality shell perforated with numerical control punch for long time.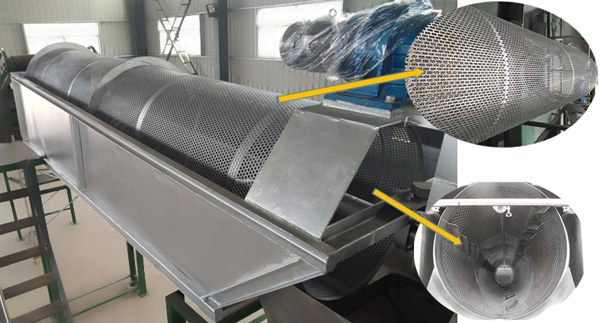 Doing Company sweet potato washing machine design and manufacturered for our customer
Sweet potato washing machine is the first equipment in its deep processing. The selection of deep processing equipment should be based on the actual situation in the local area, like the area of sweet potato in the land or the area that may be cultivated; the problem of individual capital ability or the sufficient power. It is noted that the sweet potato belongs to the seasonal processing season for 30-45 days, and the small processing is usually about 15-20 days. The reason is that the fresh sweet potato used for beating cannot be stored for too long.
Sweet potato washing machine adopts the principle of countercurrent to clean up silt and sand effectively. Material flows in the opposite direction against water in the washing tank, which makes washing completely with good efficiency.
The electric squirrel cage of the sweet potato washing machine comprises a shell, a rotor roller, a shaft coupling, an electric motor, a bearing seat and a discharging plate. After the raw material enters the rotor drum, the motor drives the rotor roller through the coupling and the bearing seat to rotate, so as to achieve the purpose of cleaning and washing. The use of electric power can reduce labor intensity, save cleaning time and improve washing efficiency.
| | | | | | | | |
| --- | --- | --- | --- | --- | --- | --- | --- |
| Model | Capacity(t/h) | Cage diameter(mm) | Speed(r/min) | Roller length(mm) | Power(kw) | Dimension(m) | Weight(kg) |
| QXJ-20 | 20-25 | 1905 | 18.25 | 4520 | 18.5 | 5.4*2.31*2.81 | 5200 |
| QXJ-30 | 30-35 | 1905 | 18.25 | 4920 | 30 | 5.93*2.31*2.81 | 5730 |
Leave a message

Tel/Whatsapp:+86 135 2661 5783