How to make cassava starch?
Doing Company is specialized in researching and developing cassava starch production technology, with a long history for starch production, we constantly update the production process of cassava starch. Therefore we are professional about the answer for the question how to make cassava starch.
1. Cleaning and washing
For the question of how to make cassava starch, firstly the raw material fresh cassava is delivery to dry sieve through scrape board to get the result of decontamination and cleaning. Then it is transported into paddle washing machine to wash away sand, dirt, soil and other impurities. Then through a paddle-washing slot, material is sent to crush section.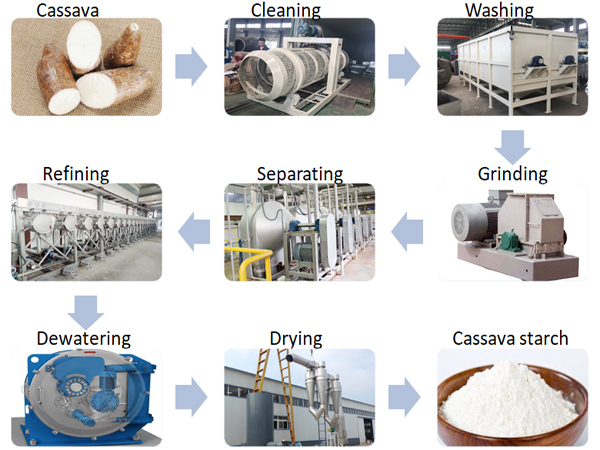 Process for how to make cassava starch
2.Crushing
As the most important step for how to make cassava starch, crushing serves to breaking the cell of cassava to release as much starch as possible. DOING rasper adopts advanced international technology whose breaking rate is more than 94%.
3. Centrifugal extraction
The crushed material is sent to centrifugal sieve through pump to extract starch and separate cassava residues for how to make cassava starch. Centrifugal sieve group are 4 or 5 stages, the front stages is to extract starch and the last stage is to dewater the cassava residue. The whole stage adopts countercurrent washing to get the best results and saving water. Cassava residue is sent out of workshop after separation of residue slurry for further processing.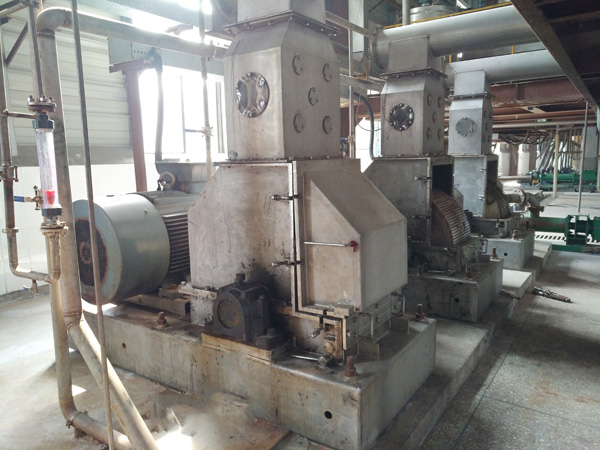 Cassava crushing machine
4. Hydrocyclone refining
Starch slurry reaches starch hydrocyclone group to refine starch. For how to make cassava starch, 18 stages hydrocyclone is usually adopted for cassava starch and is divided into three functional areas, which are starch washing, recycling and concentration area. The concentration of starch discharged from the last stage can reach 23Be. And protein is less than 0.1% which is the guarantee of starch whiteness.
5. Dehydration
Dehydration section follows the refining section. Compared with other starch, it is more suitable for cassava starch to dewater by peeler centrifuge for how to make cassava starch. Moisture content of dewatered starch is 38~40%. Wet starch is sent to drying system.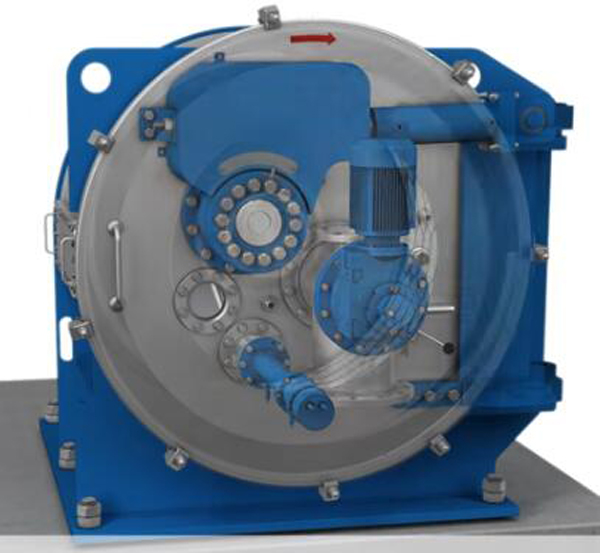 Peeler centrifuge
6. Cassava starch drying
Starch drying adopts air-drying system. We add some automatic controlling equipment to the system to control the volume of hot intaking gas and feeding through measuring the temperature of exhausting gas for how to make cassava starch. Thus the stable temperature and moderate feeding volume can be assured to guarantee starch quality.
Dried starch reaches sieving system. High efficiency cooling starch sifter is used to cool starch and get the best starch viscosity.
7. Final starch sieving
Sieved starch now reaches to packing section. We adopt automatic packer that is controlled by computer for how to make cassava starch. Because of its full-seal operation, there is no powder dust in packing shop. It is the desired packing equipment for starch plant.
CONTACT US
DOING company offers cassava processing machine from single machine to the complete production line. If you want to get more details about cassava processing machine, please contact us:
Do you want to buy machine?
Yes, I want to buy machine
No, I Just learning
What is your raw material?
Cassava
Potato
Sweet potato
Others
2. What is the final product you want to produce?
Garri
Cassava flour
Cassava starch
Cassava chips
Attiekie
Bammy
Others
3.What is your capacity plan?
Small scale garri machine
1ton per day
2tons per day
3tons per day
10tons per day
20tons per day
Others
3.What is your capacity plan?
Small scale
5tons per day
10tons per day
20tons per day
50tons per day
100tons per day
Others
3.What is your capacity plan?
Small scale
5tons per day
10tons per day
20tons per day
50tons per day
100tons per day
200tons per day
300tons per day
Others
3.What is your capacity plan?
Small scale
Middle type
Large scale
What is your capacity plan?
Small scale
5tons per day
10tons per day
20tons per day
50tons per day
100tons per day
200tons per day
300tons per day
Others

Chat Online

Tel/WhatsApp
0086 135 2661 5783

Leave Message