Home
>
News
>
Industry news
>
What is the advantage of hydrocyclone of starch processing machine of henan jinrui?
What is the advantage of hydrocyclone of starch processing machine of henan jinrui?
The hydrocyclone is the equipment needed in cassava starch processing section. The hydrocyclone is used to improve the purity of starch, separate protein, fat and cell fluid, etc. Hydrocyclones have certain advantages for starch refining. Please allow me to explain in detail.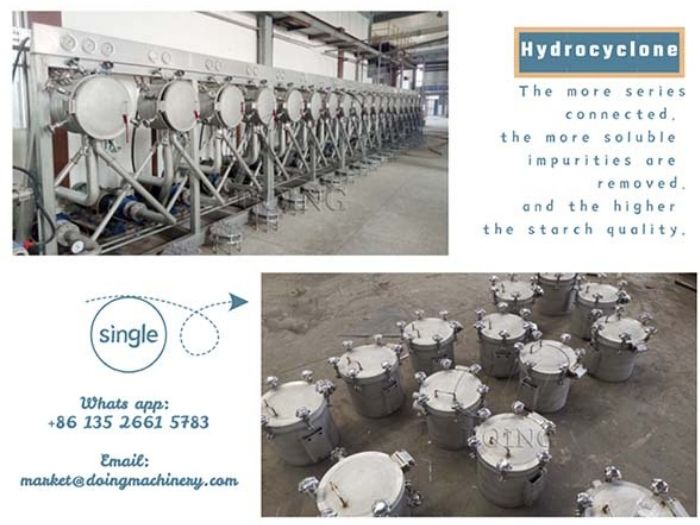 Hydrocyclone
Advantage one: Stable and simple operation
The Henan Jinrui cyclone is made of high-strength nylon material with stable and simple operation. According to different functions and uses, we have adopted an 18-stage hydrocyclone system. It includes 1-3 stages of starch recovery, 4-5 stages of concentration, 6-7 stages of purification washing and recovery, and 8-18 stages of purification washing.
Advantage two: Beautiful and generous appearance
The internal pipeline of the cyclone unit is designed by computer. It is simple and generous with a reasonable structure. This design is more technological and intelligent.
Advantage three: Soft water washing, and starch quality is guaranteed
The washing principle of countercurrent washing is adopted, and the water temperature difference is used for washing, which can fully ensure the cleanliness and purification of tapioca starch. Soft water is used for washing, and the soft water does not contain calcium, magnesium ions, and metal substances, which can also ensure the final quality of starch.
Advantage four: High extraction purity
Our company adopts starch recovery system, which can minimize starch loss. The cassava pulp enters the hydrocyclone, enters at the tangential position of the cyclone tube with a certain pressure, and makes a spiral motion in the cyclone tube to generate a large centrifugal force. The particles with larger specific gravity move downwards from the bottom, and the particles with lighter specific gravity move upwards from the overflow to achieve separation. The cassava pulp is divided into 8-18 stages for purification and washing, and impurities are divided into 1-3 stages and 6-7 stages to recover starch. Thus, the loss of starch can be reduced and the extraction rate of starch can be ensured. After the purified starch is obtained, the pump will go to the next stage for dehydration. There are some suppliers on the market that do not use 18-stage hydrocyclones, but only use a certain stage for simple purification. For example, they only used level 6 for purification, which would result in poor starch purification and influence the final starch quality. But we use 18 stages for starch purification, which is conducive to obtaining high-quality and high-purity starch.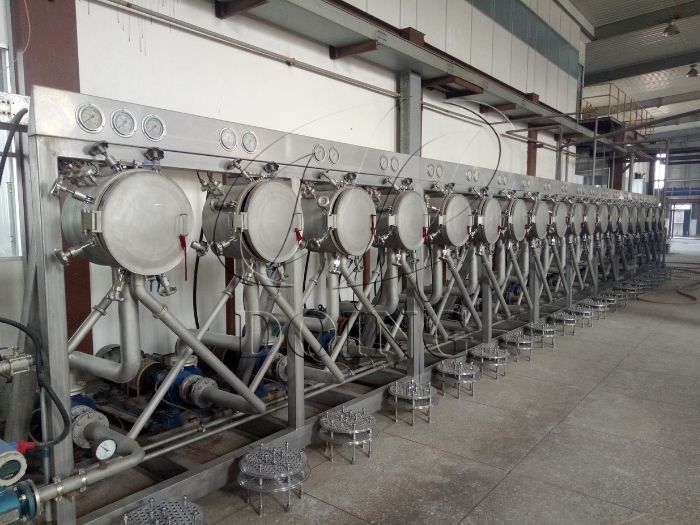 Hydrocyclone station
Do you want to learn more about the advantages of hydrocyclones? Welcome to call Henan Jinrui, and we will tailor the cyclone for your factory according to your needs.

Chat Online

Tel/WhatsApp
0086 135 2661 5783

Leave Message