The Benefits of Using Cassava Starch Processing Engine
Cassava starch processing is very popular in recent years because of various usages. It can be used in food processing, and industrial processing, such as beer, making paper, textiles, biodegradable plastic etc. So recent years more and more clients ask cassava starch processing engines and want to set up a factory locally. Today we will introduce the benefits of using a cassava starch processing engine.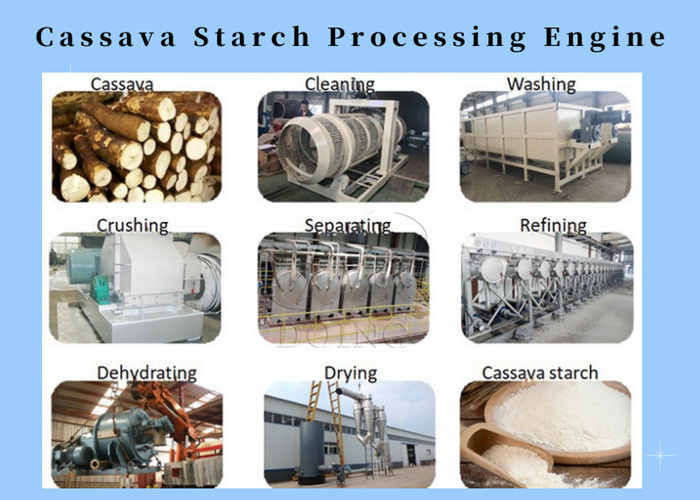 Cassava starch processing engine
1.High capacity in a short time
With a fully automatic cassava starch processing engine, it can process high capacity cassava tubers at one time. Henan Jinrui Food Company is a professional machine supplier with more than 12 years of experience. Our cassava starch processing engine can process from 2tons cassava tubers per hour to 40tons cassava tubers per hour. That is good for a complete cassava starch processing factory to run and earn more profits.
2.High-quality cassava starch
Full automatic cassava starch processing engine can process cassava tubers in a short time, from fresh cassava tubers input to final starch output, there will need about 15 minutes, which is fast and can reduce the time starch is exposed to air to get high quality cassava starch finally. Moreover, our engineer can design suitable machine lists according to different starch usage. Finally cassava starch quality can get premium product grade.
3.Save manpower
As a fully automatic cassava starch processing engine, there doesn't need much manpower, from cassava input to final output is controlled by machinery. There just need 4-5 workers to check and do the package in the factory. And when manpower reduces means can reduce touch to get high quality starch.
Therefore, if you want to improve the production efficiency of your cassava starch, choosing a cassava starch processing engine is the right choice. Not only cassava starch processing engines but Henan Jinrui also has garri/cassava flour/cassava chips processing engines with various capacities. If you are interested in our cassava processing engine, just send a message to us, and our project manager will contact u as soon as possible.
CONTACT US
DOING company offers cassava processing machine from single machine to the complete production line. If you want to get more details about cassava processing machine, please contact us:
Do you want to buy machine?
Yes, I want to buy machine
No, I Just learning
What is your raw material?
Cassava
Potato
Sweet potato
Others
2. What is the final product you want to produce?
Garri
Cassava flour
Cassava starch
Cassava chips
Attiekie
Bammy
Others
3.What is your capacity plan?
Small scale garri machine
1ton per day
2tons per day
3tons per day
10tons per day
20tons per day
Others
3.What is your capacity plan?
Small scale
5tons per day
10tons per day
20tons per day
50tons per day
100tons per day
Others
3.What is your capacity plan?
Small scale
5tons per day
10tons per day
20tons per day
50tons per day
100tons per day
200tons per day
300tons per day
Others
3.What is your capacity plan?
Small scale
Middle type
Large scale
What is your capacity plan?
Small scale
5tons per day
10tons per day
20tons per day
50tons per day
100tons per day
200tons per day
300tons per day
Others

Chat Online

Tel/WhatsApp
0086 135 2661 5783

Leave Message