Two Processing Methods of Cassava Flour: What are the Differences between Dry and Wet Methods?
Cassava flour can be produced using either dry or wet processing methods. So what are the differences between dry and wet methods? Next we will explore the differences between these two method and the advantages and disadvantages of each.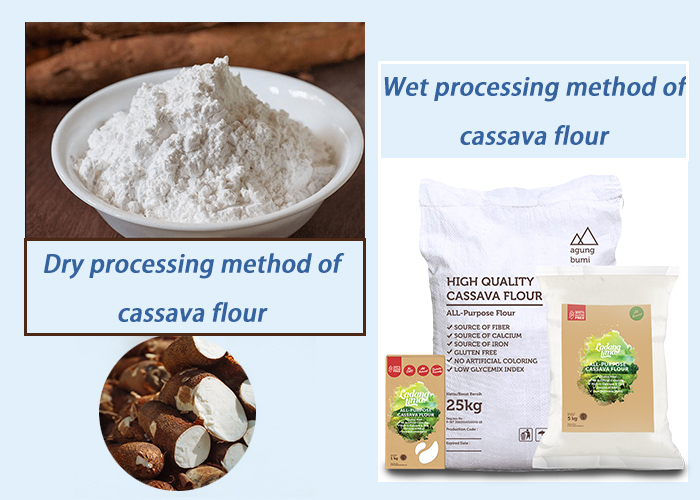 Different quality cassava flour under two processing methods
Dry Processing Method of Cassava Flour
The dry processing method of cassava flour is the more traditional method. First of all, cassava tubers are peeled and cut into thick slices. After peeling, most of the water in raw cassava is removed by the belt dryer, and then the cassava slices are ground into powder to get finished cassava flour. This method means the lower investment cost, but relatively speaking, the cassava flour made is of low whiteness, high sand content, poor taste.
Wet Processing Method of Cassava Flour
The wet processing method of cassava flour is a more modern and automated method. It is divided into three major steps.The first is the cleaning section, the main task of this stage is to wash the cassava and then remove the inner and outer skin. The second is the processing section, which breaks up the peeled cassava as much as possible and then squeezes out part of the water inside through a dewatering machine. Finally, in the drying section, the extruded cassava is put into the airflow dryer to dry the cassava powder.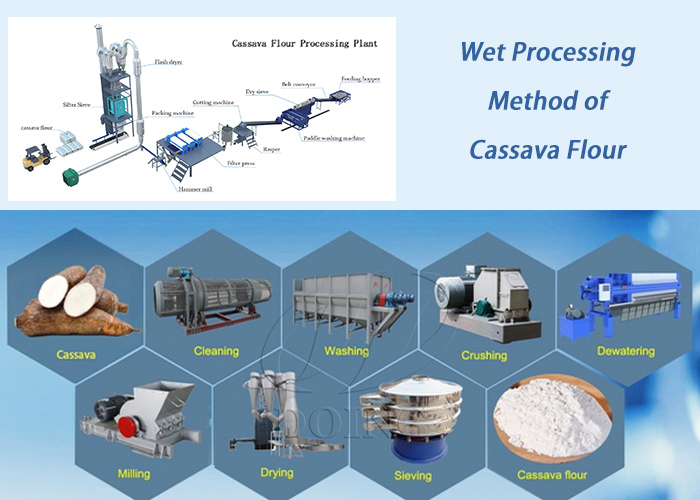 The processing technology and equipment of cassava flour with wet method
Compared with the dry processing method of cassava flour, the wet method has higher input cost, but the quality of the produced cassava flour is obviously higher than that of the dry method, which is suitable for large cassava flour production enterprises, with numerical control management to ensure a stable production process, short processing cycle, and high economic efficiency. Besides, the dry processing method can be more labor-intensive, as the cassava slices need to be manually loaded onto the belt dryer. In contrast, the wet method is more automated, and much of the processing is done by machines.
Do you wanna set up a cassava flour factory? After knowing the processing methods of cassava flour, if you also wanna know more about the equipment for building a factory, you can contact us. We are Jinrui company, a professional supplier of cassava flour processing machines and our technicians and salesman will discuss the solution design with you!
CONTACT US
DOING company offers cassava processing machine from single machine to the complete production line. If you want to get more details about cassava processing machine, please contact us:
Do you want to buy machine?
Yes, I want to buy machine
No, I Just learning
What is your raw material?
Cassava
Potato
Sweet potato
Others
2. What is the final product you want to produce?
Garri
Cassava flour
Cassava starch
Cassava chips
Attiekie
Bammy
Others
3.What is your capacity plan?
Small scale garri machine
1ton per day
2tons per day
3tons per day
10tons per day
20tons per day
Others
3.What is your capacity plan?
Small scale
5tons per day
10tons per day
20tons per day
50tons per day
100tons per day
Others
3.What is your capacity plan?
Small scale
5tons per day
10tons per day
20tons per day
50tons per day
100tons per day
200tons per day
300tons per day
Others
3.What is your capacity plan?
Small scale
Middle type
Large scale
What is your capacity plan?
Small scale
5tons per day
10tons per day
20tons per day
50tons per day
100tons per day
200tons per day
300tons per day
Others

Chat Online

Tel/WhatsApp
0086 135 2661 5783

Leave Message