Mechanical cassava peeling machine
Is there a machine for mechanically peeling cassava? Of course, with it, you can not only peel cassava quickly, but also save time and effort. This article mainly introduces cassava peeling machine through three following parts: the role of cassava peeling machine, the structure of cassava peeling machine, the design suggestion of cassava peeling machine.
1. The role of cassava peeling machine
Casssava peeling machine is used to remove the outer peels and subcutabeous cuticle of cassava roots. It is widely used in cassva products processing, such as garri processing, cassava flour processing, cassava chips processing and etc. The machine is compact and highly automated, which can reach to the peeling rate of 98%. Different output can be customized for you.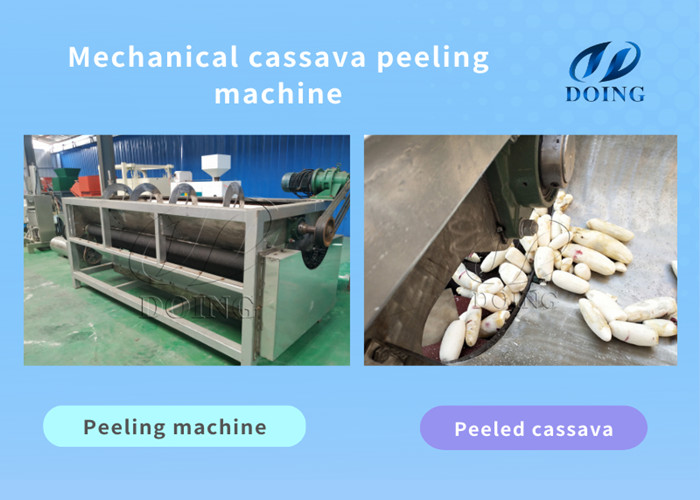 Cassava peeling machine
2. The structure of cassava peeling machine
It adopts new type of sand roller design, which has strong friction and can fully wear off second layer of white skin of cassava. The peeling effect is good and the cassava after peeling has no damage and less loss.
● With a spray water system, the cassava is washed while peeling. The spiral pushes the material forward, continuously working, the spindle speed is adjustable.
● There is a collection device at the bottom, and the residue will be directly collected and transported out to ensure the cleanliness and hygiene of the workshop.
● All contact parts are made of stainless steel.
3. The design suggestion of cassava peeling machine
When cassava peeling machine is working, the spray pipe will work together, so there will be sewage, so it is best to put the cassava peeling machine in the place where there is a sink, which can collect sewage and keep the workshop clean.
That's a brief introduction to mechanical cassava peeling machine , provided by Henan Jinrui Food Company. Welcome to contact us if you're interested.
CONTACT US
DOING company offers cassava processing machine from single machine to the complete production line. If you want to get more details about cassava processing machine, please contact us:
Do you want to buy machine?
Yes, I want to buy machine
No, I Just learning
What is your raw material?
Cassava
Potato
Sweet potato
Others
2. What is the final product you want to produce?
Garri
Cassava flour
Cassava starch
Cassava chips
Attiekie
Bammy
Others
3.What is your capacity plan?
Small scale garri machine
1ton per day
2tons per day
3tons per day
10tons per day
20tons per day
Others
3.What is your capacity plan?
Small scale
5tons per day
10tons per day
20tons per day
50tons per day
100tons per day
Others
3.What is your capacity plan?
Small scale
5tons per day
10tons per day
20tons per day
50tons per day
100tons per day
200tons per day
300tons per day
Others
3.What is your capacity plan?
Small scale
Middle type
Large scale
What is your capacity plan?
Small scale
5tons per day
10tons per day
20tons per day
50tons per day
100tons per day
200tons per day
300tons per day
Others

Chat Online

Tel/WhatsApp
0086 135 2661 5783

Leave Message