What is the operation process of garri frying machine?
Many customers don't know how to operate the garri frying machine produced by Jinrui Company. The following will give you a detailed introduction to the garri frying machine and its operating process.
Main structure:
Our garri frying machine mainly consists of several parts: a frying pot, framework, vertical support legs, stirring device, heat source system, the turnover system for pot, motor, and control box.
The operation process of the garri frying machine
1. Pour the garri into the fryer machine for heating.
2. During the frying process, the stirring device is opened to uniformly fry the material and break wet cassava cakes as well.
3. After frying is finished, turn the handle on the right side to tilt the pot and complete the quick unloading of garri. And transport it to the next step through the auger.
4. Besides, there is one control box installed in each garri frying machine for workers' easier control running of equipment.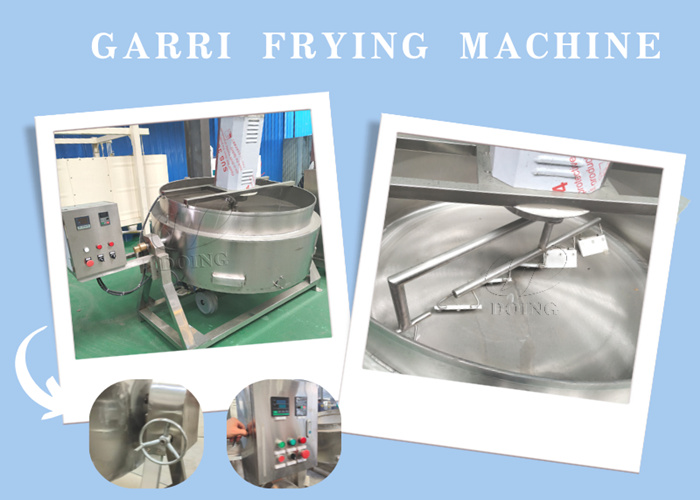 Garri frying machine

Working principle:
There are two ways to supply heat source for garri frying machine, one is electric heating and the other is diesel burning heating. The heat transfer medium between the material and the heat source is heat conduction oil which allows the material to be uniformly heated.
Technical parameters:
Model Diameter(mm) Depth(mm) Stirring power(kw) Capacity(kg/h)
| | | | | |
| --- | --- | --- | --- | --- |
| Model | Diameter(mm) | Depth(mm) | Stirring power(kw) | Capacity(kg/h) |
| DYC-300 | 1000 | 390 | 1.5 | 40 |
| DYC-400 | 1000 | 420 | 1.5 | 60 |
| DYC-500 | 1000 | 450 | 1.5 | 100 |
| DYC-600 | 1000 | 450 | 3 | 150 |
Equipment features:
1. The garri frying machine is tiltable, and the design is for fast unloading and easy cleaning.
2. The automatically scraping bottom mixing system reduces the workload, avoids sticking to the pot, and makes the garri fried evenly.
3. Electric control system is adopted, which reduces labor work and improves garri production efficiency.
4. All material contact part is made of high-quality stainless steel 304, which is easy to clean and meets food hygiene requirements.
If you want to learn more details on cassava garri frying machines, you can message the Doing company. We will provide you with professional advice according to your requirements.
CONTACT US
DOING company offers cassava processing machine from single machine to the complete production line. If you want to get more details about cassava processing machine, please contact us:
Do you want to buy machine?
Yes, I want to buy machine
No, I Just learning
What is your raw material?
Cassava
Potato
Sweet potato
Others
2. What is the final product you want to produce?
Garri
Cassava flour
Cassava starch
Cassava chips
Attiekie
Bammy
Others
3.What is your capacity plan?
Small scale garri machine
1ton per day
2tons per day
3tons per day
10tons per day
20tons per day
Others
3.What is your capacity plan?
Small scale
5tons per day
10tons per day
20tons per day
50tons per day
100tons per day
Others
3.What is your capacity plan?
Small scale
5tons per day
10tons per day
20tons per day
50tons per day
100tons per day
200tons per day
300tons per day
Others
3.What is your capacity plan?
Small scale
Middle type
Large scale
What is your capacity plan?
Small scale
5tons per day
10tons per day
20tons per day
50tons per day
100tons per day
200tons per day
300tons per day
Others

Chat Online

Tel/WhatsApp
0086 135 2661 5783

Leave Message