The Role of Cassava Flour Processing Machinery in Enhancing Yield and Quality of Flour Products
Cassava flour is a popular staple in Africa known for its high nutritional value. In recent years, there has been an increasing trend towards machine processing of cassava to obtain high-quality flour. This article will explore the advantages of cassava flour production by using cassava flour processing machinery and highlight the specific processing machines involved in different processing sections and the benefits they offer in terms of improving yield and quality.
Advantages of cassava flour production by using cassava flour processing machinery:
Efficiency: The machine processing allows for a more efficient and streamlined production process. With the use of specialized equipment, the time required to transform fresh cassava tubers into flour is significantly reduced.
Consistency: The machine processing ensures consistency in the quality and texture of the final product. The use of standardized machines guarantees uniformity in the processing steps, resulting in a consistent and reliable flour product.
Increased Yield: Cassava flour processing machinery are designed to maximize the yield of flour from the raw cassava tubers. The machines effectively remove impurities, peel the cassava, and grate it into a fine slurry, ensuring that a higher percentage of the tuber is converted into flour.
Quality Control: The cassava flour processing machinery used in cassava flour production are equipped with features that help maintain the quality of the flour. For example, the use of magnets in the grating process helps remove any metallic impurities, ensuring a clean and pure final product.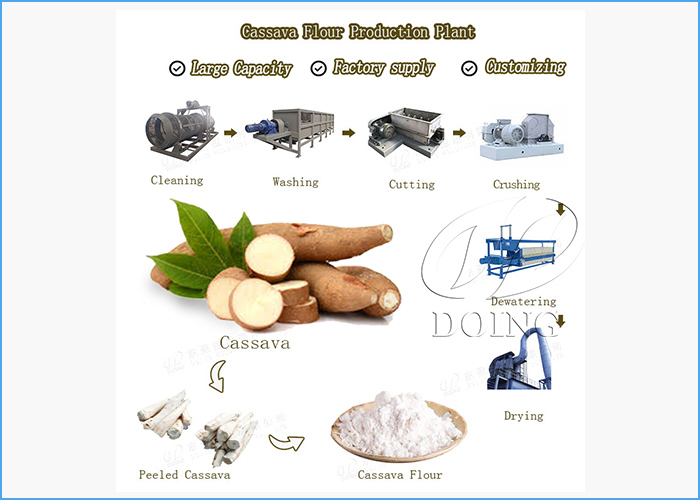 Cassava flour processing flow

Specific cassava flour processing machinery and their Benefits:
Cassava Peeling Machine: This machine efficiently removes the outer layers of the cassava tubers, saving time and labor compared to manual peeling. It ensures that the peeled cassava tubers are ready for further processing.
Cassava Rasper Machine: The rasper machine is specifically designed to handle large and long cassava tubers. With its two-stage grating system, it grates cassava into a fine slurry and offers better working effects and a higher grating rate, resulting in a more efficient conversion of cassava into flour.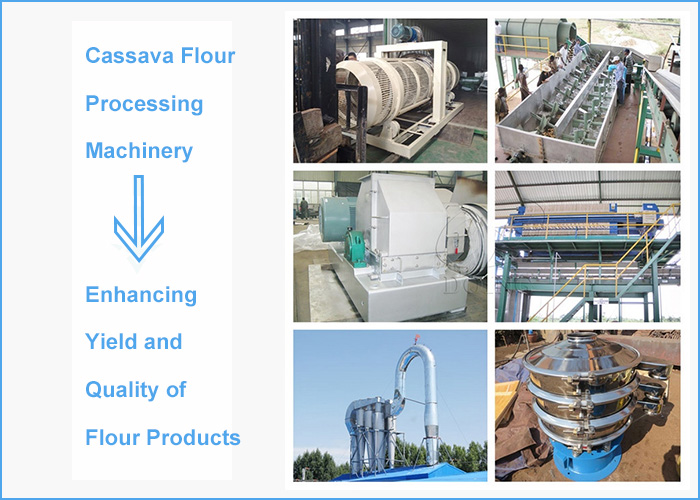 Cassava flour processing machinery
Desanding Equipment: This machine is crucial for removing fine sand particles from the cassava slurry, ensuring that the final flour is free from any gritty texture and impurities.
Flash Dryer: The flash dryer is responsible for drying the cassava flour in a short period while minimizing contact with air. This helps preserve the quality of the flour and ensures a longer shelf life.
Cassava flour processing machinery plays an important role in improving the yield and quality of flour products with its efficiency, consistency, increased yield, and quality control. If you are considering investing in cassava flour processing, we can offer you some solution design and project cases for reference. Welcome to contact us!
CONTACT US
DOING company offers cassava processing machine from single machine to the complete production line. If you want to get more details about cassava processing machine, please contact us:
Do you want to buy machine?
Yes, I want to buy machine
No, I Just learning
What is your raw material?
Cassava
Potato
Sweet potato
Others
2. What is the final product you want to produce?
Garri
Cassava flour
Cassava starch
Cassava chips
Attiekie
Bammy
Others
3.What is your capacity plan?
Small scale garri machine
1ton per day
2tons per day
3tons per day
10tons per day
20tons per day
Others
3.What is your capacity plan?
Small scale
5tons per day
10tons per day
20tons per day
50tons per day
100tons per day
Others
3.What is your capacity plan?
Small scale
5tons per day
10tons per day
20tons per day
50tons per day
100tons per day
200tons per day
300tons per day
Others
3.What is your capacity plan?
Small scale
Middle type
Large scale
What is your capacity plan?
Small scale
5tons per day
10tons per day
20tons per day
50tons per day
100tons per day
200tons per day
300tons per day
Others

Chat Online

Tel/WhatsApp
0086 135 2661 5783

Leave Message