A centrifuge sieve purchasing contract was signed between a Russian client and Henan Jinrui Company
On June 19, a Russian client signed a centrifuge sieve purchasing contract with Henan Jinrui Company. This client would like to process pea starch with this starch extraction machine.
In this cooperation on centrifuge sieve, this client has three requirements on us: firstly, he needs the delivery time to be controlled in 15 days, so that the starch extraction machine can be quickly used for his pea starch production. Secondly, as an experienced starch producer, he attaches high importance to the screen aperture parameters of the centrifuge sieve, which will influence the separating effect and finally influence the taste and quality of starch products. Thirdly, as for the package, he wishes us to fix and seal the centrifuge sieve with wooden strips or iron frames in case the starch extraction machine is damaged in the long-time transportation period, which will affect the pea starch processing schedule.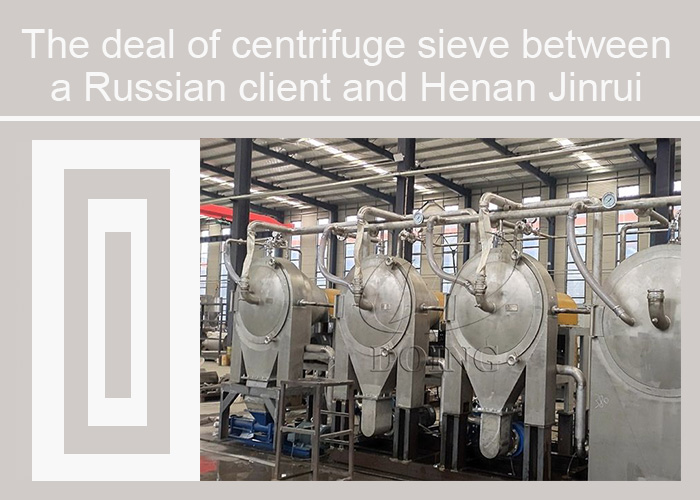 The deal of centrifuge sieve between a Russian client and Henan Jinrui
To meet the requirements of our client's need and to make the deal on centrifuge sieve to come, our sales team and technician team immediately take action. Firstly, under normal circumstances, the delivery time is too short and impossible for us to ship the centrifuge sieve to Russia. Considering this situation, our sales manager immediately contact and negotiate with the transport company and finally reach a satisfying result. Secondly, screen aperture parameters directly define the starch extraction rate. The smaller the screen mash, the higher the starch yield. Our sales manager shots and sends the details picture to the client and our technicians send some draw pictures for his technology team to make a comparison. Thirdly, for the package, we normally wrap the machines with plastic film and wooden case to avoid the potential oil pollution and damage during the transport period, which meets the client's need.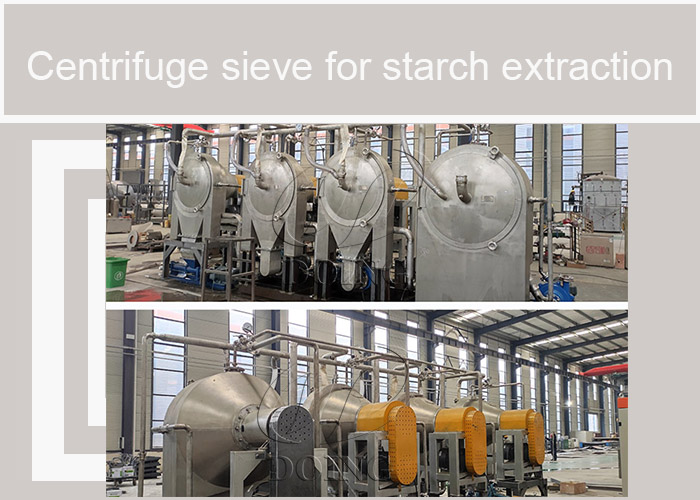 Centrifuge sieve for starch extraction
All in all, this cooperation on the centrifuge sieve cannot be reached without both sides' effort. We sincerely thank this client's recognition of us! We are Henan Jinrui Company, providing both single starch extraction machines and whole starch processing lines! If you want to know more details about the starch extraction machine, welcome to talk with us!
CONTACT US
DOING company offers cassava processing machine from single machine to the complete production line. If you want to get more details about cassava processing machine, please contact us:
Do you want to buy machine?
Yes, I want to buy machine
No, I Just learning
What is your raw material?
Cassava
Potato
Sweet potato
Others
2. What is the final product you want to produce?
Garri
Cassava flour
Cassava starch
Cassava chips
Attiekie
Bammy
Others
3.What is your capacity plan?
Small scale garri machine
1ton per day
2tons per day
3tons per day
10tons per day
20tons per day
Others
3.What is your capacity plan?
Small scale
5tons per day
10tons per day
20tons per day
50tons per day
100tons per day
Others
3.What is your capacity plan?
Small scale
5tons per day
10tons per day
20tons per day
50tons per day
100tons per day
200tons per day
300tons per day
Others
3.What is your capacity plan?
Small scale
Middle type
Large scale
What is your capacity plan?
Small scale
5tons per day
10tons per day
20tons per day
50tons per day
100tons per day
200tons per day
300tons per day
Others

Chat Online

Tel/WhatsApp
0086 135 2661 5783

Leave Message