DOING potato starch production line fully mechanized automation
Doing Company equipment of sweet potato starch production line has been fully mechanized automation, our sweet potato starch production line produces quality grade fine starch smoothly, from feed to dry starch less than an hour. The automatic sealing system ensures the smooth process of the whole sweet potato starch production line. Doing company whole set starch equipment adopt fully automatic design, energy and time saving, ensure the final starch quality at the same time. Such as the online cleaning function, the whole production system (including all pipelines) can be cleaned quickly and thoroughly, saving manpower, and ensuring the quality of starch.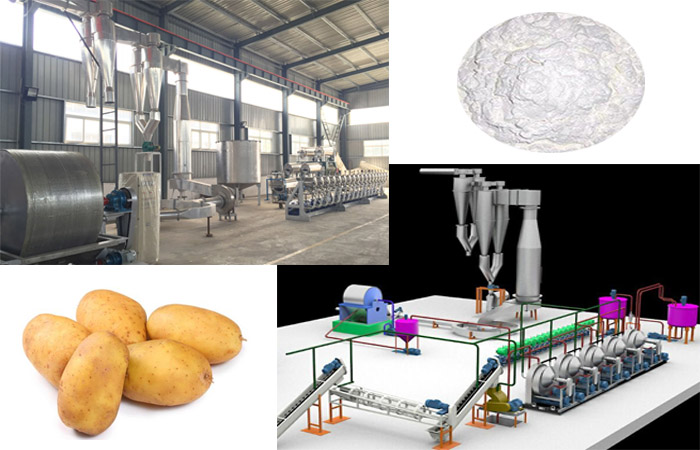 Potato starch production line
Potato starch production line in Doing technical process as below:
1. Cleaning section: This section main equipment inclede: Primary cleaning machine, desanging machine, first order cleaning machine, second order cleaning machine. After the raw materials were processed separately, the washed sweet potatoes reached the requirements of the next section. this section main features is: continuous working ability, large processing capacity, great power consumption.
2. Screening section: This section main equipment is: rasper, centrifugal sieve machine, etc. The sweet potatoes that were delivered were broken up in this section and the slurry was separated. Its characteristic is: grind fine, good slurry separation effect.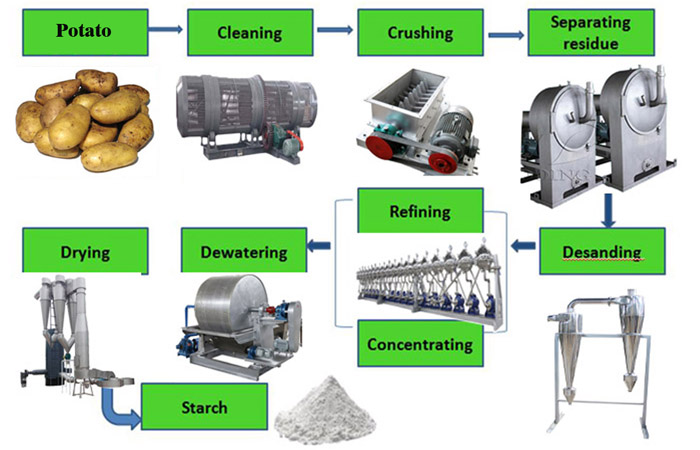 Potato starch production line main equipments and technology process
3. Concentration and dewatering section: main equipment is hydrocyclone and vacuum filter machine. The function is cleaning starch liquid and seperator wet starch from starch liquid. This section is the most technical section of the whole potato starch production line, so it is also the key section to determine the quality of starch.
4. Starch drying section: Total starch drying system is our airflow dryer. The drying process adopts the principle of negative pressure. The wet starch is mixed with the hot air into the air duct, and then it enters the cyclone separator after the drying requirement, then packaging and put into the warehouse.
Doing Machinery is a professional potato starch production line manufacturer and supplier, and our potato starch production line is the leader machine to processing starch. Our starch equipment is made by high quality stainless steel, surface processing adopted special technical, dirt resistence, keep the final starch cleaning and high quality.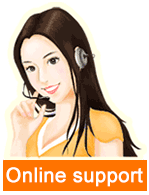 Leave a message

Tel/Whatsapp:+86 135 2661 5783