Potato starch production in Pakistan
Pakistan has special weather,and it has large temperature between day and night.So the country has rich potatoes. Besides, potato starch can be applied in many fields, so it has a promising market in the world. Doing company in China has exported potato starch production machine to Pakistan, and our clients has build their own potato starch production plant there. The following part is to introduce how potato starch production in Pakistan.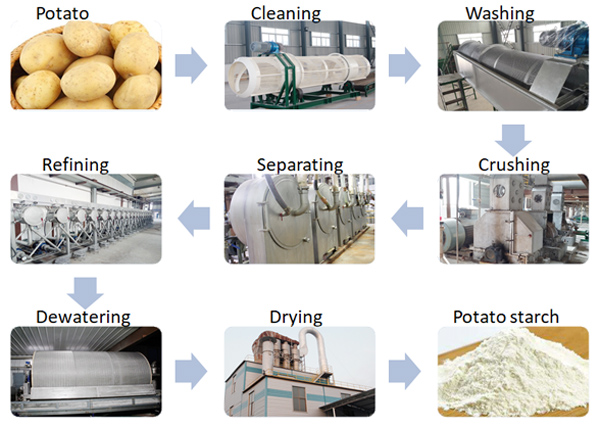 Potato starch production line in Pakistan
1-potato transporting and washing: potato will be put down a hopper, then they will be transported to the conveyor uniformly. Then they will be transported to the rotary washing machine.In the process of potato starch production in Pakistan, the washing part will wash potatoes completely and effectively.
2-Crushing section : The clean potatoes are crushed by rasper to produce a smooth mash.Compared with other grinding machine, the machine can extract combined starch and free starch. So the section can improve the extraction rate.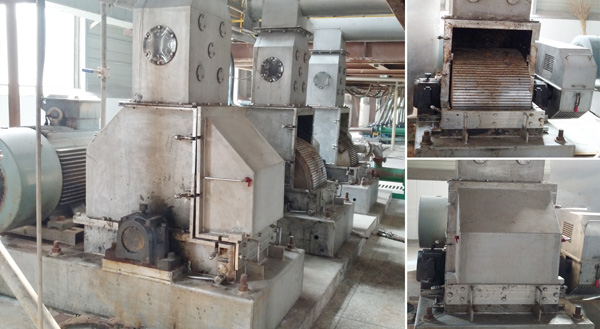 Potato crushing machine
3- starch extraction: The potato starch will go through centrifuge sieve, which can separate starch and fiber. The machine has different steps, so they can extract more starch. Next, the starch milk will go thorough fine fiber sieve, the machine has different size of meshes from those of centrifuge sieve. So some finer fiber will be removed out of starch milk.
4-Concentration and refining unit:The starch milk goes into the several stages of refining hydro-cyclone. Usually, full cyclone separation includes concentrating, recovering and washing. Usually in potato starch production in Pakistan, the machine plays a key part.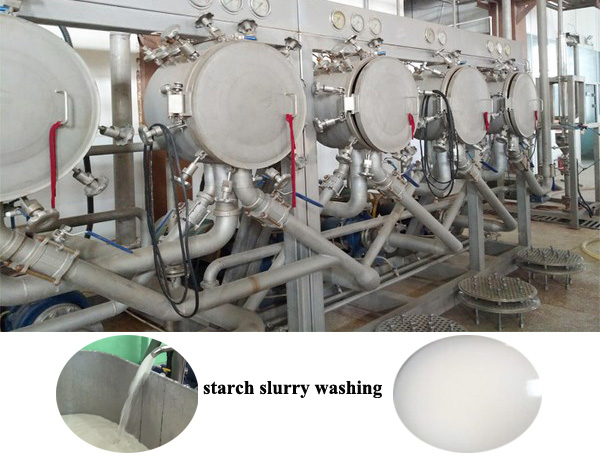 Potato starch refining machine
5- potato starch dewatering: potato starch slurry is dewatered by vacuum filter. The filter slot is equipped with reciprocating paddle stirrer to prevent starch deposition. And it is equipped with continuously adjustable control. After dewatering, the moisture of the potato starch is about 36.5%.
6-Starch drying : In the potato starch production in Pakistan, the starch flash dryer will dry the potato starch in a short time.The technical parameter of the whole process is strictly controlled according to the theoretical calculation which ensures the physical and chemical indexes of the final starch after drying. And the contacted part material is stainless steel. The dryer adopts negative system and cooling system, which can guarantee high-quality potato starch.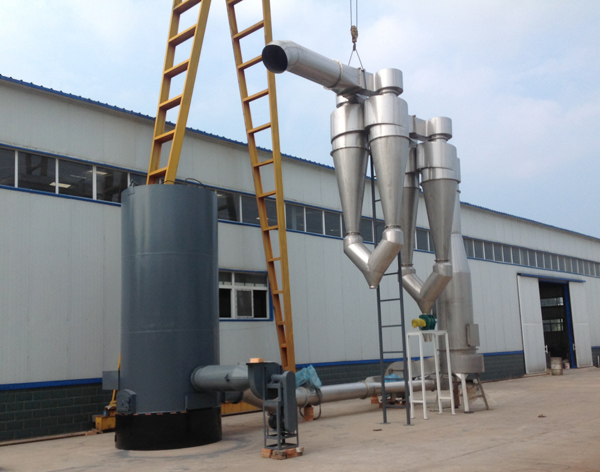 Potato starch drying machine
7- starch sieving: after drying, the vibration sieve will screen the potato starch, some big size of starch will be milled, and will be sieved again. So potato starch will be finer.
8-packaging: The final step of potato starch production in Pakistan is to pack potato starch with automatic sieving machine.
This is potato starch production in Pakistan, and if you have any questions about the potato starch processing plant, weclome to contact us.Our engineer will give you a professional guide and design the potato starch processing plant program according to your requirement.Besides, the starch processing machines of Doing company not only are exported to Pakistan, but also exported to other countries, like Nigeria, Ghana, India and so on.

Leave a message

Tel/Whatsapp:+86 135 2661 5783