Cassava flour processing process flow diagram introduction
The cassava flour processing line designed by Henan Jinrui company adopts the world's advanced wet processing technology. Fresh cassava is used as raw material. The whole cassava flour processing process is automatic and continuous, which include cleaning, washing and peeling, cutting, crushing, de-sanding, dewatering, drying and sieving. Normally every 3-4 tons fresh cassava roots can produce 1 ton cassava flour.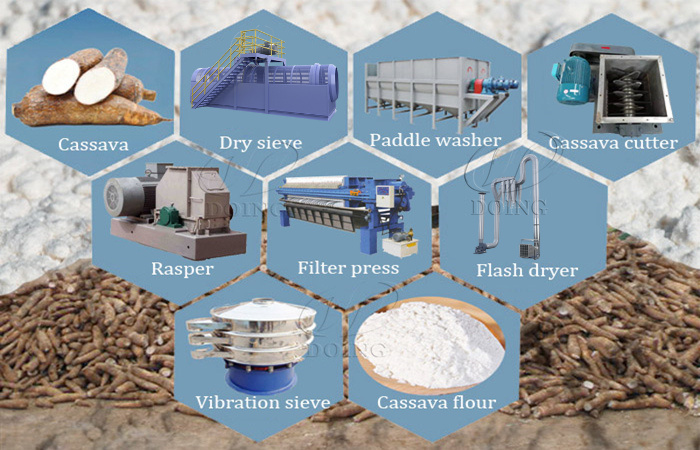 Cassava flour processing machine
The whole cassava process flow can be divided into three parts: cleaning section, processing section and drying section.
Main sections of cassava process flow
| | | |
| --- | --- | --- |
| No. | Main sections | Main equipment |
| 1 | Cleaning section | Feeding hopper, belt conveyor, dry sieve, paddle washer, peeling machine |
| 2 | Processing section | Cutting machine, rasper, de-sander, filter press machine |
| 3 | Drying section | Flash dryer, sieving machine, packaging machine |
Cassava flour process flow introduction
1.Cleaning section
Firstly cassava roots are loaded into feeding hopper, and then transported by belt conveyor to first cleaning machine dry sieve. Dry sieve machine can remove surface impurities attached on cassava roots and discharge dust from the bottom. The pre-cleaning cassava will drop down into paddle washing machine. The paddle washer can complete wash cassava and separate sand from bottom mesh. Finally peeling machine is used to remove the first and second layers of cassava roots.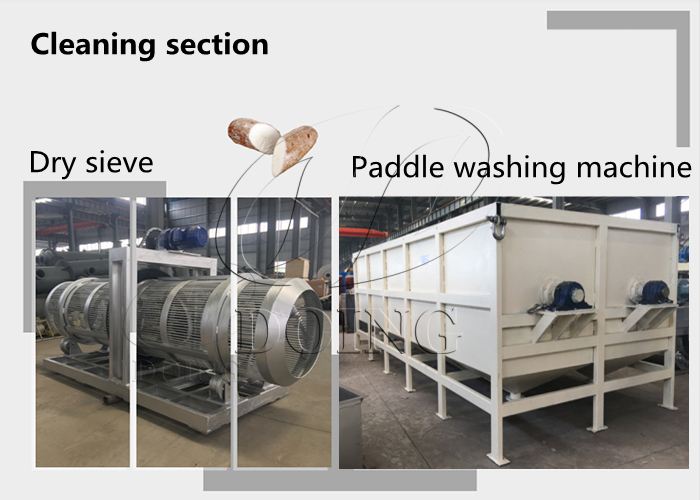 Cassava flour cleaning section
2.Processing section
After cassava is cleaned and peeled, cassava will be transported to cutting machine. Cutting machine will cut full piece of cassava into small pieces and then rasper is used to crush the cassava pieces into mash. Rasper has high crushing efficiency, which can ensure fineness of final flour. After crushing, cassava mash will be pumped through de-sander machine to remove sand impurities. And then cassava material will be pumped into filter press machine for dewatering. After dewatering, we can get wet cassava cakes with moisture content around 40%.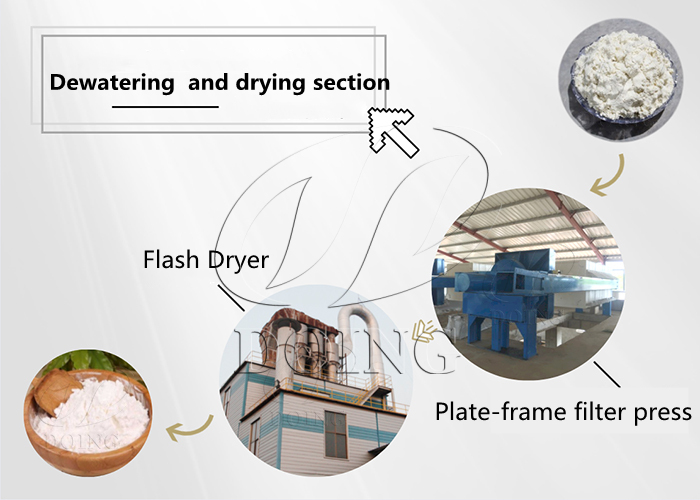 Cassava flour drying section
3.Drying section
After dewatering, wet cassava cakes will be crushed again and then sent into flash dryer by screw feeder. In very short time, cassava flour drying is finished and moisture content of final flour will be decreased at 13-14%. According to buyer's requirement, second stage dryer can be installed as optional to ensure lower moisture. Bellow the flash dryer, sieving machine will be installed to ensure uniform size and fineness of flour. And finally, automatic packaging machine is applied to pack flour into bags, after which cassava flour is ready to sale.
The above is brief introduction of cassava flour process flow. If you plan to set up a cassava flour factory and want to know more details, feel free to contact us any time.

Chat Online

Tel/WhatsApp
0086 135 2661 5783

Leave Message