What is cassava milling machine?
Cassava milling machine is equipment that can be used to crush cassava. Based on raw cassava characteristics and the final product that you want to do, there are several kinds of cassava milling machines: grater, hammer crusher, rasper, and fine milling machine.
If your raw material is fresh cassava root, you can use grater, hammer crusher, and rasper machine to crush cassava roots. But you should choose the suitable machine according to the cassava final product.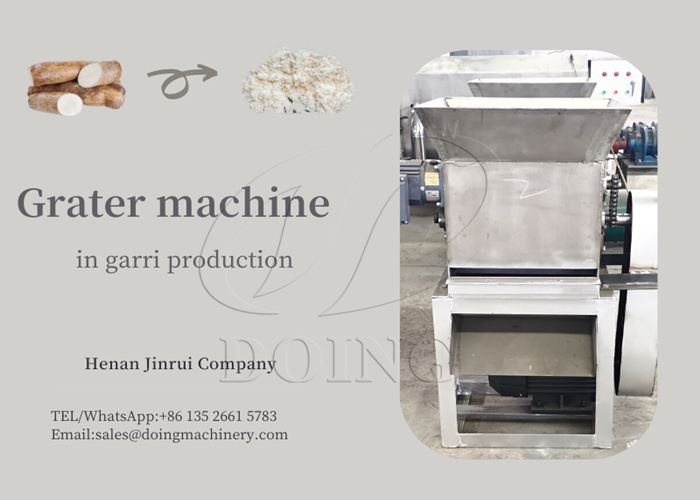 Cassava grater machine in garri processing line
Grater machine is used in garri production.
Garri is a kind of edible and popular food in Western African countries. It is produced from fresh cassava tubers through raw cassava cleaning, washing, peeling, crushing, dewatering, drying, and sieving. Due to its special taste, cassava particles after crushing couldn't be too small. Based on our experience, the cassava grater machine is the most suitable machine. Under the drive of a high-speed rotating rotor, the surface of the roller is planned to contact the material to achieve the purpose of crushing the material. The crushing degree and feeding amount of the material can be adjusted by the adjusting plate at the side.
Hammer crushers and rasper are used in cassava flour and starch production.
Hammer crusher and rasper machine are used for fresh cassava root crushing, too. But the working principle for the two machines is different.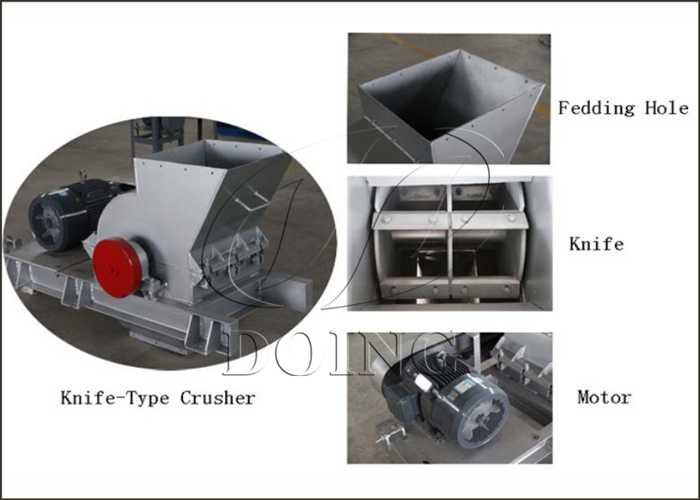 Details of hammer crusher
The hammer crusher is using hammers to hit raw cassava material, achieving the purpose of crushing. Its grinding effect is higher than the normal grater machine but lower than the rasper machine. The Rasper machine crushes cassava with saw blades installed in the rotated drum. The rotation speed is above 2000rpm. When the rasper machine is running, saw blades will be thrown out to crush cassava.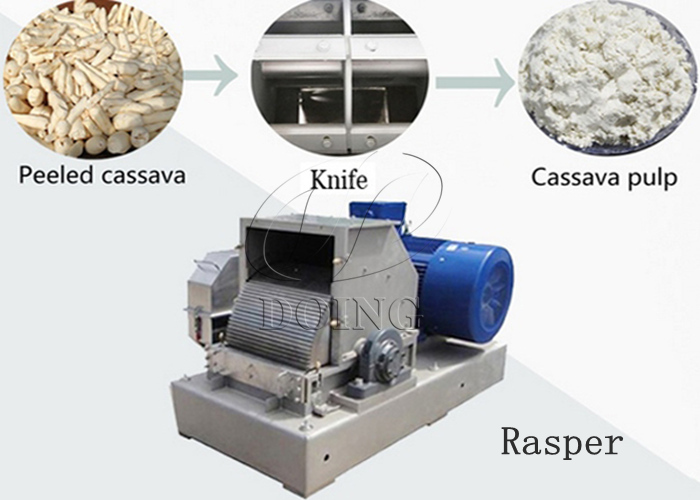 Cassava rasper in cassava starch production line
Both rasper and hammer crusher can be used in cassava flour and cassava starch production. Hammer crusher is cheaper, while rasper can achieve high working efficiency. When you are producing cassava flour, a rasper machine can ensure the high fineness of the final flour. When you are producing cassava starch, a rasper machine can ensure a high starch extraction rate.
The fine milling machine is used for dry cassava crushing.
When the raw material is dried, a fine milling machine is suggested for crushing purposes.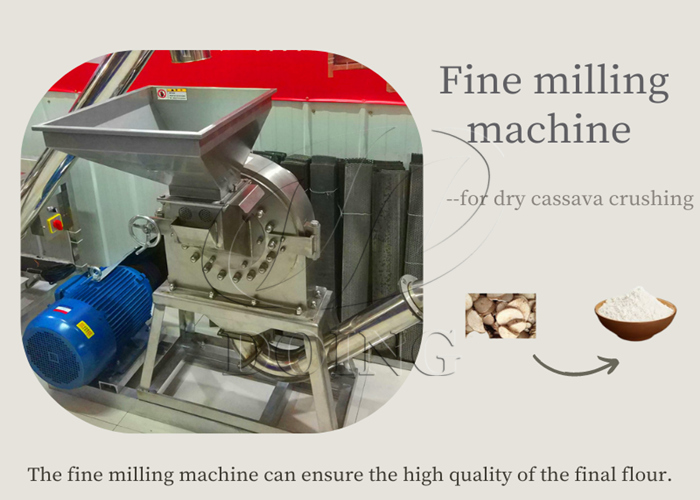 Fine cassava milling machine
In garri production, the fine milling machine can be used for final garri grinding. After the frying process, what you get is a normal garri product. But if you want to make garri powder, you can use the fine milling machine to crush fried garri.In small scale cassava flour production, a fine milling machine is installed after the drying process to grind coarse flour. The fine milling machine can ensure the high quality of the final flour. And if your raw material is dried cassava chips, you can also use a fine milling machine to grind cassava and get cassava flour.
The above is a brief introduction to the cassava milling machine. If you are interested in our machines, feel free to contact us any time.
CONTACT US
DOING company offers cassava processing machine from single machine to the complete production line. If you want to get more details about cassava processing machine, please contact us:
Do you want to buy machine?
Yes, I want to buy machine
No, I Just learning
What is your raw material?
Cassava
Potato
Sweet potato
Others
2. What is the final product you want to produce?
Garri
Cassava flour
Cassava starch
Cassava chips
Attiekie
Bammy
Others
3.What is your capacity plan?
Small scale garri machine
1ton per day
2tons per day
3tons per day
10tons per day
20tons per day
Others
3.What is your capacity plan?
Small scale
5tons per day
10tons per day
20tons per day
50tons per day
100tons per day
Others
3.What is your capacity plan?
Small scale
5tons per day
10tons per day
20tons per day
50tons per day
100tons per day
200tons per day
300tons per day
Others
3.What is your capacity plan?
Small scale
Middle type
Large scale
What is your capacity plan?
Small scale
5tons per day
10tons per day
20tons per day
50tons per day
100tons per day
200tons per day
300tons per day
Others

Chat Online

Tel/WhatsApp
0086 135 2661 5783

Leave Message