Garri production line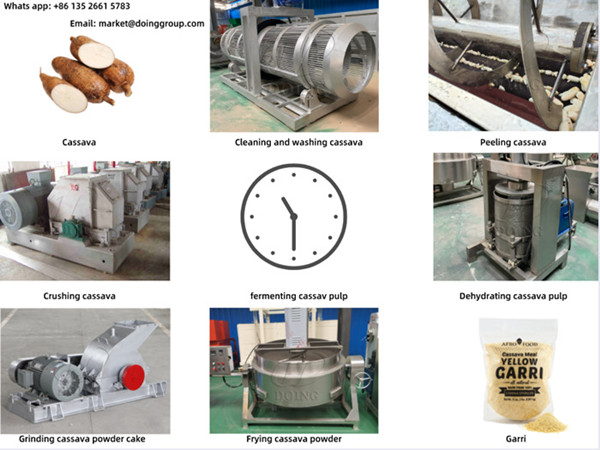 Factory direct sale contact number
Garri is made from cassava. The garri production line mainly includes cleaning and washing cassava, peeling cassava, crushing cassava, fermenting cassava pulp, dehydrating cassava pulp, grinding cassava powder cake, and frying cassava powder.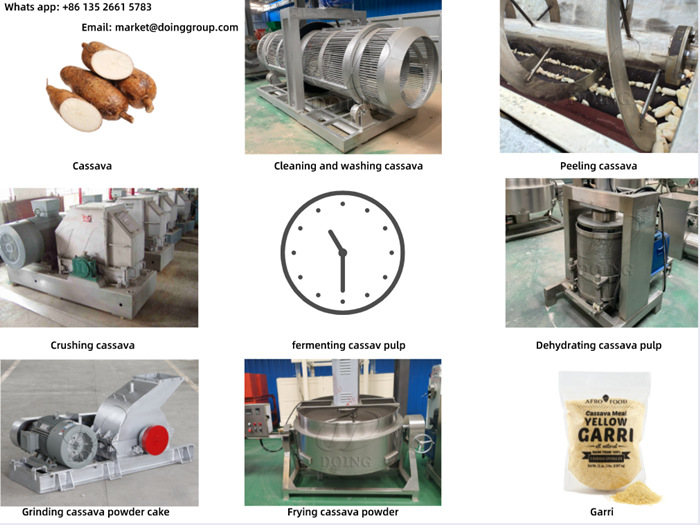 The all steps in the garri production line
Step one: Cleaning and washing cassava
In order to ensure the cleaning effect and reduce the impurity content in the subsequent garri production process as much as possible, Henan Jinrui configures dry sieve and paddle washing machine in the garri production line to remove large and small impurities on the surface of cassava.
Step two: Peeling cassava
Peeling cassava is to make the garri taste better. Henan Jinrui uses cassava peeling machine to peel cassava in the garri production line. The garri peeling machine uses friction to peel the cassava, which does little damage to the cassava raw material, and the peeling rate is as high as 95%.
Step three: Crushing cassava
Only by fully crushing cassava can the structure of cassava fiber be broken and the yield of garri can be improved. Henan Jinrui uses cassava cutting machine and rasper machine to crush cassava. The cooperation of these two machines make the crushing effect is better and the garri production line run more efficiently.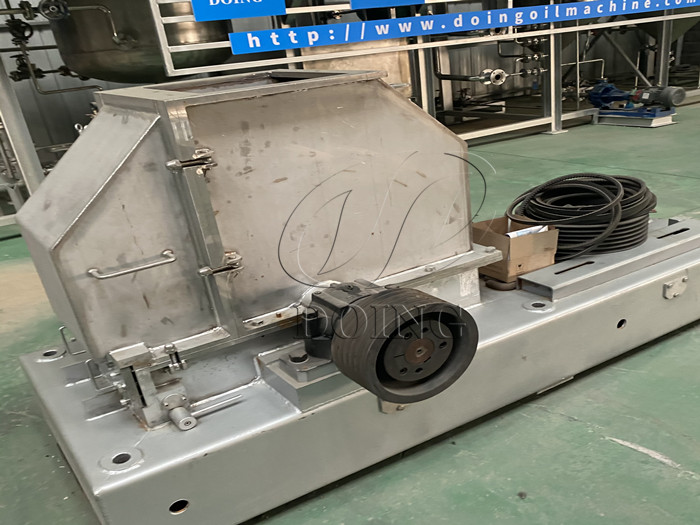 Cassava crushing machine of Henan Jinrui
Step four: Fermenting cassava pulp
If the cassava crushing effect is good, the cassava pulp can be subsequent processed after bagging and fermenting for two to three days.
Step five: Dehydrating cassava pulp
A large amount of water remains in the cassava pulp after fermentation. In the subsequent garri production line, Henan Jinrui recommends using hydraulic press to dehydrate cassava pulp. Because the hydraulic press has fast dehydration speed, large processing capacity and good dehydration effect.
Step six: Grinding cassava powder cake
The dehydrated cassava pulp becomes cassava powder cake. Therefore, it is necessary to use grinding machine to grind the cassava powder cake into fine cassava powder. After being processed by the grinding machine, the cassava powder will be more convenient to be fried.
Step seven: Frying dried cassava powder
For stir-fried cassava powder, Henan Jinrui specially designed garri fryer. Different from other machines on the market, the garri fryer of Henan Jinrui can control the temperature through the system, quickly heat up pot and stir fry garri evenly, effectively avoiding the phenomenon of garri paste pot.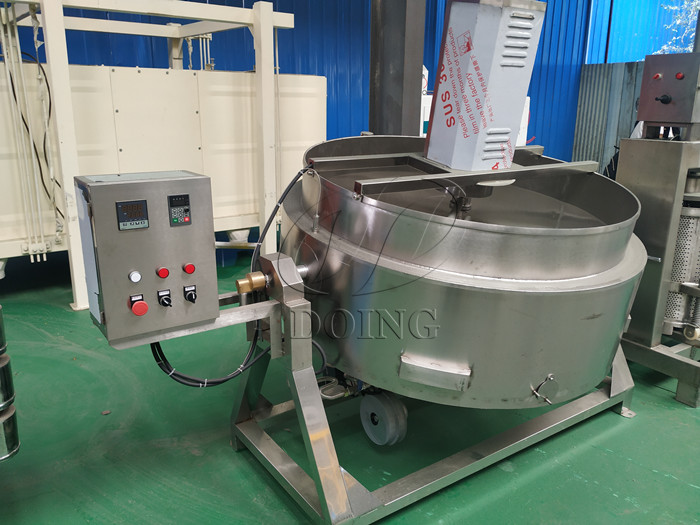 Specially designed garri fryer of Henan Jinrui
Doing Holdings-Henan Jinrui is an advanced manufacturer and supplier of garri production line. Our garri production line has the characteristics of stable structure, easy operation and maintenance, and large output. If you are looking for efficient and fully automatic garri production line, please leave us your contact information. Henan Jinrui will configure garri production line to your satisfaction.

PREV:Nothing

NEXT:Garri processing machine

Chat Online

Tel/WhatsApp
0086 135 2661 5783

Leave Message