What is the function of hydraulic press in garri processing process?
The garri processing process mainly includes six steps: cleaning, washing, peeling, grating, fermentation, dewatering and frying. Hydraulic press, also called dewatering machine, plays an important role in dewatering step of garri processing process. Just as its name implies, the function of hydraulic press is to squeeze out the water content in cassava mash further to make mash drier.
The processing raw material received by the hydraulic press is cassava mash fermented for 2-3 days with relatively high moisture content. If cassava mash is directly fried without dewatering, not only gelatinization is prone to occur, but also material loss and energy consumption are relatively large. In order to avoid this problem, Henan Jinrui's engineer team meticulously designed the oil cylinder-type hydraulic press made of 304 food stainless steel material of food grade, which can control the water content in cassava mash as low as 38%-40%.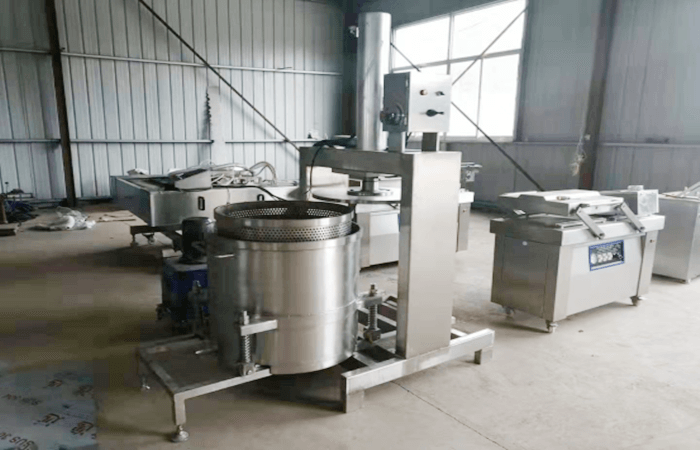 Hydraulic press of garri processing
This kind of hydraulic press machine uses rotation of the motor drives the output of hydraulic oil. And the output direction of the hydraulic oil is controlled by the solenoid valve, thereby driving the cylinder to reciprocate back and forth. The hydraulic plate will move up or down together to realize the extrusion and dehydration of the cassava mash material. And it's no need to add or replace the hydraulic oil in the hydraulic station is used in circulation. Moreover, the oil cylinder has more power than gas, it is beneficial to improve the garri frying efficiency and reduce the energy consumption.
Hydraulic press machine is making in factory
If you also want to process garri at high efficiency and high quality to obtain more benefits, welcome all the customers to consult us and customize the suitable hydraulic press or the whole set of garri processing machine from Henan Jinrui Company!

Chat Online

Tel/WhatsApp
0086 135 2661 5783

Leave Message