How do you process cassava flour by using modern cassava flour processing machine?
Modern cassava flour processing method is developed on the traditional cassava processing method, but it abandons the disadvantages of manual cleaning, peeling and natural drying in traditional cassava flour production process. The modern cassava flour processing method is called wet processing technology, which adopts modern cassava flour processing machine to process cassava flour.
This modern cassava flour processing method can not only run automatically and continuously, but also guarantee the processing efficiency, production capacity and high quality of finished cassava flour. The whole modern cassava flour production process includes cleaning section, processing section and drying section.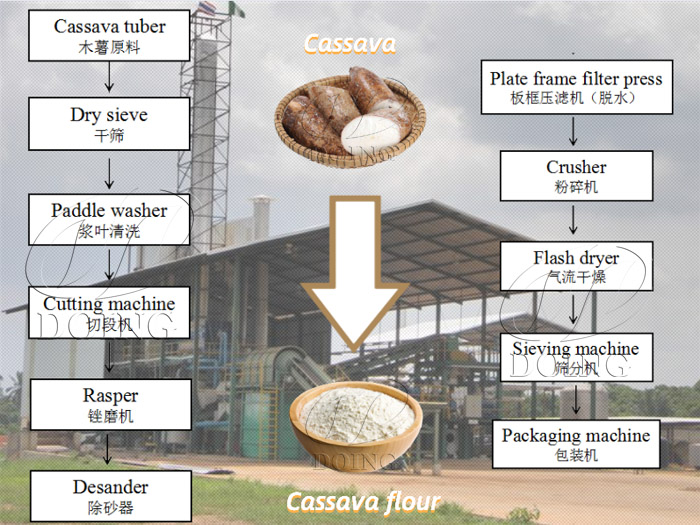 Cassava flour processing process
In cleaning section, dry sieve machine, paddle washing machine and cassava peeling machine are used. Firstly cassava is conveyed to dry sieve machine for preliminary cleaning, here impurities attached on surface of cassava will be removed. And then cassava will be sent to paddle washing machine for deep cleaning. After washing process, peeling machine will be applied to remove peel of cassava roots.
The next is processing section. Modern machines used here include cutting machine, rasper, desander and filter press. Peeled cassava is firstly cut into small pieces by cutting machine, and then small cassava pieces drop down to rasper machine for complete crushing. Rasper machine has high crushing coefficient, which is key equipment to ensure high fineness of finished flour. After crushing, we can get cassava pulp. And then de-sander machine is used to remove tiny sand debris from the pulp. And lastly, plate and frame filter press machine is adopted to dehydrate cassava pulp, out from which we will get wet cassava cakes.
The last section is drying. After dehydration, wet cassava cakes are obtained. Before they are sent to flash dryer, crusher machine is used to break wet cake into powder. And hereafter, wet cassava powder is transported into the flash dryer by screw feeder. By using the principle of heat exchange between wet power and hot air, cassava flour is dried in very short time and comes out with moisture content around 12%. After drying, sieving machine can be added to sieve dried flour, ensuring uniform size of finished product.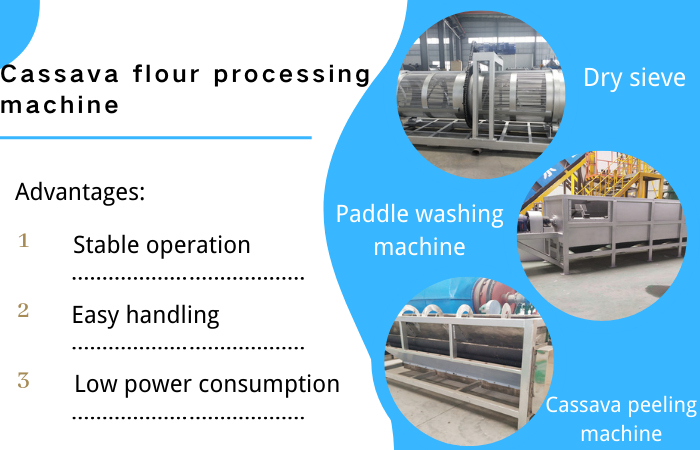 Advantages of cassava flour processing machine
That's all for brief introduction of modern cassava flour production process, if you are interested in it, fee free to contact us for more details!

Chat Online

Tel/WhatsApp
0086 135 2661 5783

Leave Message