How does a potato starch plant make starch?
A potato starch plant makes starch through the following steps: potato washing and cleaning, potato grinding and rasping, starch extraction and separation, starch dehydrating and drying, and starch sieving and packaging. Now we, Henan Jinrui will show you the work flow that a potato starch plant makes starch.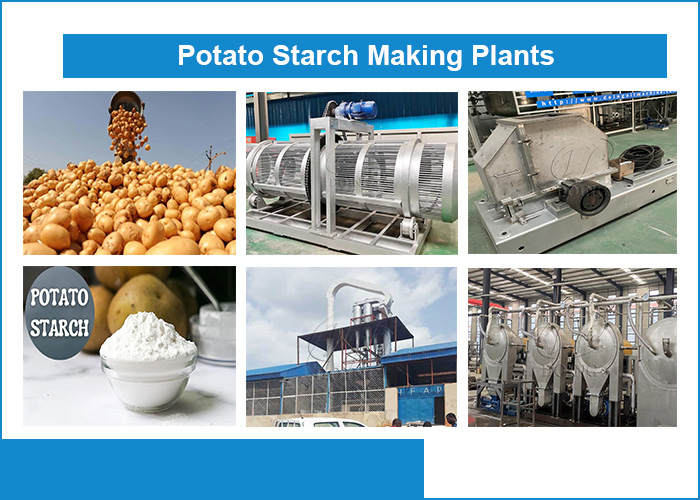 Potato starch making plants
Potato Washing and Cleaning:
The first step for a potato starch plant making starch is the cleaning and washing process. Potatoes are received at the plant and undergo thorough cleaning and washing by a dry sieve and a rotary washer to remove dirt, stones, and other impurities. This ensures that only clean and high-quality potatoes proceed to the next stage. This step helps eliminate any potential contaminants and enhances the quality of the starch extracted.
Potato Grinding and Rasping:
After the preliminary process, it comes to the second step for making starch by a potato starch plant that is potato grinding and rasping. The cleaned potato will firstly be stored into a tank, and then sent to a rasper machine by screw conveyor, in which the saw shape blades will cut and grind potatoes into very fine mash. This process breaks down the potato's cellular structure and releases the starch granules as much as possible.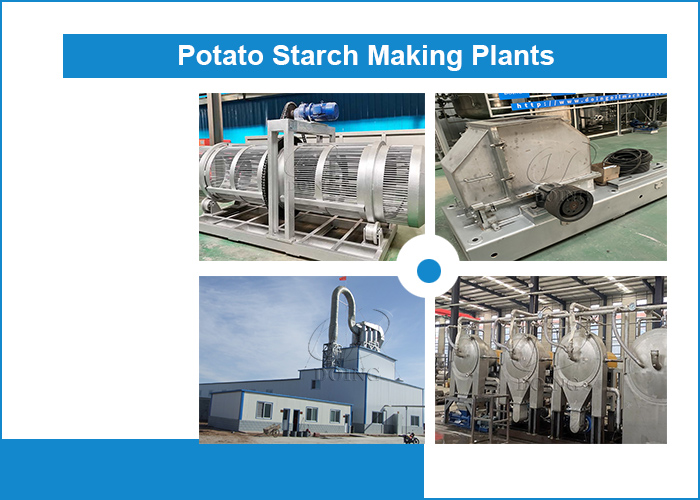 Potato starch plant making starch
Starch Extraction and Separation:
As for the step, the starch extraction and separation, it plays a crucial role in making starch by a potato starch plant. The ground potato slurry, after being mixed with water, is passed through a series of centrifugal sieves, de-sander and hydrocyclone station. These devices will separate the potato starch granules from fibers, impurities, and protein in the slurry. The working flow is like that: the potato slurry firstly will be pumped into centrifuge sieves to separate fibers, then be transported to a de-sander machine which will eliminate sand debris according to the density difference. After that, potato starch slurry will enter the hydrocyclone station to obtain fine and good quality starch slurry by separating and discharging protein, cell liquids and other impurities. This repeatedly extraction and separation process ensures that the final quality of potato starch reaches the desired purity level.
Starch Dehydrating and Drying:
The step that starch dehydrating and drying ensures the moisture content of final starch reaches the standard level. After separation, the potato starch slurry is usually wet and needs to be dehydrated and dried. Vacuum filter is often configured in the potato starch dewatering section to squeeze the exceed water, from which we can get wet starch powder with moisture content around 40%. The dewatered potato starch then will be conveyed to a flash dryer for drying. This machine adopts negative pressure drying principle and multiple-stage pipes design to ensure the higher drying rate. The output starch dried by the flash dryer will be with moisture content around 18%. (The moisture content of output starch is adjustable. ) The process removes moisture from the starch, resulting in a dry, powdery potato starch product.
Starch Sieving and Packaging:
The last section that a potato starch plant makes starch is sieving and packing. The dried potato starch is sieved by a sifter sieve to achieve the desired particle size and consistency. This helps to remove any remaining impurities or lumps. The sieved starch is packaged into suitable containers, such as bags or boxes, for storage or distribution.
The above is brief introduction of how a potato starch plant makes starch. If you have such a plan to set up a potato starch plant, feel free to contact us for more details. With over 10 years experience in starch processing machinery, we can show some similar project cases to you!
CONTACT US
DOING company offers cassava processing machine from single machine to the complete production line. If you want to get more details about cassava processing machine, please contact us:
Do you want to buy machine?
Yes, I want to buy machine
No, I Just learning
What is your raw material?
Cassava
Potato
Sweet potato
Others
2. What is the final product you want to produce?
Garri
Cassava flour
Cassava starch
Cassava chips
Attiekie
Bammy
Others
3.What is your capacity plan?
Small scale garri machine
1ton per day
2tons per day
3tons per day
10tons per day
20tons per day
Others
3.What is your capacity plan?
Small scale
5tons per day
10tons per day
20tons per day
50tons per day
100tons per day
Others
3.What is your capacity plan?
Small scale
5tons per day
10tons per day
20tons per day
50tons per day
100tons per day
200tons per day
300tons per day
Others
3.What is your capacity plan?
Small scale
Middle type
Large scale
What is your capacity plan?
Small scale
5tons per day
10tons per day
20tons per day
50tons per day
100tons per day
200tons per day
300tons per day
Others

Chat Online

Tel/WhatsApp
0086 135 2661 5783

Leave Message