Is there any small sized cassava flour production equipment? How much is it?
Cassava tubers as one of staple plants in Africa, it can be processed into garri, cassava flour and cassava starch etc final products to create more benefits. Cassava flour is one of the popular products in baking, which will be replaced to cover the wheat flour shortage in Africa, especially Nigeria. Considering the limitation of factory land and financial shortage, many investor would wonder to find small sized cassava flour production equipment. Therefore, in order to meet customers requirement, HENAN JINRUI provides a personalized solution---small sized cassava flour production equipment for clients. Of course, the processing technology of cassava flour designed by HENAN JINRUI is the most common and best method in cassava flour processing industry.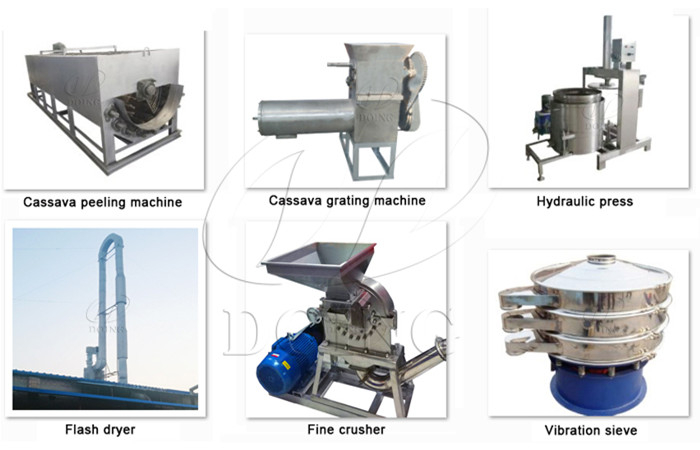 Small scale tapioca flour processing machine
Normally speaking, HENAN JINRUI would match six main equipment to customers: a cassava peeling machine, a grating machine, a hydraulic press machine, a flash dryer, a fine mill machine and a vibration sieve. And packing machine is optional equipment. You can see form above picture. Now, let us know it and its function one by one.
Cassava peeling machine: after washing, cassava peeling machine will peel cassava layers by fast friction between cassava tubers and sand roller. Final peeling effect will be 95%.
Cassava grater: cassava grater peeled cassava tubers to mash.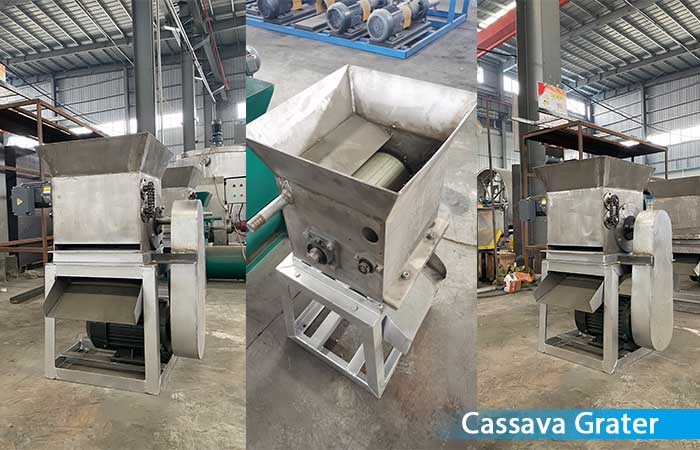 Cassava grater
Hydraulic press: After grating, processor can dewatering by hydraulic press machine with bags. After dewatering, the moisture will be 38%.
Flash dryer: With negative pressure design, it can ensure no leaking phenomenon. Processor can grate squeezed cassava cake then dry it. Final moisture will be 14%.
Fine mill machine: Fine mill machine can be used to fine dry cassava flour to get more fine flour.
Vibration sieve: After fine mill machine, processor can sieve flour again to separate bigger particles to get high quality cassava flour.
Recommend reading: Where can we buy cassava flour processing machine at cheap price?
By the way, this is a 3 ton/h output per day scale cassava flour production equipment list, which is hot popular to investors. As for the price of the small sized cassava flour production equipment, you can leave message to us with your specific requirement, and manger of HENAN JINRUI will contact you and send you the latest quotation.
Besides, HENAN JINRUI is able to adjust the machine list according your capacity plan. So if you are interested in cassava production, please feel free to send us message. We can provide you with more reasonable solution according to your practical situation.

Chat Online

Tel/WhatsApp
0086 135 2661 5783

Leave Message