How to start a garri business in Nigeria?
Starting a garri processing business in Nigeria requires a lot of preparatory work, including conducting a market survey, getting a stable supply of cassava, preparing capital for building a factory, and building a factory. You can do these preparations yourself, or ask a professional to help you.
Next, I will introduce to you several steps to start a garri processing business.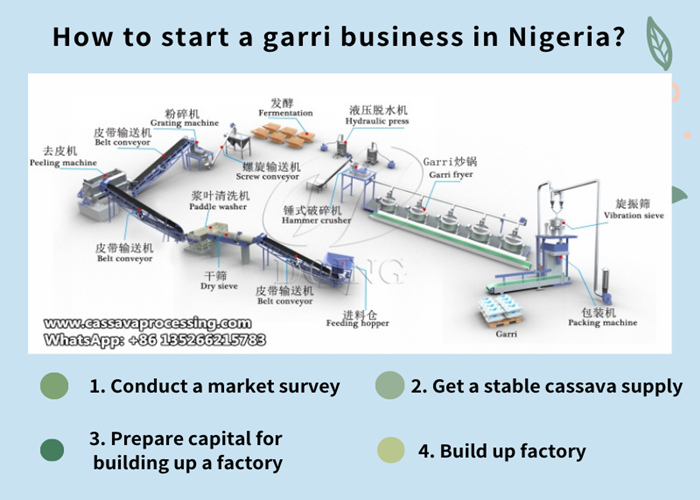 How to start a garri business in Nigeria?

1. Conduct a market survey
You can work on the sales market of the final garri for several days. Where you should sell garri, how much will you sell for garri, and how do you sell your product? You can learn the experience from a business that already runs a garri business.
2. Get a stable cassava supply
Whether you buy from local farmers or you harvest cassava from your farm, it is very important to have a stable and adequate supply of raw cassava roots. Apart from the supply quantity, you should also focus on the quality of the tubers.
3. Prepare capital for building up a factory
This includes two parts: one is the garri processing machine cost, another is the workshop construction cost, and the last is the running cost for a garri processing machine. Besides, you should also keep some circulating funds for other things.
4. Build up factory
Normally equipment purchase and workshop construction are processed at the same time. Once the workshop is ready, the next is to put machines in place and do the commissioning and training of workers. After all, is finished, you can run the factory smoothly.
5. Sell garri
You can sell garri to family and friends, supply to the supermarket, or sell garri online.
Many beginners, may not know how garri is processed and what the garri processing machine has. I will introduce it to you below.
How garri is processed?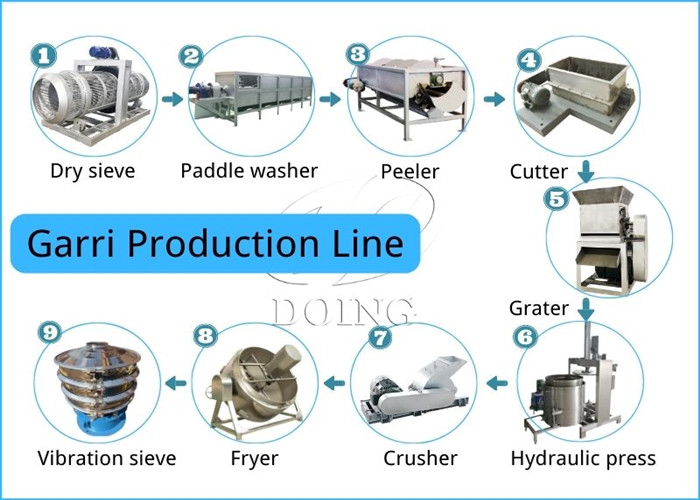 How to process garri?

Garri is processed from fresh cassava roots by the means of washing and peeling, crushing, fermentation, dehydration, frying, and sieving. In the beginning, people do all the work by hand. Even now, there are lots of factories in Nigeria that use traditional ways and labor works to do garri production. It is ok to produce garri manually if the capacity is small. But if you want to build a standard factory and process garri at a large scale, machines are necessary.
What machines are needed for garri production?
After cassava roots are harvested from the field, a cleaning and washing machine is used to remove impurities. And then cassava peeling machine can remove the first and second layers of tubers. After that, put the peeled cassava into a grater machine for crushing. Then we can get cassava mash. Put cassava mash into bags for fermentation for 2-3 days. Then dehydrate fermented cassava by hydraulic presser machine. Following that, use a crusher machine to crush cassava into small pieces. Finally, put cassava particles into the fryer machine and sieve coarse flour to get high quality garri.
Henan Jinrui company can supply complete machines for garri production from the beginning to the end in Nigeria. Of course, we have many other successful cassava processing projects in many countries in Africa. And we have professional business managers and engineers to provide you with suggestions and guidance for your cassava processing projects.
The above is a brief introduction to how to start a garri business. If you have further questions, feel free to contact us for more details.
CONTACT US
DOING company offers cassava processing machine from single machine to the complete production line. If you want to get more details about cassava processing machine, please contact us:
Do you want to buy machine?
Yes, I want to buy machine
No, I Just learning
What is your raw material?
Cassava
Potato
Sweet potato
Others
2. What is the final product you want to produce?
Garri
Cassava flour
Cassava starch
Cassava chips
Attiekie
Bammy
Others
3.What is your capacity plan?
Small scale garri machine
1ton per day
2tons per day
3tons per day
10tons per day
20tons per day
Others
3.What is your capacity plan?
Small scale
5tons per day
10tons per day
20tons per day
50tons per day
100tons per day
Others
3.What is your capacity plan?
Small scale
5tons per day
10tons per day
20tons per day
50tons per day
100tons per day
200tons per day
300tons per day
Others
3.What is your capacity plan?
Small scale
Middle type
Large scale
What is your capacity plan?
Small scale
5tons per day
10tons per day
20tons per day
50tons per day
100tons per day
200tons per day
300tons per day
Others

Chat Online

Tel/WhatsApp
0086 135 2661 5783

Leave Message