Different cassava dewatering machine
Cassava can be processed into various products such as garri, cassava flour and cassava starch. During the processing of these products, there is a dewatering process. According to the processing characteristics of these products, Henan Jinrui has designed different cassava dewatering machine. The following will introduce you in detail.
1. Hydraulic press dewatering machine
Hydraulic presses are commonly used in garri production lines, which work by extrusion. The grated cassava is ground into cassava pulp, and then the hydraulic press dewatering machine adopts hydraulic pressure and reliable electric control system to squeeze the moisture in the material directly out of the barrel. We have designed two types of machines: one is stand-alone without outer barrel, and the other is collected with outer barrel to meet different requirements. It is made of food-grade stainless steel, which can be used in both garri production and cassava flour production line.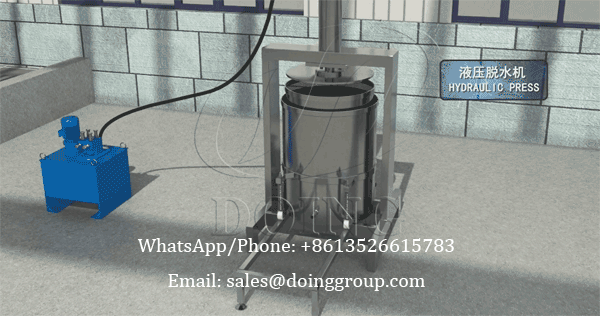 Garri dewatering machine hydraulic press

2. Plate and frame filter press
This machine is also a dehydrator, which is usually used in the cassava flour production line. In the fully automatic cassava flour processing line, the pulverized cassava pulp will be intermittently sent to the plate and frame filter press, which is also the principle of extrusion dehydration. The water content of cassava cake after dehydration is about 40%. Compared with the hydraulic press dewatering machine, the plate and frame filter press has a larger processing capacity and higher dehydration efficiency. We suggest to choose the appropriate dewatering machine according to your cassava flour processing scale. If it is a small-scale automatic production of cassava flour, the hydraulic press dewatering machine can fully meet your needs. But if you have a large cassava flour processing plant, then having a high-efficiency plate and frame filter press to complete the dewatering process can make your plant run more efficiently. Henan Jinrui has different models of cassava dewatering machine for you to choose from.
| | | |
| --- | --- | --- |
| Machine | Hydraulic press dewatering machine | Plate and frame filter press |
| Material | SS304 | SS304 |
| Capacity | 500kg/h | Select as your request |
| Power | 3kw | 2.2-4kw |
| Drum diameter(mm) | 450 | / |
| Filter area(m2) | / | 30-70 |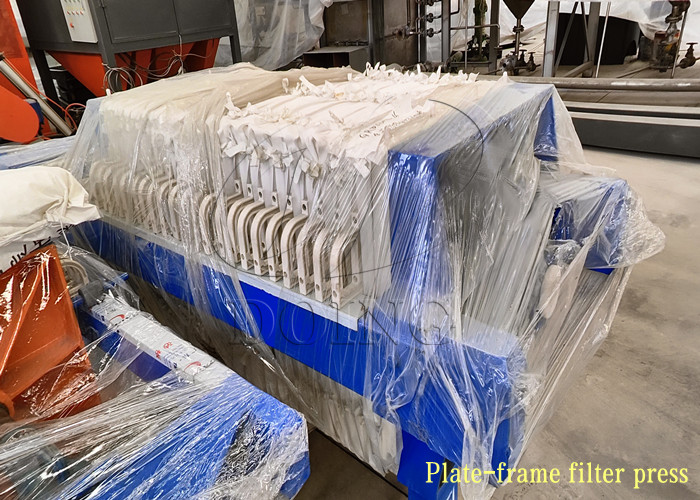 Plate-frame filter press cassava dewatering machine

3. Vacuum filter
Vacuum filter is a dewatering machine for starch production. The device has a rotor with surface mesh on the conveyor. Its working principle is to use the vacuum pump to draw out the water, and the starch is adsorbed on the surface net. When the starch reaches a certain thickness, the scraper below will scrape off the starch. Usually the water content can reach 38%. The machine has low energy consumption, high dehydration rate and good working performance, which is an ideal choice for large and medium-sized starch processing plants.
4. Peeler centrifuge
This is another cassava dewatering machine used in starch processing for refined starch milk. It is equipped with a horizontal drum, automatic control of starch milk feeding, automatic scraper feeding and discharging. This cassava dehydrator has a higher capacity and is generally suitable for cassava starch factories with larger processing scales. The water content can reach 36.5%. 【Recommended reading: Teach you how to choose starch processing machines】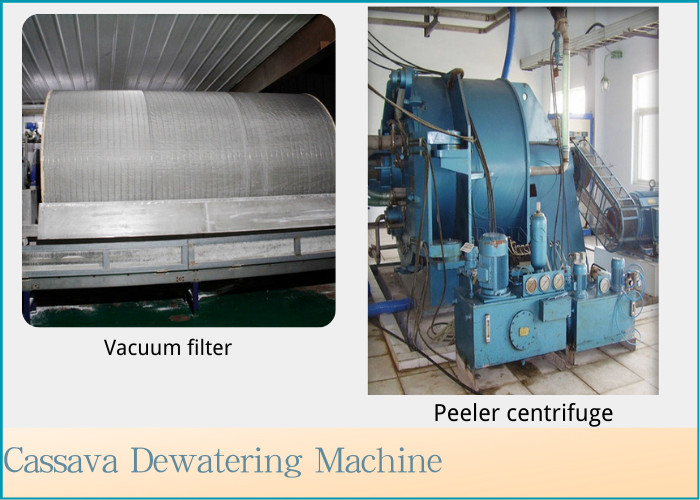 Cassava dewatering machine

Cassava dewatering machine is usually divided into these four types, if you want to know more, please contact Henan Jinrui Company. As a professional cassava deep processing machine manufacturer, Henan Jinrui has an independent technical research and development team and manufacturing factory, which can provide you with a full set of cassava processing machine, such as garri, cassava flour, and cassava starch equipment. Looking forward to your consultation.
CONTACT US
DOING company offers cassava processing machine from single machine to the complete production line. If you want to get more details about cassava processing machine, please contact us:
Do you want to buy machine?
Yes, I want to buy machine
No, I Just learning
What is your raw material?
Cassava
Potato
Sweet potato
Others
2. What is the final product you want to produce?
Garri
Cassava flour
Cassava starch
Cassava chips
Attiekie
Bammy
Others
3.What is your capacity plan?
Small scale garri machine
1ton per day
2tons per day
3tons per day
10tons per day
20tons per day
Others
3.What is your capacity plan?
Small scale
5tons per day
10tons per day
20tons per day
50tons per day
100tons per day
Others
3.What is your capacity plan?
Small scale
5tons per day
10tons per day
20tons per day
50tons per day
100tons per day
200tons per day
300tons per day
Others
3.What is your capacity plan?
Small scale
Middle type
Large scale
What is your capacity plan?
Small scale
5tons per day
10tons per day
20tons per day
50tons per day
100tons per day
200tons per day
300tons per day
Others

Chat Online

Tel/WhatsApp
0086 135 2661 5783

Leave Message