Why do large cassava flour processing plants first choose automated processing equipment?
Automated processing equipment has gradually become the first choice for large cassava flour processing plants? Why is this? Maybe you already have a clue when you search for this article. Whether it is the popularity of cassava flour or the high demand in the market, it shows that the use of cassava flour is being popularized and increased, which also drives more large cassava flour processing plants first choose automated processing equipment to produce more cassava flour for sale.
Let me tell you the advantages of automated cassava flour processing equipment:
1. High degree of automation and simple operation
It has precise automatic control system that can be connected with each machine, and you can monitor the condition of each machine through the display screen. If there are any problems, you will get a failure prompt. It is convenient for you to maintain quickly and keep your production line up and running longer.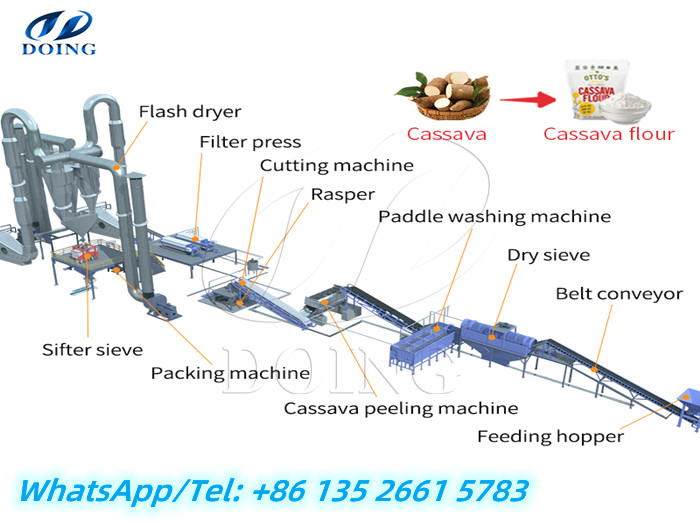 Complete set automated cassava flour processing equipment
2. Less energy consumption
The crushing section of the automated cassava flour palnt adopts sorting crushing. Compared to conventional crushing, this operation results in lower energy consumption and better protection with the rasper. You also know it's hard to get enough water in Africa, so if you use automated lines, there are pipes and tanks to collect water and recycle it and use it for the washing part. It will save you more water.
3. Save labor costs and reduce operating costs
The flour production line includes washing machine, cutting and grinding equipment, desander, dewatering and drying equipment. So you want to get cassava flour, it needs several pieces of equipment working together, not just one machine, which means you need more people to operate. Automatic lines will avoid this problem. This will save you more labor.
4. Extract high-quality cassava flour in a short time
The automated cassava flour processing equipment manufactured by Henan Jinrui can process 2-40 tons of fresh cassava tubers per hour. It only takes 30 minutes from cleaning the cassava to producing dry cassava flour. In addition, in the drying section, an flash dryer with a negative pressure drying system is used to effectively control the loss of dust and ensure the uniformity of moisture in the finished cassava flour. This allows you to obtain high quality dry cassava flour with high whiteness.
In general, the introduction of automated cassava flour processing equipment is an inevitable trend for large-scale production of cassava flour. Henan Jinrui Company is a professional manufacturer and supplier of cassava processing plants, with rich experience in the design, manufacture, installation and commissioning of the whole line. Many projects have been successfully installed and operational in Africa and Southeast Asia. If you are interested in building or upgrading a cassava flour plant, please feel free to contact us for more details.

Chat Online

Tel/WhatsApp
0086 135 2661 5783

Leave Message