Home
>
News
>
Enterprise news
>
The after-sales service in DOING company to keep customers satisfied
The after-sales service in DOING company to keep customers satisfied
As a professional and responsible cassava processing equipment manufacturer and supplier. China Henan DOING company continues to improve the quality of products and excellent after-sales service to keep customers satisfied. We provide different types of after-sales service according to different countries and different situations.
Depending on the installation scale, DOING mainly have following 2 situations:
1. Small scale individual machines customer. The small scale garri production factory or small cassava flour production factory usually just adopts several sets of machines. These machines don't need special installation by the engineer guidance. So DOING company will offer the operating instructions to customers together with machines. When customer received these machines like cassava peeling machine, grating machine, dewatering machine, fryer and so on, they just need to link the power and open the switch to start the factory work. If customer can't operate cassava processing machines successfully, we will also offer the video or call to guide customers to operate these machines.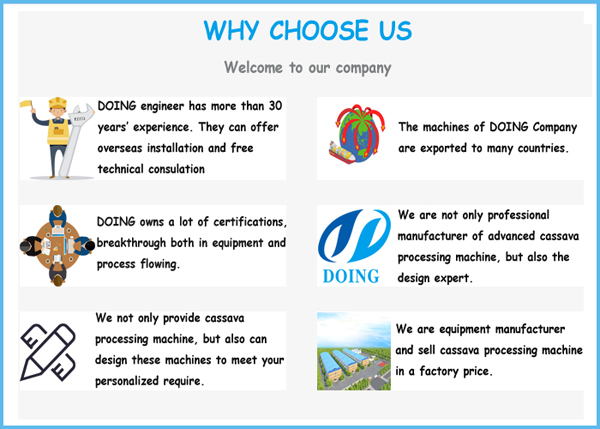 DOING's strength and can provide excellent after-sales service for you
2. Large scale full set of automatic cassava processing factory. This kind of factory is full-automatic and has large production capacity and size. It need to be equipped with various conveying equipment, pipelines, valves and corresponding electrical automation facilities and so on. Under this situation, DOING Company will send engineers to the project site to provide guidance installation.
To ensure efficient and smooth installation, during equipment manufacturing, our engineer will make the design for the factory workshop layout based on customer's site situation and requests. Then we will offer the drawings to customer to establish their factory base in advance. After completing the installation, DOING also will test the entire plant and ensure all equipment run normally and stably. Finally we will train workers to operate cassava processing machines safely. With all things done, our engineers will back to China.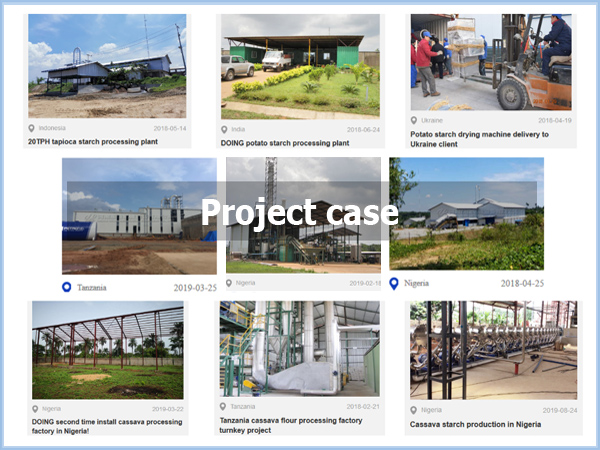 More project cases demonstrate DOING company's strength
What's more important, the warranty period is one year. If there is any trouble during the warranty period, spare parts will be provided free or we will offer free maintenance.
Sometimes, some customers will have special situations. Contact and tell us your demand, DOING will provide you with an exclusive after-sales service to to keep you satisfied.

Chat Online

Tel/WhatsApp
0086 135 2661 5783

Leave Message