Automated vacuum dehydrator introduction
The description of vacuum dehydrator
Product name:vacuum dehydrator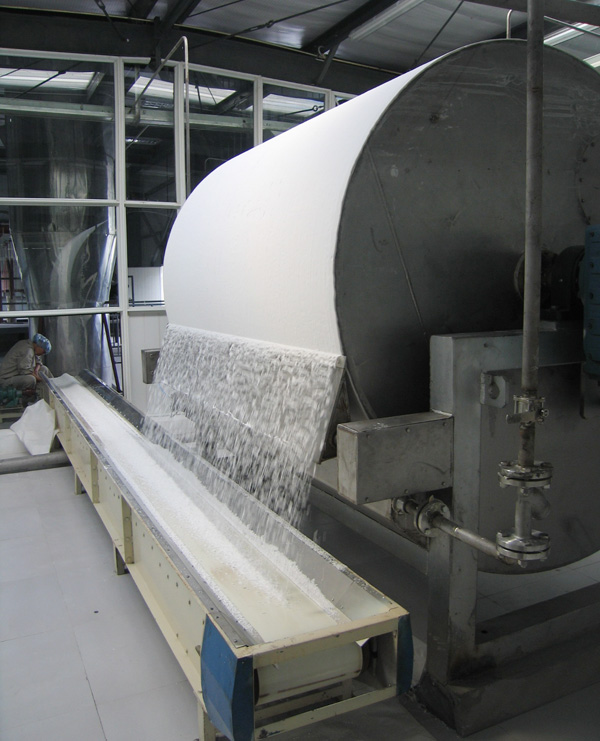 Vacuum dehydrator
Usefulness of vacuum dehydrator: Solid-liquid vacuum dehydrator is a starch dewatering machine widely used in medicine, food, chemical and other industries. All the equipment is made of high quality stainless steel, rotating drum speed frequency can be controlled There is paddle stirrer inside the filter in case of the sedimentation of starch. Scraper blade is made of high quality hardness alloy. DOING vacuum dehydrator absorbs the foreign advanced technology, stable operation, compact, low power consumption, small size, good performance, dehydration rate, no noise, easy operation and maintenance, is ideal for medium-sized enterprises in starch production.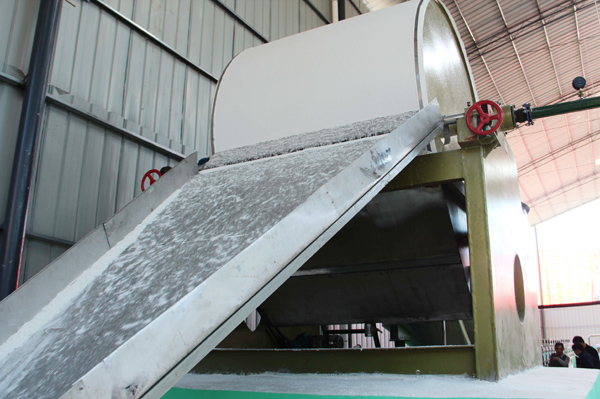 Vacuum dehydrator
The structure and principles of vacuum dehydrator
Vacuum dehydrator consisted of the rack, spindle, motor, reducer, feed associated interfaces, filter tank, overflow, recycling associated interfaces, mixers, washing water inlet, pneumatic squeegee, vacuum connection port, manhole, rotary drum , stirrer motor, cloth etc.
Horizontal rotating drum covered with a layer of porous surfaces must mesh filter cloth, filter cloth between the porous cylindrical shell fitted with a support network, cyclone roller through the filter tank, filter tank liquid level shall be equipped with a certain dehydrated starch emulsion . Reduced pressure of vacuum dehydrator up to 200 megabytes bar, the pressure difference inside and outside the drum (air) between the liquid and reach the interior of the drum through the filter cloth and vacuum pump connected through a dehydration tube, so that the drum, and recycling through the associated filtrate pump connecting tube pump interface out.
Emulsion solids starch (starch) does not travel through the filter cloth and the surface of the drum, the drum surface was again dipped in the starch prior to the emulsion, air knife means to continuously solid (starch) was scraped from the surface of vacuum dehydrator rotating drum and the conveyor belt falls into the next process.
Leave a Message About Automated vacuum dehydrator introduction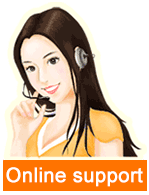 Leave a message

Tel/Whatsapp:+86 135 2661 5783