Small scale cassava starch processing plant
Cassava starch processing plant mainly can be devided into thress types: small scale cassava starch processing plant, medium scale and large scale cassava starch processing plant. They are normally defined by processed cassava per hour/day or produced starch per hour/day. Doing Company can supply thses three kind of plant according to customer's requirement and budgets.
Small scale cassava starch processing plant features:
| | |
| --- | --- |
| Capacity: | below 20t/d (this refers to produced cassava starch per day) |
| Application: | suitable for small and medium investors |
| Requirements: | a small plant, enough cassava raw material, complete set of cassava starch processing equipment,3-5 labors, water and power supply |
| Profits: | 150$/ton-230$/ton (for detail profit analysis, welcome to contact us) |
Small scale cassava starch processing plant is more popular in Nigeria and many African countries due to its low investment, high efficient and high profit. The small scale cassava starch processing plant process cassava through the following steps: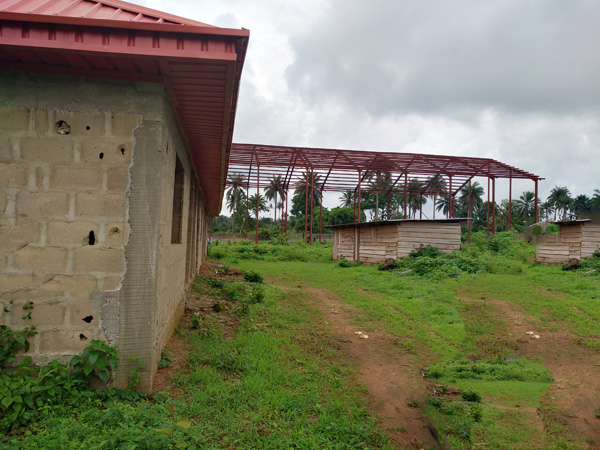 Small scale cassava starch processing plant
(1). Weighting and conveying: Weigh fresh cassava roots, convey it to processing machine through a belt conveyor.
(2). Washing: Small scale cassava starch processing plant finish the cassava washing process through a cleaner and a washer. The cleaner remove large debris that easily to be removed through rotation the screw, and then washer using water to carry away all attached soil, stone and other debris.
(3). Starch extraction: Starch extraction consists of cutting, grating, separation cassava slag and refining starch slutrry.
Cutting is a necessary step in small scale cassava starch processing plant for cassava has big size. By cutting it into small pieces, cassava is not only easier to be grated, but also can be grated more throughly and release more starch, thus gain higher yield.
Grating follows cutting to further break cassava, where rasper using its sharp file to fully grind cassava. In this step, they appear as the slurry mixture of starch, water, fibers and soon. The grating efficiency is crucial to the final starch yield. Therefore it is worth to choose a high efficient grater.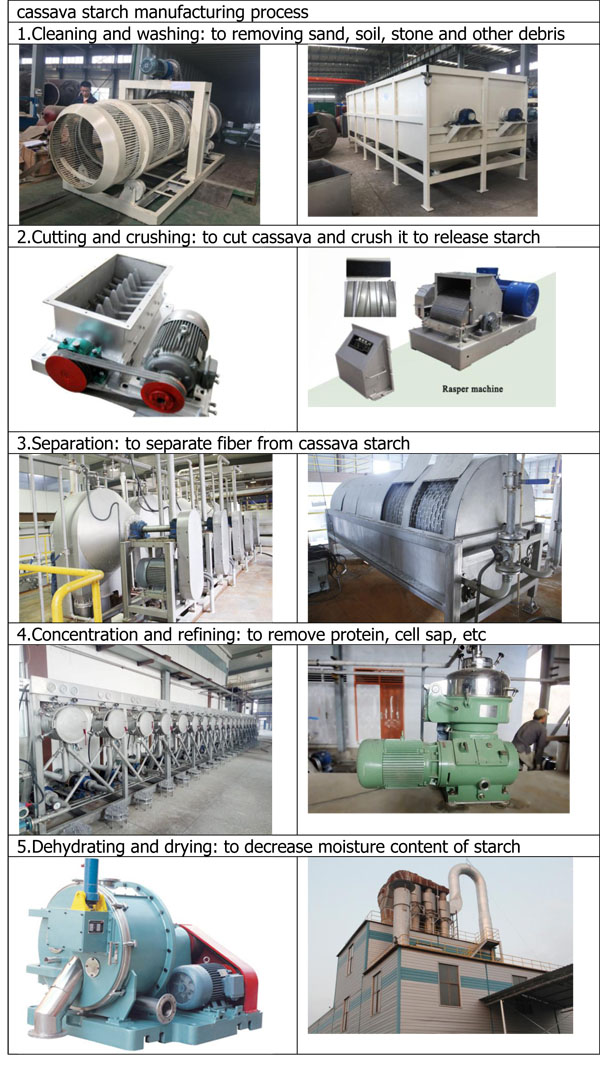 Cassava starch processing machine
Slag separation can be also named as fiber separation for this process in small scale cassava starch processing plant mainly remove fibers, includes large fiber and fine fibers. The fibers that separated can also be used as animal food.
Then we need remove sand contained in starch slurry, thus the taste of starch will be better and it can be sold at a higher price.
The last process for starch extraction is refining. A hydrocyclone station is used in small scale cassava starch processing plant to wash, refine, concentrate and recover starch. After refining, protein and other impurities are basically removed, the whiteness of starch is guaranteed.
(4). Dewatering: The obtained pure starch milk is here be dewatered to about 40%, a moisture content suitable for drying.
(5). Drying: In small scale cassava starch processing plant, drying takes place in air flow flash dryer, which can dry starch just in 3 minutes or so. The dried starch can be stored more than 2 years.
(6). Packing: Pack the produced cassava starch in the bag.
It is estimated that there are more than 2 hundred million tons cassava being abandoned in Nigeria,which is a great loss for Nigerian. Recent years, Nigerian government is always encourage people to engage in cassava processing business. Cassava starch as the most prospective and most profitable business is actually not being paid enough attention. Cassava starch not only can be used as food, it has many industrial usages and has huge demand in international market. So the easier to start cassava starch processing, the easier to capture the Nigerian as well as international market. We Doing Machinery as cassava deep processing equipment manufacturer, we have cassava starch processing plant project in Nigeria, Tanzania, and other countries. We can guide you for cassava starch business.

Chat Online

Tel/WhatsApp
0086 135 2661 5783

Leave Message