How to process cassava into garri?
Fresh cassava tubers are used as raw material to produce garri. The procedures for processing cassava into garri include cassava cleaning and washing, cassava peeling, cassava grating, fermentation, dewatering and frying.
1.Cassava cleaning, washing and peeling
Cassava tubers are attached with a lot of impurities after harvested from farm. Before cassava is further processed, cleaning, washing and peeling process are required. Firstly dry sieve machine is used to removed impurities attached on surface of cassava roots. Then paddle washing machine is used to deeply clean cassava. Finally sand roller peeling machine is used to remove the first and second layer of cassava tubers. If capacity is small, people usually finish cleaning and peeling process by hand.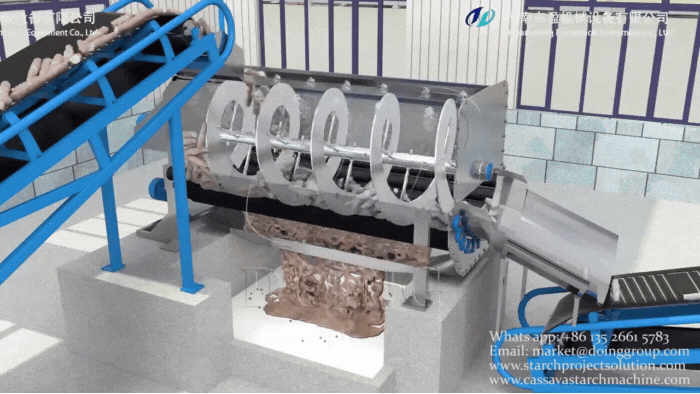 Cassava peeling machine of Henan Jinrui
2.Cassava grating and fermentation and dewatering.
Cassava grating process is normally finished by machine. Cassava grater machine designed by Henan Jinrui can separate starch slurry from cassava mash, which is very popular in African countries. After cassava is crushed, we can get cassava mash. And then put cassava mash into bags for 2-3 days' fermentation. Fermentation time can be adjusted according to different variety of garri you are producing. After that, hydraulic press machine is used to dehydrate fermented cassava. After dehydration, moisture content of cassava mash is around 38%.
3.Garri frying
After dehydration, you can use hand or grater machine to break cassava cakes and get wet powder. Then automatic garri fryer is used to fry wet cassava into mature garri. Garri fryer designed by Henan Jinrui is fully made of stainless steel. Fuel of the fryer can be electricity, diesel or gas. Client can choose the most economic type according to their market situation.
The above is a brief introduction of how to process cassava into garri. If you are interested in starting garri processing business and need some garri processing machines, please feel free to contact us for a detailed proposal and price.

Chat Online

Tel/WhatsApp
0086 135 2661 5783

Leave Message