How is starch extracted from cassava? How does modern cassava starch processing equipment work?
All of us know the cassava starch is widely used in different industries. But many clients may do not know the processing principle and processing technical of cassava starch. This article will give you a detailed introduction.
1. Principle Analysis
Cassava starch is very common in our life. It is a complicated process from cassava to starch. This process is not a chemical process, but a physical separation process. The cassava starch production is to separate protein, fiber and other substances from cassava starch. The processing section is very important which determines the quality of the starch.
2. Modern cassava starch processing technology
The modern cassava starch processing technology in DOING company is from Europe. There are rasper for cassava grinding, horizontal centrifuge sieve for cassava starch extraction and full hydrocyclone stations for cassava starch purification.
The cassava starch processing equipment mainly includes cassava cleaning section, cassava starch processing section and drying section. The main equipment: dry sieve, paddle washing machine, rasper, horizontal centrifuge sieve, hydrocyclone stations, peeler centrifuge and flash dryer etc.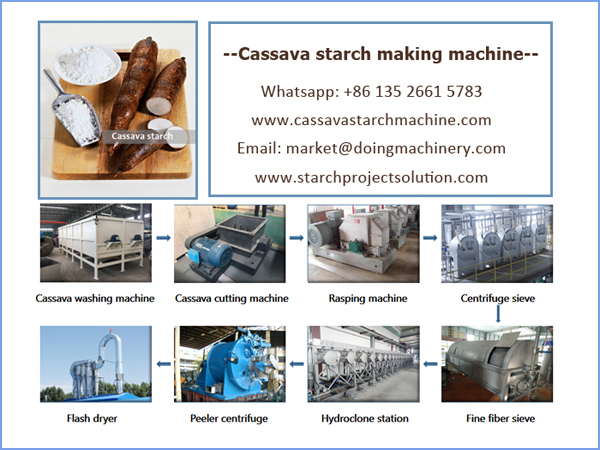 Modern cassava starch processing technology for cassava starch making
3. How is starch extracted from cassava?
- Dry sieve for cassava cleaning
- Paddle washing machine for cassava washing
- Rasper for cassava crushing
- Centrifuge sieve for slurry and residue separation
- Fine fiber sieve for further separating
- Desander for removing sand from cassava starch slurry
- Hydrocyclone station for removing insoluble protein, residue soluble protein and cell sap
- Peeler centrifuge in starch dewatering process which can effectively decrease moisture content to 36.5%
- Flash dryer for starch drying adopts negative pressure system which can not only effectively control the loss of starch but also purify the working environment to ensure the final starch quality
4. How does modern cassava starch processing equipment work?
This article will focus on several cassava starch processing machines.
Rasper
What we are using now is a new design rasper. The slimmed design reduces weight and more service space is obtained. The rotor design is kept by means of larger rotor diameter that incorporates the patented groove profile for the rasping blades. The profile makes it possible to place a greater number of rasping blades into the same diameter compared to the conventional profile. The rasping blades are clamped between two steel profiles, which allows them to be turned over or replaced rapidly. With the large rotor diameter, Rasper is able to maintain the high velocity for the rasping blades at a lower motor speed.
Horizontal centrifuge sieve
Centrifugal screen is the coarse fiber and wood pulp after rough grinding and desamination of the slurry separation which is widely used in large and medium-sized starch enterprises tuber and wheat starch extraction. Starch extraction rate is high. It's easy to install. Also it is the perfect combination of SGM and international advanced technology.
Our screening cone is designed for two different screening operations: porous plates for coarse screening and wire mesh for fine screening.This is why our horizontal centrifugal sieve can ensure higher cassava starch yield and better work efficiency.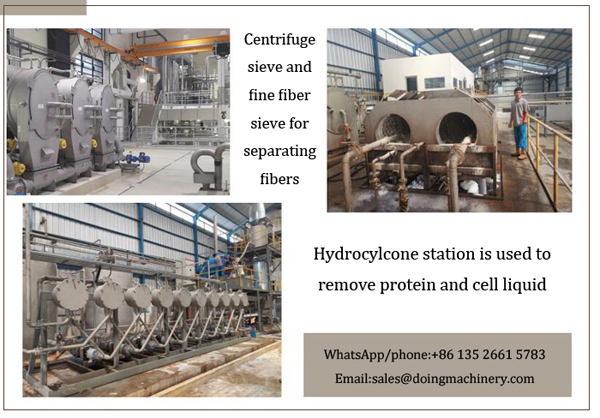 Centrifuge sieve and hydrocyclone station for cassava starch making
Hydrocyclone station
When the hydrocyclone works, the product is always in motion. We determine the size of the channel to allow for accelerated flow to produce a self-cleaning effect in the channel.The result is minimal bacterial growth. Flexible systems can accommodate both large and small traffic needs.This is why hydrocyclones are known for their outstanding starch quality.
With the above key equipment in cassava starch processing section, it will largely decide the quality of final cassava starch. Besides, there are also other more machines for a completed cassava starch processing line. If you want to set up a factory, it is essential to learn more details and these key machines in advance. If you want to know more information about cassava starch processing equipment, please contact DOING company as soon as possible.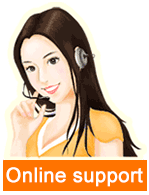 Leave a message

Tel/Whatsapp:+86 135 2661 5783