How to dry cassava starch for processing cassava into starch?
When process starch into starch, the step of drying cassava starch is very necessary and significant. Usually, after dewatering starch, then the next step is drying section. After drying, then the starch will be sieved and packed. At that time, the cassava starch processing is finished.
So how to dry cassava starch for processing cassava into starch? In fact, there are many ways for drying cassava starch. For example, sun drying and flash drying.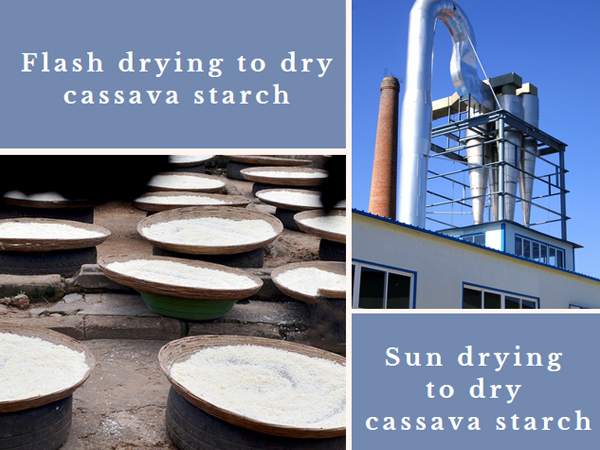 Flash drying and sun drying to dry cassava starch for processing cassava into starch
How to choose the way to dry cassava starch for processing cassava into starch?
Above all, according to your required processing capacity. If you have a high demand for the quality and fineness of cassava starch, obviously the sun drying is not recommend. Because it is only suitable small output and low quality requirements. So the first choice is flash drying equipment to dry cassava starch. The fineness and whiteness of cassava starch from flash drying is better than others ways.
How to dry cassava starch by flash drying equipment?
The flash drying equipment adopts the principle of negative pressure drying. Starch dried by flash drying equipment has features of clean appearance, glossy luster, smooth powder, and stable moisture. Flash dryer can be designed and produced based on customers' requests on space and warehouse, which is convenient for installation, operation and maintenance. In the process of how to dry starch, air speed in this flash dryer is continuously changed because of different section diameters of pulse tubes, therefore, heating transfer coefficient is high and mass materials can be dried well. Flash dryer is especially designed for starch production, which could ensure complete dryness and product refining.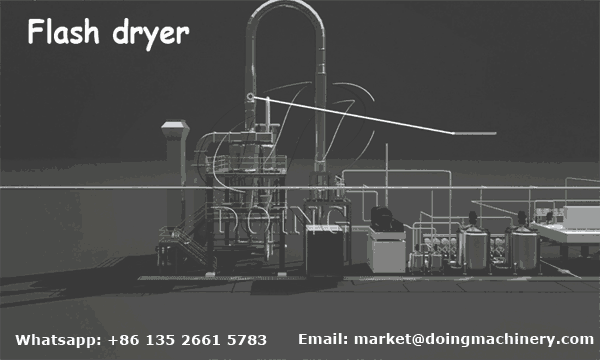 The principle of flsh dryer
The characteristics of flash drying system in the step of how to dry starch:
1. Using air instant drying principle, with the characteristics of high drying intensity
2. Short drying time, low steam consumption and fast dewatering
3. High thermal efficiency and excellent quality of tapioca starch production
4. High drying intensity and strong dewatering ability
5. Simple structure, small area occupied and low investment
6. Negative pressure environment, clean and no pollution
7. Mature technology application in tapioca starch production
The moisture content of the finished product by flash drying equipment in DOING company is about 14%, which fully meets the standard of high-quality starch. If you want to make high quality cassava starch, you can contact us and get free quote.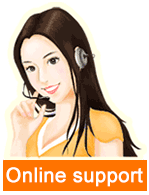 Leave a message

Tel/Whatsapp:+86 135 2661 5783