Home
>
News
>
Enterprise news
>
Jamaican customers signed a contract for cassava processing machine to make bammy
Jamaican customers signed a contract for cassava processing machine to make bammy
A month ago, maybe you saw the news about the customer from Jamaica visited DOING company for cassava processing machine. We receive the customer's deposit within a period of one month time. The customers sign the contract in such a short time which is enough to show his recognition of all aspects of DOING company.
Bammy is a traditional local food made by cassava in Jamaica. The process of making bammy is cleaning, washing, peeling, grating, dehydrating, sieving and cooking which is very similar with the process of garri. And their raw material are cassava. DOING company can provide the cassava processing machine from cleaning to sieving for the customer from Jamaica.
This is the second time that the two Jamaican customers visited DOING company. The first time to visit our factory in November to inspect our cassava processing machines(Related News: The customer from Jamaica visits DOING cassava processing machine). After the visit of DOING' s office and workshop, the customer from Jamaica has a deeper understanding for DOING' s cassava processing machine. He is very satisfied with our equipment quality and processing technology in November. The purpose of this visit is to sign a contract with DOING company to buy cassava processing machine.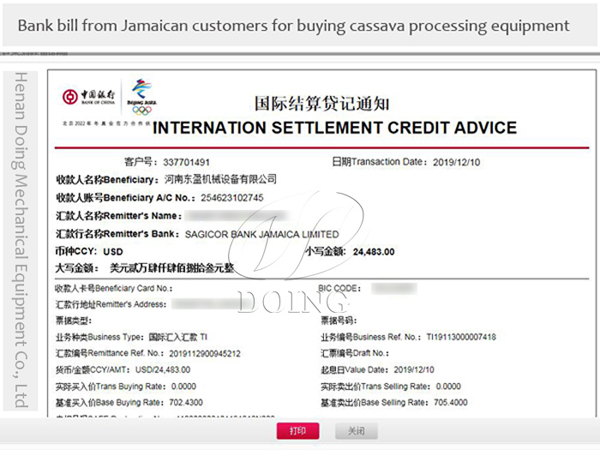 The deposit of bammy processing machine
After receiving the order, DOING factory has begun to produce the ordered cassava processing equipment according to contract, and will delivery equipment for him on time. Stay tuned for us and we will update the equipment shipping news later. It is our aim to provide customers with high-quality equipment. On-time delivery and focus on after-sales are the key to gaining customers' trust and favor. If you also want to buy cassava processing machines, please contact us.

Chat Online

Tel/WhatsApp
0086 135 2661 5783

Leave Message