Extraction of starch from potato method
The development prospect of extraction of starch from potato industry:
-1. Analysis of the value-added potential of deep processing of potato starch—potato starch and its derivatives, with their unique characteristics, such as textile, paper making, chemical and building materials.
-2. In medicine, at present, several hundred kinds of nutritious food made of potato starch and other grain have been developed. It can be seen that extraction of starch from potato process has very high development value and broad market prospects.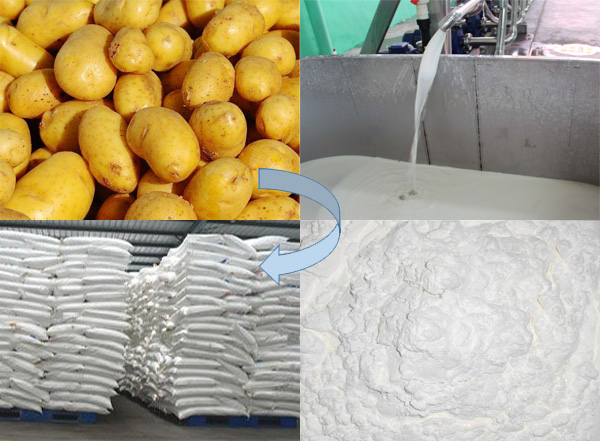 Potato starch extraction process
The industrial rate of extraction of starch from potato processing is 60% in the United States and 47% in Holland. The output of potato in the United States is basically stagnant and the fifteen countries of the EU are in constant decline. So the gap of extraction of starch from potato is getting bigger recently. Based on the situation, Doing is committed to developing low-cost and high rate of return of the potato starch plant for a long time. There are five steps included in the extraction of starch from potato process:
1. Cleaning and washing
Dry sieve can effectively remove dirt, sand and small stones and avoid sewage disposal. Rotary drum cleaning machine is able to remove silts and impurities from the surface of potato. Freely choosing whether or not to purchase these machines in the extraction of starch from potato process because cleaning and washing can be done manually.
2. Crushing section
Rasping machine can improve the crushing and extraction rate. The rasping machine is independently developed by our Doing company. It is widely used in the production of potato, lotus root, beans and rice starch. The rasping machine mainly breaks and crushes the raw material in the extraction of starch from potato process.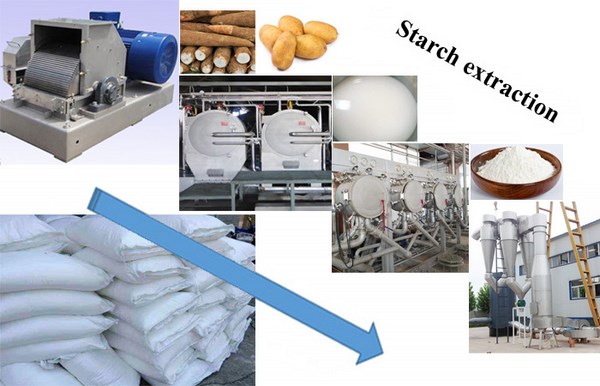 Potato starch extraction main machine
3. Screening
Centrifuge sieve is mainly used to separate the fiber and starch slurry. It is important to ensure the purity of finished product in the extraction of starch from potato process
4. Concentrating
Hydro cyclone station can remove fiber, protein and cell to further process potato starch milk.
Vacuum filter is a solid-liquid separation machine which is formed by vacuum pressure and vacuum filtration.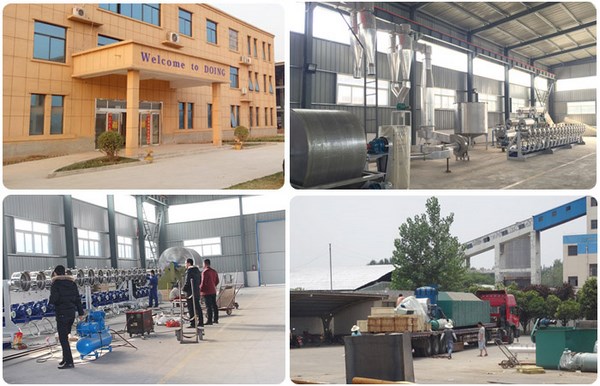 Welcome to DOING
5. Drying section
The potato is first dried by the two level of the exhaust gas and the mixture of the supplementary hot air in the airflow flash dryer (click to see the video). Then, the high humidity and low temperature tail gas are discharged out of the machine. The additional hot air volume can be adjusted according to need. In the extraction of starch from potato process the equipment is high applicability.
Finally, for your potato starch production plant construction smoothly, below is a cost analysis, take the 20T/H potato starch production as an example:
20 T/H potato starch production cost analysis
Remark
Cost per ton

The cost per ton of starch

10 h/d 30 tons potato starch
Raw material(potato)
USD 113
USD 680
6 tons potatoes produce 1 ton starch
Water fee

USD 5

1 ton of water per ton of potatoes

Electricity fee
100 kw

Whole production cost power is 500 kw. 1 ton starch need 160kw/h

Labor fee
12 person per unit
USD 10

USD 21 per person per day

Each ton starch cost USD 10

Machine depreciation fee
USD 17
Total
USD 740
Per ton starch total cost
Starch price
USD 970
Current potato starch price in China
Profit
USD 230
The profit of per ton starch
The special nature of the raw material resources of the potato determines its specialty in the way of production - the degree of automation in the cultivation process is more difficult and costly. At the same time, because of the high transportation cost of the raw materials, it cannot be transported by large radius, which determined that its primary product processing of extraction of starch from potato can only be carried out in the source area. However, in the developed countries, the extraction of starch from potato processing enterprises to import raw starch from foreign countries are restricted by their domestic policies, in this way, the further development of potato starch industry in developed countries has been limited.
The price advantage of potato is obvious, it is unparalleled advantage in developed countries, which has the foundation of reducing the production cost of extraction of starch from potato.

Chat Online

Tel/WhatsApp
0086 135 2661 5783

Leave Message