What products can I make by processing cassava roots?
Cassava is drought-resistant and widely planted in more than 100 countries or regions in Africa, America and Asia. It is the food for nearly 600 million people in the world. As cassava consumption increases, cassava is processed into different products such as garri, cassava flour, cassava fufu flour, cassava starch and cassava chips.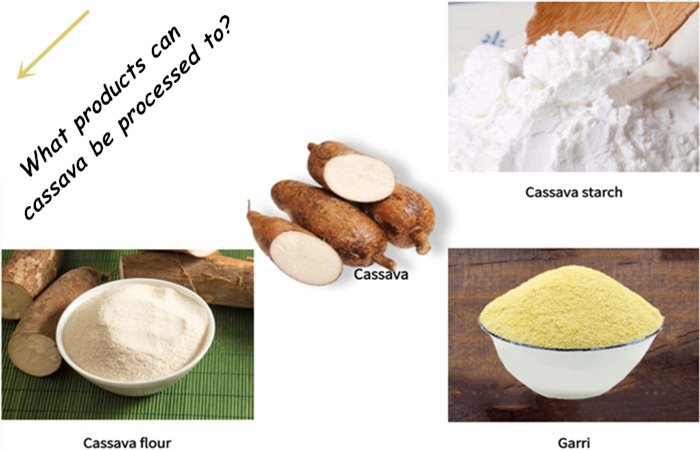 Different cassava products
1.Garri
Garri is a popular West African food made from cassava tubers. The process of making garri is as follows: cassava cleaning and washing, peeling, grating, fermentation, dewatering, frying and sieving. Normally garri is in white color, by adding palm oil you can get yellow garri.
2.Cassava flour
Cassava flour is a gluten-free flour made from the cassava roots, which is native to South America and grown in tropical and sub-tropical regions. Cassava flour can be used for production of food like noodles, biscuit, bread, etc. Machines from Henan Jinrui Company adopt worldwide advanced wet processing technology. Fresh cassava roots are used as raw material and complete line can achieve large scale and continuous production. The procedures of producing cassava flour is as follows: fresh cassava roots cleaning, washing, peeling, cutting, crushing, desanding, dewatering, drying and sieving.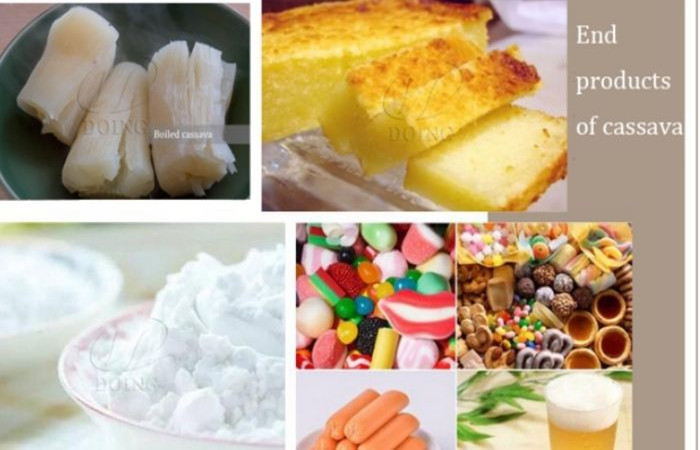 End products of cassava
3.Cassava fufu flour
Cassava fufu flour is similar to cassava flour. The only difference is that fufu flour production includes fermentation process. Therefore, the processing of fufu flour production is: cassava cleaning and washing, peeling, cutting, fermentation, crushing, desanding, dewatering, drying and sieving. Fermentation times and temperatures vary from country to country.
4.Cassava starch
Cassava starch is a powder obtained from cassava after starch extraction, dewatering and drying. It is widely used in food and non-food production fields like paper making, printing, textile, cosmetics, additives, ethanol, etc. The steps to process cassava starch is as follows: cassava cleaning and washing, cutting, crushing, fiber removing, desanding, starch refining, dewatering, drying and sieving.
5.Cassava chips
Dried cassava chips can be used for animal feed or ethanol production. After cassava roots are harvested, people can simply clean and peel cassava, and then use chipping machine to slice cassava. After drying, cassava chips can be stored for longer time.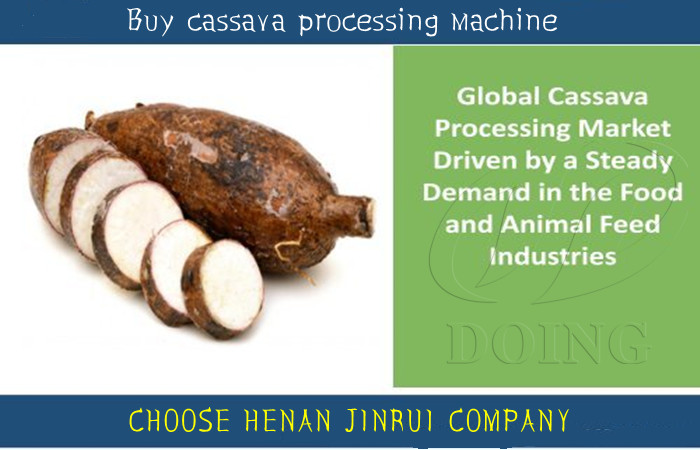 Choose cassava processing machine
The above are the main products that can be made from cassava processing. In addition to the above list, there are other cassava products like attieke, bammy, etc. If you have plans to produce such a product, please feel free to contact us for more details about the machine. Henan Jinrui Company will provide you with suitable solutions according to your requirements.
CONTACT US
DOING company offers cassava processing machine from single machine to the complete production line. If you want to get more details about cassava processing machine, please contact us:
Do you want to buy machine?
Yes, I want to buy machine
No, I Just learning
What is your raw material?
Cassava
Potato
Sweet potato
Others
2. What is the final product you want to produce?
Garri
Cassava flour
Cassava starch
Cassava chips
Attiekie
Bammy
Others
3.What is your capacity plan?
Small scale garri machine
1ton per day
2tons per day
3tons per day
10tons per day
20tons per day
Others
3.What is your capacity plan?
Small scale
5tons per day
10tons per day
20tons per day
50tons per day
100tons per day
Others
3.What is your capacity plan?
Small scale
5tons per day
10tons per day
20tons per day
50tons per day
100tons per day
200tons per day
300tons per day
Others
3.What is your capacity plan?
Small scale
Middle type
Large scale
What is your capacity plan?
Small scale
5tons per day
10tons per day
20tons per day
50tons per day
100tons per day
200tons per day
300tons per day
Others

Chat Online

Tel/WhatsApp
0086 135 2661 5783

Leave Message