What is mini gari production machine? How much is it?
Generally speaking, gari production machines are divided into mini, medium, and large. As a beginner in the gari production business, people prefer to start with mini gari production machines. So what is mini gari production machine? How much is it?
Normally cassava peeler, cassava grater, hydraulic press dewatering machine, gari fryer, and vibration sieve machine are recommended as a mini semi-automatic gari production plant.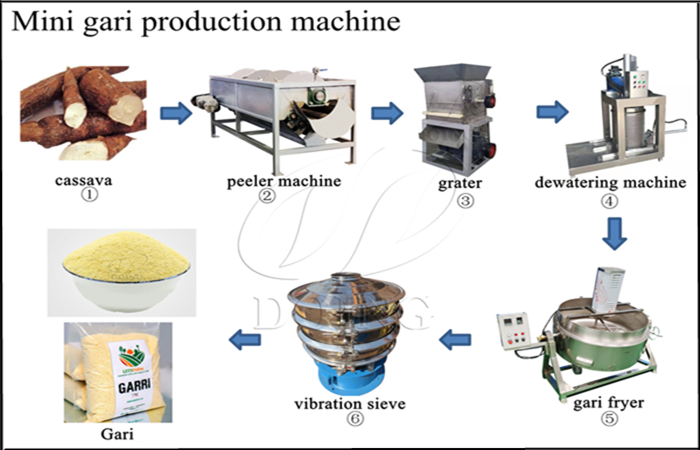 Mini gari production machine
Cassava peeling machine
You can put cassava directly into the peeler. When it's running, the rollers inside will peel off cassava skin very well. At the same time, spray water is added to wash out cassava peel residues, ensuring the cleanness of cassava roots and a good peeling effect.
Cassava grating machine
The machine is made of stainless steel, and it can crush cassava at an appropriate size, ensuring the good taste of the final gari. The machine can be driven by an electric motor or diesel engine. You can choose the most economic one according to your local market.
Hydraulic press dewatering machine
After cassava fermentation, you can put bags into the machine directly. And then press the button, and the pressure will come down to squeeze cassava and extract out water. The machine has high working efficiency, saving labor work.
Gari fryer
The machine can fry fermented cassava into gari automatically. Our fryer machine consists of two systems. One is the heating system, which can be fueled by diesel, gas, or electricity. Another one is the stirring system which is powered by a motor. When it's frying, the agitator makes heating evenly, preventing the sticking phenomenon.
Vibration sieve machine
After gari frying is finished, put the product into the sieving machine to separate large gari particles for ensuring the uniform size of gari and good taste.
The above is a brief introduction to mini gari production machines. Henan Jinrui company supports customized gari production machines, and different customized output has different prices. The price of the mini gari plant depends on how many sets you want and the production capacity. Of course, in addition to this, you can also choose a medium or large gari production machine according to your budget. If you are interested, feel free to contact us to get a detailed price.

Chat Online

Tel/WhatsApp
0086 135 2661 5783

Leave Message