Cassava to garri processing machine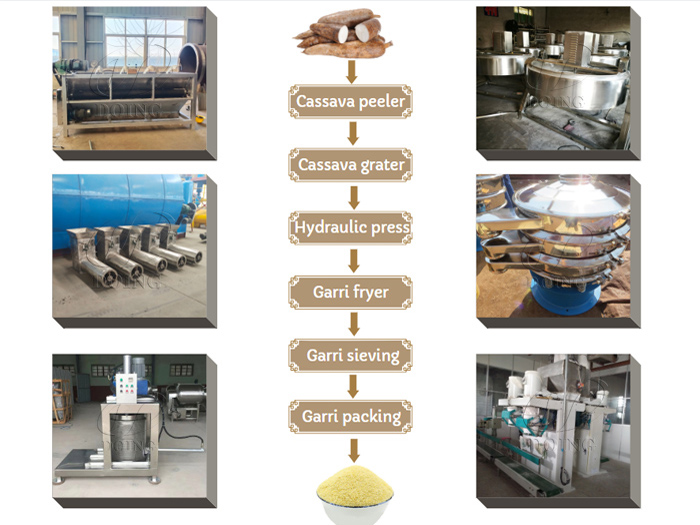 Factory direct sale contact number
Brief introduction of cassava and garri
Garri is a paste-like pellet obtained by processing freshly harvested cassava tubers. It is a staple food in many countries and regions in Africa, such as Nigeria, Ghana, Cameroon, Liberia, Sierra Leon, Benin, etc.
Generally speaking, the yield ratio of cassava and garri is 4:1, but the final garri yield ratio is influenced by many factors, for example, cassava quality, processing technology and garri processing equipment quality.
What machines are needed to process cassava to garri and what are their functions?
In order to increase the value of cassava, many people choose to invest in cassava to garri processing plant and buy processing machine to obtain more benefits. Below I will describe the main cassava to garri processing machine and their functions in detail to help new investors learn more about machines.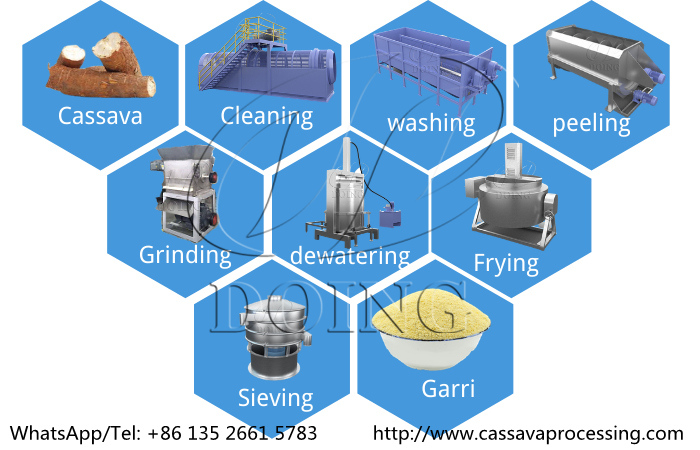 Cassava process flow
The needed machines to process cassava to garri and their functions are as follows:
1.Dry sieve: used to remove dirt, sand, weeds, small stones and other impurities on the surface of cassava.
2.Paddle washing machine: used to wash cassava completely and eliminate sand & mud effectively.
3.Cassava peeling machine: used to remove two layers of cassava tuber.
4.Cassava grinding machine: used to crush fresh cassava tubers into cassava mash.
5.Dewatering machine/Hydraulic press: used to squeeze out the water in the crushed cassava by virtue of hydraulic principle.
6.Hammer crusher: used to mill the cassava cake into small cassava powdery particles.
7.Garri fryer: used to stir and fry garri automatically.
8.Vibration sieve: used to screen garri with different size particles.
Processing capacity of cassava to garri processing machine
The common processing capacity of cassava to garri processing machine is 500kg to 20 tons per day or more. If you have machine purchase requirements, you can contact professional and reliable machine manufacturer to customize the most suitable cassava to garri processing machine at the same time saving investment cost.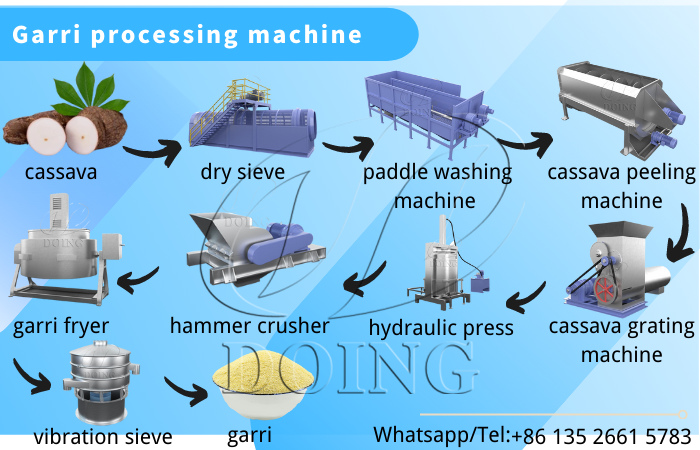 Garri processing flow
Why choose Jinrui's cassava to garri processing machine?
1.Jinrui's cassava to garri processing machine has the advantages of mature processing technology, high automatic degree, stable operation, easy handling and maintenance, low power consumption, small footprint, etc. Our cassava to garri processing machine is hot sale in more than 30 countries and regions.
2.Jinrui has 10+ years cassava to garri processing machine manufacturing and installing experience. And we have developed our own factory and professional engineer team, include process engineer, mechanical engineer, electrical engineer, installation team, etc.
3.Jinrui can provide excellent after-sales service and all-round technical support, like factory visiting, machine installation and debugging, worker training service, etc. All our machines have one year warranty. And once there is any problem on machine running, we can provide online or video guide any time.
Suggestion to You from DOING - Henan Jinrui Company
Cassava has a period of freshness, it's suggested to finish cassava to garri processing in one weeks after the cassava harvest time. If you have any ideas about investing in cassava to garri processing business, welcome to consult us and we can help you obtain more benefits!

PREV:Automated garri making machine

NEXT:Nothing
CONTACT US
DOING company offers cassava processing machine from single machine to the complete production line. If you want to get more details about cassava processing machine, please contact us:
Do you want to buy machine?
Yes, I want to buy machine
No, I Just learning
What is your raw material?
Cassava
Potato
Sweet potato
Others
2. What is the final product you want to produce?
Garri
Cassava flour
Cassava starch
Cassava chips
Attiekie
Bammy
Others
3.What is your capacity plan?
Small scale garri machine
1ton per day
2tons per day
3tons per day
10tons per day
20tons per day
Others
3.What is your capacity plan?
Small scale
5tons per day
10tons per day
20tons per day
50tons per day
100tons per day
Others
3.What is your capacity plan?
Small scale
5tons per day
10tons per day
20tons per day
50tons per day
100tons per day
200tons per day
300tons per day
Others
3.What is your capacity plan?
Small scale
Middle type
Large scale
What is your capacity plan?
Small scale
5tons per day
10tons per day
20tons per day
50tons per day
100tons per day
200tons per day
300tons per day
Others

Chat Online

Tel/WhatsApp
0086 135 2661 5783

Leave Message