Cassava starch processing machine working principle and cassava starch production process introduction
Henan Jinrui Food Co., Ltd. is a comprehensive starch and flour processing equipment manufacturer integrating technological design, research and development, machine production. We can provide you whole process cassava starch processing machine, potato and sweet potato starch processing machine and garri processing machine, which are full automatic and high efficiency. Today, we will introduce the working principle of cassava starch processing machine and production process of cassava starch in detail for you.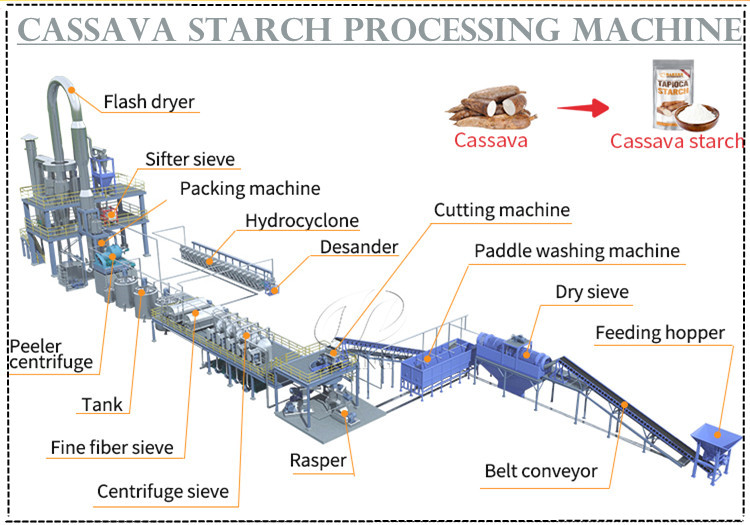 Whole process cassava starch processing machine
The working principle of cassava starch processing machine
The production process of cassava starch is a physical separation process, that is, the fibers, proteins, inorganic salts and other substances in the cassava raw material are separated from the starch. In the production process, according to the nature of starch insoluble in cold water and its specific gravity is greater than that of water, the starch is separated from the water suspension by using water and special mechanical equipment, so as to achieve the purpose of extracting starch.
The production process of cassava starch
The production process of cassava starch can be divided into the following ten steps: cleaning, cutting, crushing, separating, desanding, refining, dewatering, drying, sieving and packing.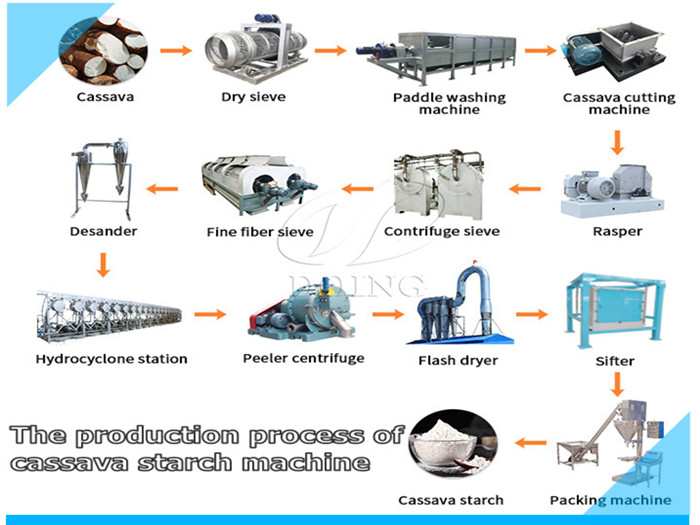 The production process of cassava starch
Step 1: Cleaning
The washing step requires the use of a dry sieve and paddle washing machine. They can effectively remove dirt, sand, mixed stones, weeds and other impurities adhering to the surface of cassava. The degree of cassava cleaning affects the quality of the finished cassava starch.
Step 2: Cutting
Because the tubers of cassava are relatively large and have many fibers, the cleaned cassava needs to be pre-crushed through a cutting machine to be crushed into blocks. It is made of food grade stainless steel (4cr13), and the blade adopts a diamond-shaped blade, which has a longer service life and is durable.
Step 3: Crushing
The rasper is used for secondary milling and crushing of cassava. It adopts Sweden SKF bearing and Germany Opti belt technology. The crushing rate of cassava is high, so that the bound starch can be freed as much as possible, and the extraction rate of starch is improved. In addition, the rasper contains a magnet device, which can not only ensure food safety, but also reduce the loss of the rasper.
Step 4: Separating
This section needs to use centrifuge sieve and fine fiber sieve.
Centrifuge sieve is mainly used to separate the fiber and starch slurry. Fine fiber sieve is mainly used for separating small fiber from starch slurry according to its own gravity and low centrifugal force function by screen mesh inside the drum. This is a crucial step in obtaining high quality finished cassava starch.
Step 5: Desanding
The desander is to remove the sand in the separated starch slurry to ensure the quality of the finished cassava starch.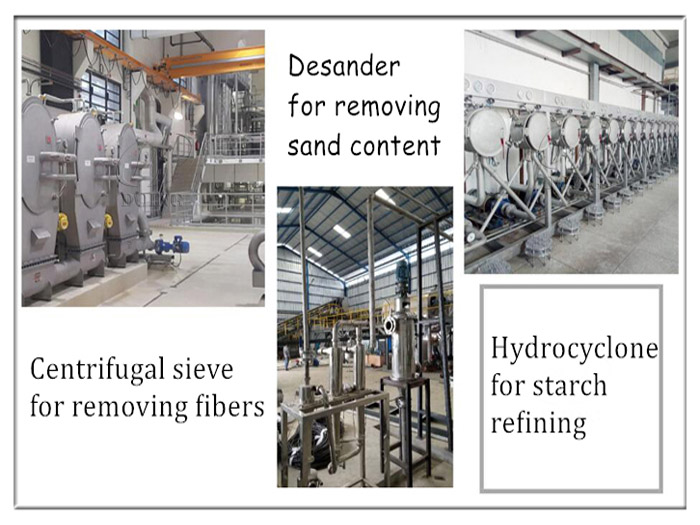 Cenbtrifuge sieve, desander and hydrocyclone station
Step 6: Refining
Hydrocyclone station is used to remove fiber, protein and cell sap out of starch milk to concentrate and delicate scrubbing starch milk. Henan Jinrui's hydrocyclone station adopts eighteen-stage cyclone process, which can obtain high-quality purified starch milk.
Step 7: Dewatering
The peeler centrifuge is used to dehydrate and separate the wet starch milk from solid and liquid, and the dehydration effect is good. Henan Jinrui's peeler centrifuge is a solid-liquid separation equipment with automatic feeding and intermittent discharge, and its production capacity is increased by nearly 50%.
Step 8: Drying
Flash dryer is used to dry wet starch, and because of the high heat exchange rate, instant drying can be achieved.
Step 9: Sieving
Different granules and powdery materials are screened with high precision through the screens of different mesh numbers in the vibration sieve.
Step 10: Packing
The automatic packaging machine is used to pack the sieved cassava starch according to a certain weight.
Henan Jinrui cassava starch processing machine has a large processing capacity and a short production cycle, which can effectively reduce the cassava stacking period and improve the production efficiency and the quality of the finished cassava starch.
If you want to know the price of cassava starch processing machine, please leave us a message.

Chat Online

Tel/WhatsApp
0086 135 2661 5783

Leave Message