Cassava flour production in Nigeria - development trends analysis
Cassava is an important food in Nigeria and is the Food Security variety recommended by the Food and Agriculture Organization of the United Nations. According to the FAO, the world's cassava production in 2013 is around 250 million tons per year, valued at about $100 billion. FAO reported that Africa provides about half of the world's cassava supply, while Nigeria ranks first in Africa with an annual output of about 45 million tons, valued at about $18 billion, or about one-third of Africa's production. The main uses of cassava are in food, feed and industrial development. However, more and more cassava use has been discovered in the past decades. An important useage of cassava is to replace wheat flour by cassava flour.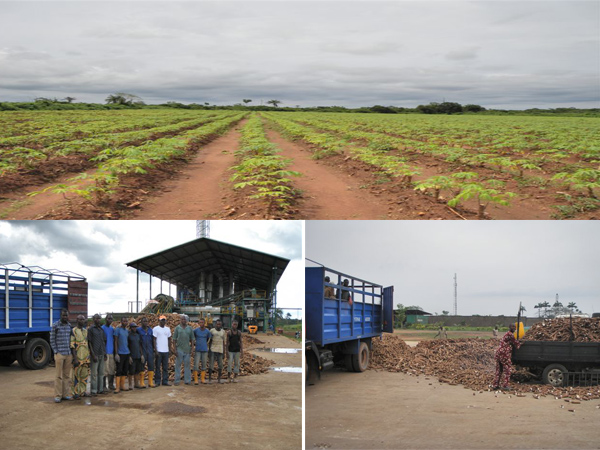 Cassava in Nigeria
Dr. Abdul-Rasak Adebowale, a lecturer and expert at the Department of Food Science and Technology at the Federal Agricultural University, proposed an initiative to add 10% cassava flour to the bread in order to make cassava an industrial crop. He also said that the simultaneous consumption of cassava and bread will not affect health, and the taste and appearance of the bread will not change due to the addition of 10% cassava flour. However, cassava flour production in Nigeria can not even meet domestic demand.
It is estimated that 30% of cassava tubers are lost as waste due to the lack of processing and preservation mechanisms in Nigeria. A more acceptable way to preserve cassava is to convert it to cassava flour. According to the Nigerian Ministry of Agriculture, the demand for local cassava flour in Nigeria is large and cassava flour production in Nigeria is promising.
Agriculture Minister Adesina said that Nigeria imports 635 billion naira (about 4.2 billion US dollars) of wheat every year. If cassava flour is used instead of 50% wheat flour for bread processing, it will save 315 billion naira per year.( about 2 billion $). Therefore cassava flour production in Nigeria encourage farmers to grow cassava and provide more jobs.
In 2002, Nigeria adopted the policy of replacing 10% flour raw materials with cassava flour. During the period from 2002 to 2008, cassava production increased by 10 million tons, making Nigeria the country with the largest cassava production. Cassava flour production in Nigeria also increase significantly.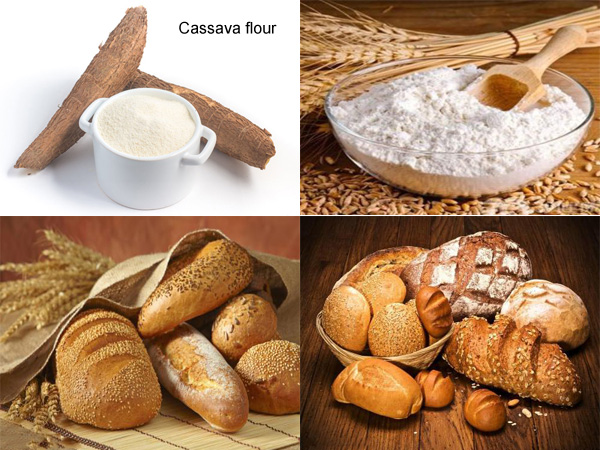 Cassava flour replace wheat flour for bread making
Nigeria has an annual output of 550 million breads in 2014. Relevant person analysis, a 950 grams of bread, the cost price is 220 naira, of which the cost of wheat flour accounts for 35%, is 77 naira. if cassava flour replaces 40% of the flour, then 550 million bread with cassava flour is 16.9 billion naira (about 100 million US dollars). Cassava flour production in Nigeria saves money for the country.
To promoote cassava flour production in Nigeria, the government of Nigeria adopts a series of measures to encourage the production and processing of cassava flour for export
1. In July 2002, the Federal Government inaugurated the Presidential Initiative on Cassava with the objective of promoting cassava as a foreign exchange earner for the Nigeria.
2. In January 2005, the policy of "bread ingredients must include 10% cassava flour" was implemented;
3. In addition, Nigeria's preferential policies include: high-quality cassava flour bread producers will enjoy a 12% tax benefit from 2012; all machinery and equipment used for processing cassava flour will be tax-free which greatly promote cassava flour production in Nigeria. It is reported that in order to ensure the supply of cassava flour, the Nigerian government cooperates with the private sector and plans to build 12 high-quality cassava flour processing plant in 2012 with a daily processing capacity of 240 tons.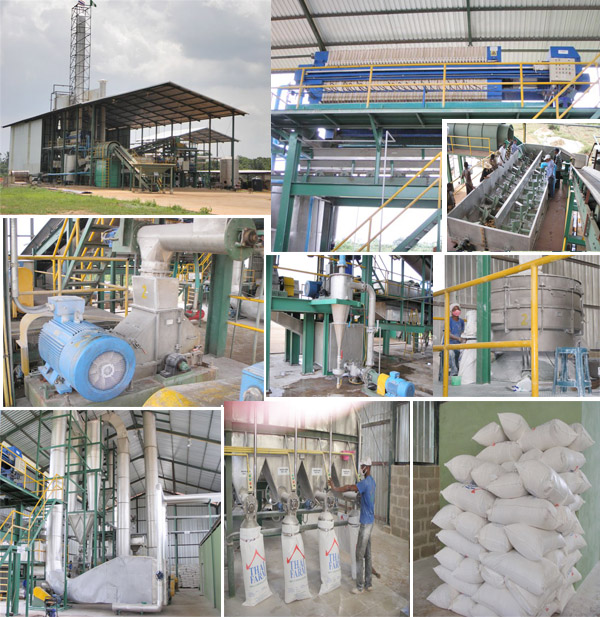 Cassava flour processing plant
4. According to the Nigerian Independent on June, the Nigerian Bureau of Standards (SON) awarded a certificate to a commercial enterprise producing cassava flour in Benue State in 2017, which means that the enterprise's cassava flour can be used for export.
The head of the Standards Bureau said that the organization will assist SMEs to achieve more results in the areas of standardization and quality assurance for cassava flour production in Nigeria so as to enhance product quality and enhance international competitiveness.
The demand for cassava flour in the international market has increased significantly, prompting African countries, especially Nigeria, to target the export of cassava flour and related products as a new growth point for increasing national fiscal revenue and expanding export earnings. The export of Nigerian cassava flour is currently in its infancy, and there is a lot of room for development. Cassava flour production in Nigeria is Immature in technology, not advanced in equipment. In order to meet the needs of the local industry and create space for foreign exchange in the export market, mass production of high-quality cassava flour is necessary. As a enterprise who can provide complete set of cassava flour processing equipment, if you are interested in cassava flour production, welcome to contact us.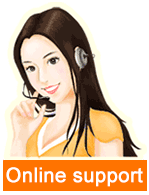 Leave a message

Tel/Whatsapp:+86 135 2661 5783