Potato starch machinery supplier
Doing Company is a professional potato starch machinery supplier, located in Zhengzhou, Henan province, China. Doing Company dedicated in the potato starch machinery design, manufacturer, and develop, we mastered mature potato starch machinery manufacturing technology, exprienced several years potato starch machinery supply and export home and abroad. Next is the all main potato starch machinery introduction, this will be easily for your select.
As a professional potato starch machinery supplier, we can guarantee our machinery: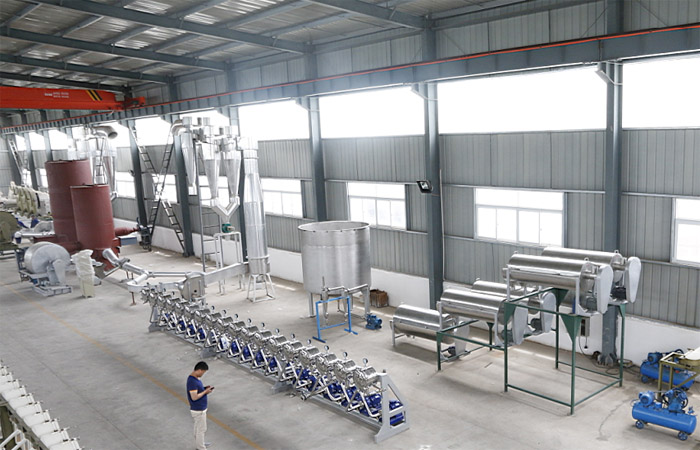 Potato starch machinery supplier
a: Fully communicate with the user to provide the best engineering design and facility layout.
b: Good performance, high efficiency, stainless steel structure.
c: Made by high level technology, potato starch machinery manufacturing excellence.
d: Good supervision, commissioning and assistance, low maintenance, simple operation, closed system to production starch, easy to clean and CIP
e: Pumps, motors, piping and instrumentation installed on one same integrated frame.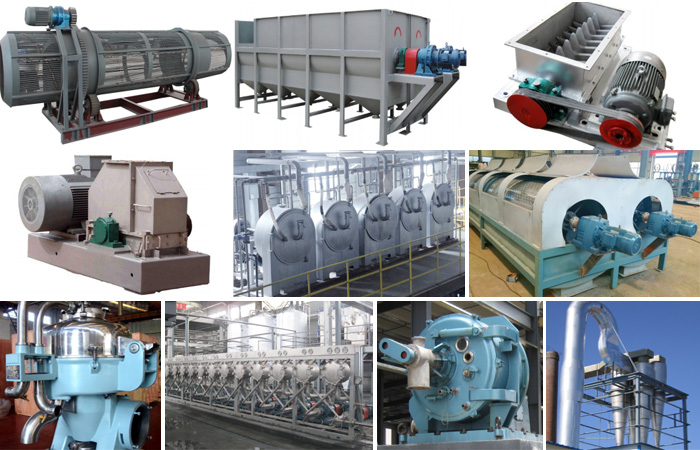 Main potato starch machinery
On the other hand, also need to introduce our supplies potato starch machinery: main potato starch machinery contain potato cage cleaning machine, potato rasping machine, centrifuge sieve, desanding machine, disc seperator, hydrocyclone station, vacuum filter and air drying. Except these, also have many others little machinery used for potato starch production, following is these main machinery function and usage divided description:
1- Potato cage cleaning machine: Adopt counterflow working principle with potato and water, fully remove the dirt from potato performance. In the bottom of our cage cleaning machinery, there are impurities(sand, stones, leaf, etc) collecting tank, also equipped with diversion trench, keep your starch production plant cleaning.
2- Potato rasping machine: as its name, this machine function is rasping the potato into potato starch slurry, this is the first step for potato starch extrction, rasping potatoes into fine particles to entirely free the starch in pootato cell walls.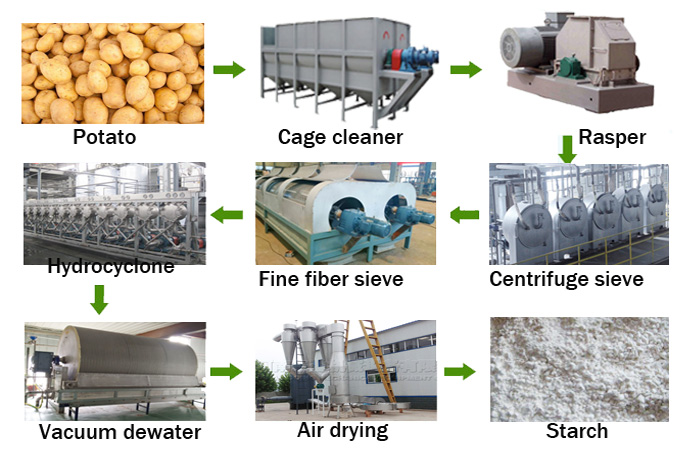 Main potato starch machinery working order
3- Centrifuge sieve: this machinery function is to seperate the fibre from potato starch slurry, aimed to remove larger fibres. Our centrifuge sieve machinery front and back washing system guarantee the sieve screener no block, this is essential factor to make sure whole production continuously working, as a potato starch machinery supplier, we supply best machinery to you.
4- Desanding machine: this machinery also for potato starch slurry washing, can filter little sand and fine fiber out, to get cleaning starch slurry.
5- Disc seperator: maybe you are the first time listen to this potato starch machinery, actually, it's a new added machinery for potato starch production, it's function is to seperate the protein and cell liquid out of potato starch slurry, also can be used for the starch slurry purification, not only decrease the hydrocyclone station working pressure, also improve the starch products quality. We suggest you combined this machinery used with hydrocyclone.
6- Hydrocyclone: closed system to washing potato starch slurry, it's function include concentrate, recovery and washing to remove protein and cell cep. The last step for potato starch slurry purification.
7- Vacuum filter: also a new type dehydration machinery designed for potato starch, it is pneumatic controlled scraping blade discharging and the scraper is made by high hardness alloy, discharging wet starch cleanly than before.
8- Air drying: rapidly drying the wet starch, prevent it change to yellow, keep starch products white, high heat exchange rate, make sure the moisture uniformity.
Potato starch machinery supplier, Doing Company is a leader, welcome to have a visiting. Any questions about the potato starch production process, weclome to contact us,our engineer will give you a feasibility potato starch process program according to your requirement.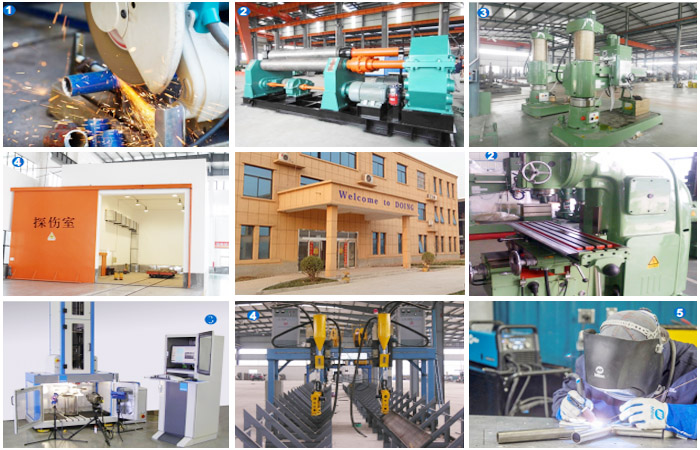 Potato starch machinery under manufacturing
Henan Doing Company founded in 1999, develop up to now, has been equipped with three factories with different production scale, as a potato starch machinery supplier, our machinery sale to many countries and areas, get high reputation from our client. Doing company focus on developing new products and technology, equipped with specialize technical engineers more than 30, modern installation equipment and the most professional installation team, we guarantee the stable running of all our projects. Now,Doing Company potato starch machinery have been supply to Nigeria, Ghana, Tanzania, South Africa, Thailand, India, Uzbekistan, Russia, Kenya, Indonesia, Cameroon, Liberia, Pakistan, Bangladesh, America, Egypt, Brazil and many other regions, get high reputation home and abroad.

Chat Online

Tel/WhatsApp
0086 135 2661 5783

Leave Message