How is potato starch processed from potato?
Potato starch is extracted from potatoes which have a high starch content. Potato starch has been widely used in the production of various cuisines, such as cakes, cooking, pasta and so on. Although we often use it in our daily life, some of us are not familiar with how to process potatoes into potato starch, please let this article answer for you!The potato starch production process mainly includes the following six parts: cleaning, grinding, separating, refining, dewatering and drying.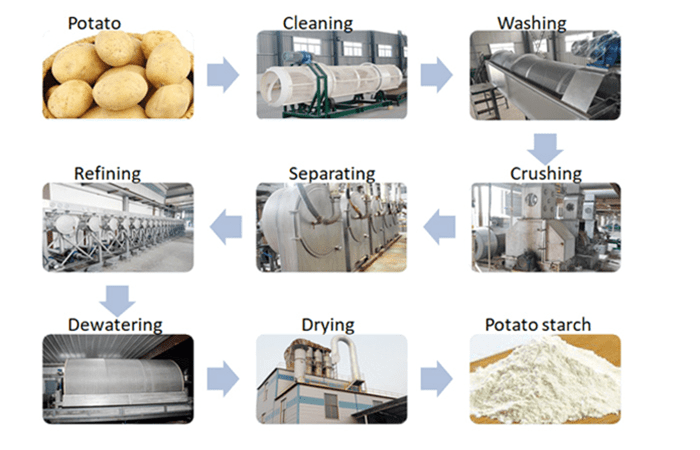 Potato starch production process
①Cleaning: remove impurities attached to the surface of cassava raw materials
Put the fresh potato raw material in dry sieve to remove the surface mud and sand. It's the first step of potato starch process and very important for the quality of final potato starch.After that, the rotary washing machine is used to make complete washing.
②Grinding: grind the potato into the smooth potato slurry
Using the rasper to crush the washed potato into the slurry and separate to remove the coarse potato residues to obtain uniformly smooth potato slurry. The rasper and all food contact areas should be made from stainless steel.
③Separating: separate fine potato residues from potato slurry
Centrifuge sieve and fine fiber sieve are widely used in the extraction of potato starch.They carry out the physical operation to separate fine potato residues from potato slurry. Oversize particles of potato residues cannot pass through the lattice structure of them, while fluid and small particles of potato slurry can pass through to become filtrate.
④Refining: refine the potato starch slurry into pure starch milk
The starch slurry will get into the hydro-cyclone station,where the starch slurry is concentrated and refined by the counter-current flow. The refined and purified starch milk will be collected into stirred starch tank.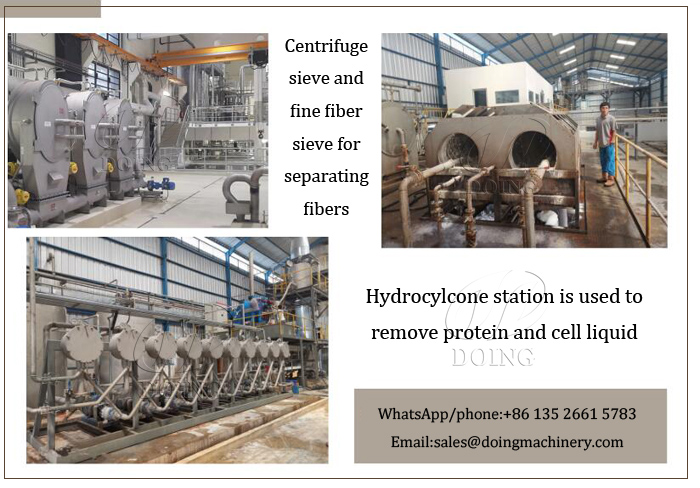 Potato starch processing machine
⑤Dewatering: dewater the pure starch milk into wet potato starch
Dewatering the pure starch milk to the low water content of 35-40% by the vacuum filter with principle of vacuum suction filtration. Ensure sufficient water has been removed, otherwise, the starch will form into lumps during drying.
⑥drying: dry the wet potato starch into qualified potato starch
Flash dryer is used to dry the wet starch into dried starch with low moisture content effectively. The flash dryer adopts the principle of heat transfer exchange,so the drying process is more reliable and of higher quality. After drying,you may get the qualified potato starch.
Henan Jinrui Company's potato starch machine extraction rate can reach 94%.We can not only offer you the price lists of all kinds of potato starch processing machine, but also arrange the factory visit, operator training activities,etc. If you want to purchase potato starch processing machine or know more detailed information, welcome to email or call Henan Jinrui Company at any time.

Chat Online

Tel/WhatsApp
0086 135 2661 5783

Leave Message