What are the machines used to process cassava to garri?
Nowadays, due to the limitations of traditional manual garri processing way, such as low efficiency, long time-consuming, and low automation degree, more and more people choose to use modern garri processing machine to process cassava into garri. So what are the machines used to process cassava to garri? Here Henan Jinrui company made an equipment list for you reference. Machines used to process cassava to garri contain dry sieve, paddle washer, cassava peeler, cassava grating machine, dewatering machine and garri fryer.
| | | | |
| --- | --- | --- | --- |
| Item | Garri processing machine | Pictures | Function |
| 1 | Dry sieve | | Remove impurities on the surface of cassava, like dirt, sand, small stones, weeds, etc. |
| 2 | Paddle washer | | Wash cassava completely and eliminate sand&mud effectively. |
| 3 | Cassava peeler | | Remove the two layers of cassava raw materials. |
| 4 | Cassava grating machine | | Crush the fresh clean cassava tubers into particles and then pack them for fermentation. |
| 5 | Dewatering machine | | Squeeze out the water in the fermented crushed cassava. |
| 6 | Garri fryer | | Automatically stir and control the temperature to fry cassava materials into final garri product. |
From what have been listed above, we may see clearly and have a better understanding of garri processing machine. The garri processing machine not only is related to the garri processing efficiency, but also related to the quality of final garri product. All these have direct impact on the economic benefits of the garri processing line. So it's suggested to buy high quality garri processing machine from professional manufacturer.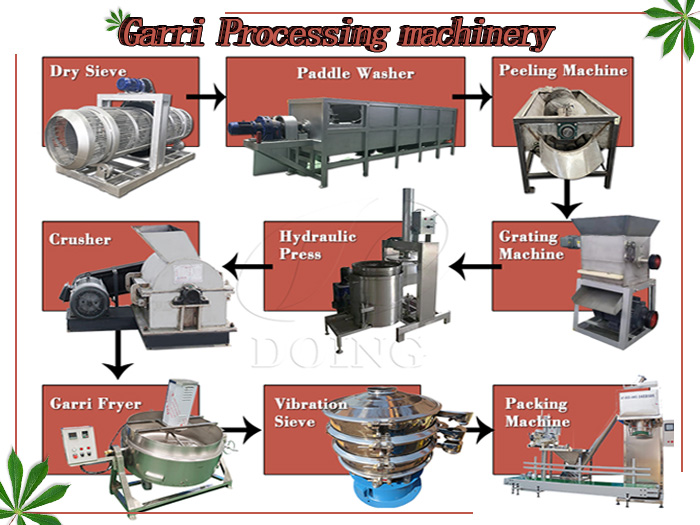 Prototypes of garri processing machine
Henan Jinrui company has been engaged in cassava processing machine manufacture and installation for 10+ years, and we have customized many sets garri processing machine for customers in Nigeria, Ghana, Sierra Leon, Liberia, Cameroon, etc. And our garri processing machine is high praised by its stable running, high professing efficiency, easy handling, energy saving features. And all the equipment parts contact with garri processing materials are made of stainless steel material, the quality of final garri product is guaranteed. If you have interests in our garri processing machine, welcome to contact Henan Jinrui company and tell us your requirements. Our engineer team can customize you professional garri processing solution and machines for you at factory price!

Chat Online

Tel/WhatsApp
0086 135 2661 5783

Leave Message