Why not peel cassava tubers during cassava starch processing?
Generally, cassava processing includes cleaning part, processing, and drying part. Compared with other cassava product processing, cassava starch processing has an important difference: No peeling part. Some people wonder why not peel cassava tubers during cassava starch processing.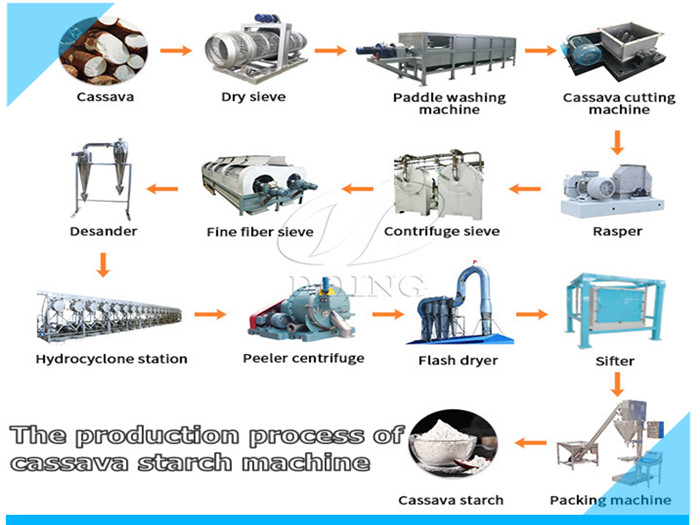 Cassava starch processing process
Actually, cassava starch processing has a step which is to remove fibers, pectin, and proteins to get pure starch milk after grating. We called it a centrifugal sieve machine and normally be matched in series according to different capacities. Cassava fibers are separated by a centrifugal sieve machine including peels an inner pulp fibers. And centrifugal sieve machine is enough to separate cassava fibers and grate peels out, so the cassava peeling machine isn't essential in the machine list. And clients can save some cost in cassava starch processing projects. After the centrifugal sieve machine, cassava fibers can be mostly separated out. Final cassava starch can be used in food processing and industry etc.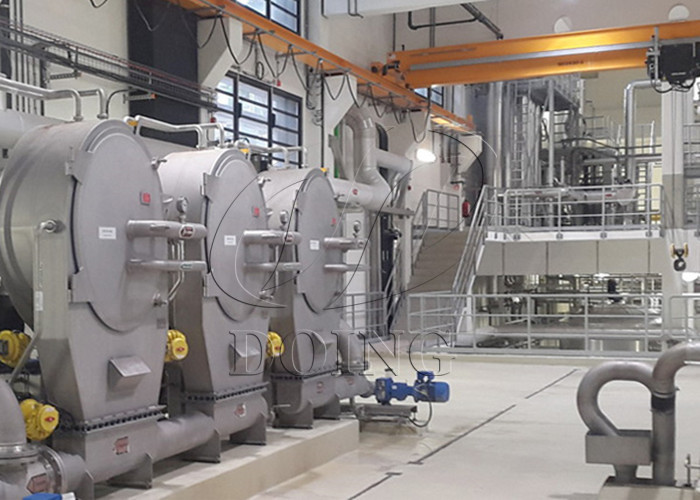 Centrifugal sieve machine of cassava starch processing line
Moreover, cassava starch processing technology has a long history and already matured in recent years. Henan Jinrui Food Company is one of the professional machine suppliers in China, which has already done business for over 10 years and did many projects in Africa and other countries. From machine processing, delivery, installation, and testing, Henan Jinrui Food Company has complete plans to guide clients to achieve cassava processing projects step by step. Furthermore, their engineers will design cassava processing project layout drawings for clients, including processing technology drawings, machine layout drawings, and factory layout drawings. Clients can build factories according to our guide to save much time. [See also: What necessary machine is needed to purify starch in cassava starch processing plant?]
If you have any ideas to invest cassava processing project, kindly feel free to contact us any time. We will be pleased to get your news.

Chat Online

Tel/WhatsApp
0086 135 2661 5783

Leave Message