What is the function of hydraulic press machine in garri production line?
In recent years, more people in Africa, especially Nigeria, Ghana, etc, apply mechanical garri production machines to improve garri production efficiency.
Among the garri production machines, garri frying machine, cassava grinding machine and hydraulic press machine are very prevalent and hot sales in Africa. So, today, Henan Jinrui company will take one of them to introduce-----the most hot sale machine hydraulic press machine.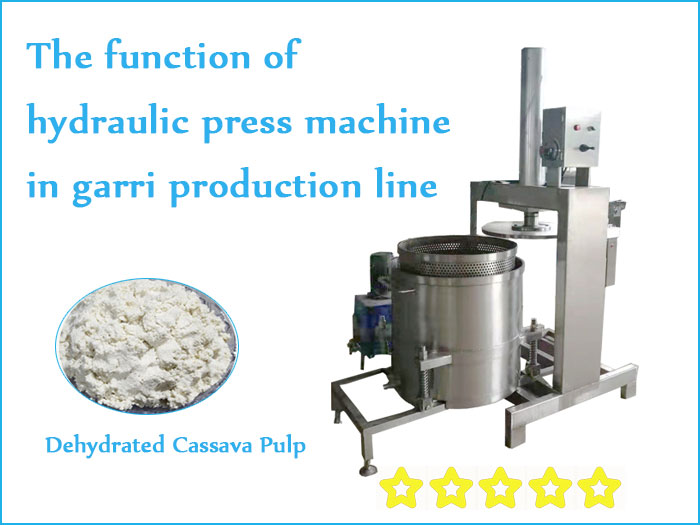 Hydraulic press machine
The hydraulic press machine is one type of cassava dewatering machine, which is mainly used to squeeze out the water contained in the crushed cassava in garri production line. This step will influence the taste and quality as well as yield of the finished product garri if the moisture in the cassava pulp does not press out.
And there are some kinds of hydraulic press machine to dewater cassava pulp in market, they have different effects on garri frying process. Some hydraulic press machine is not fully made of food grade stainless steel and but made of mild steel which is bad for food and will effect the taste and quality of garri finally. So where to buy high quality hydraulic press machine for garri production line? It's recommended to buy this machine from professional garri processing machine manufacturer, Henan Jinrui Company which has rich experience in making cassava processing machine in China. It has sold its machines to more than 35 countries and regions of the world.
Henan Jinrui's hydraulic press machine is totally made of food grade stainless steel 304, ensuring long service life and security of food production. And it can be used for dehydrating cassava mash and moisture is around 40% after dewatering, thus reducing the energy consumption in the subsequent frying process. It is also matched with one control box, which is easily operated.
Henan Jinrui Company not only produces high-quality hydraulic press machine, but also a complete set of garri production lines, including cassava peeling machine, cassava grating machine, garri fryer and vibration sieve, etc. According to different production requirements,Henan Jinrui company can be customized and adjusted according to customer needs. If you have the need hydraulic press machine or garri processing machine, feel free to contact us any time.

Chat Online

Tel/WhatsApp
0086 135 2661 5783

Leave Message