Sweet potato starch extraction solution
To figure out the sweet potato starch extraction solution is the popular trend in the world because sweet potato contains high starch content and nutrition. In China, many professional manufacturers and suppliers have rich experience on producing high purity starch with good quality sweet potato starch extraction equipment. Here is the answer of the sweet potato starch extraction solution.
Six steps are included in the sweet potato starch extraction solution.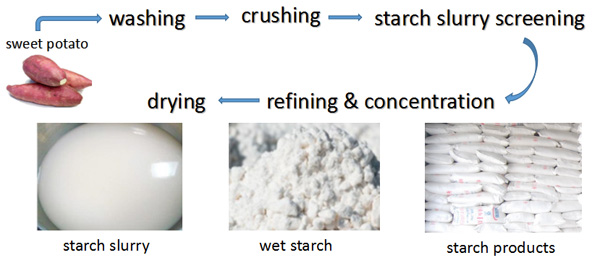 Sweet potato starch extraction process
Step 1 Washing section:
Dry sieve can effectively remove silt, sand and small stones, it has the ability to avoid sewage disposal. According to multiple spiral operation, rotary washing machine is especially suitable for cleaning of potatoes and sweet potatoes. Rotary washing machine is able to remove the dirt and impurity from the outer of sweet potato in starch processing line. It is made of stainless steel with good appearance for long time usage. The length of the rotary washing machine can be customize according to capacity requirement. This is the very beginning step of sweet potato starch extraction solution. The section also can be performed manually.
Step 2 Crushing section:
Rasping machine is best for crushing sweet potato, and the machine has advanced technology. High extraction rate is important for the next operation. It has the features of modern design and high rasping coefficient.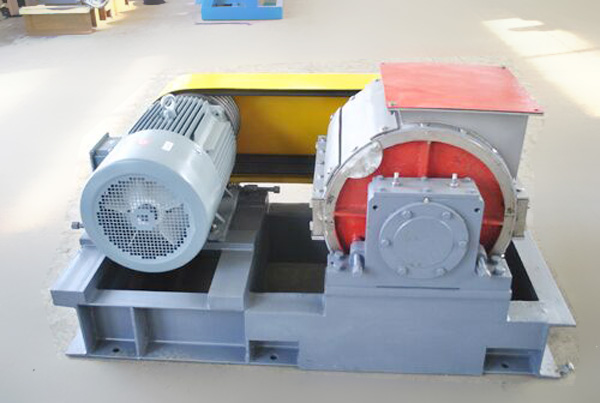 Rasping machine in Doing Company
Step 3 Screening Section:
There are two main machines in the section, centrifuge sieve and fine fiber sieve. Centrifuge sieve has a part that spins around to separate substances. It is mainly used for separating the fiber and starch slurry after crushing. Stainless steel structure ensures food safety, and the precision grade of dynamic balance of sieve basket is G6.3 to ensure stable operation. This is the main part of sweet potato starch extraction solution
Fine fiber sieve for starch separating is mainly used for the removal of fine fiber in crude starch with high throughput and low energy consumption. The operation principle of fine fiber sieve for starch separating is its own gravity and own centrifugal force function by screen mesh inside them.
Step 4 Refining Section:
First, hydro cyclone station needs to remove fiber, protein and cell.
Second, vacuum filter is a solid-liquid separation machine which is formed by vacuum pressure and vacuum filtration. The machine is to enhance the dewatering rate.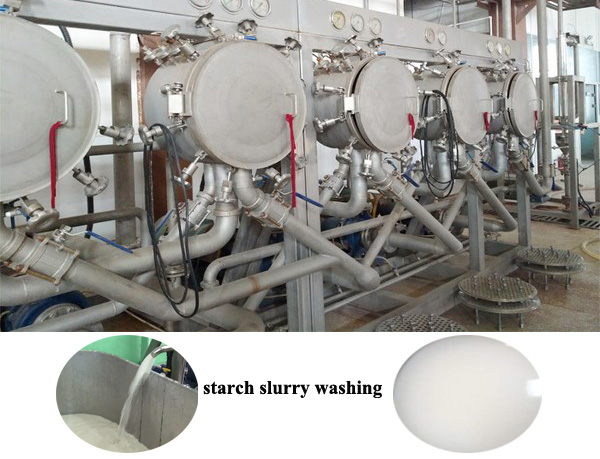 Hydrocyclone
Step 5 Drying Section:
Airflow flash dryer(click the link to see the video) is the last part of sweet potato starch extraction solution. It is able to reduce the loss of starch depends on negative pressure system and guarantee the high standards of final project.
Step 6 Packing Section:
The automatic packaging system can realize the integrated process of quantitative measurement, automatic bag and sealing. The whole process has high automation, good reliability and unattended state.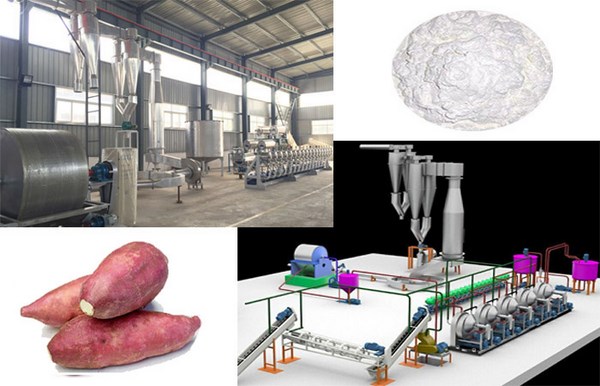 Doing Company sweet potato starch extraction machine
All the above is the specific information of the sweet potato starch extraction solution.
The raw material of sweet potato is cheap, it is easy to obtain and handle, therefore the sweet potato starch market is vast and the economic value is high. Doing company is devoted himself to the research of sweet potato starch extraction solution for many years. After that, the most economical and effective solution of sweet potato starch extraction has been obtained, making sure the low investment and high return.
Leave a Message About Sweet potato starch extraction solution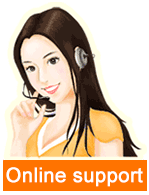 Leave a message

Tel/Whatsapp:+86 135 2661 5783