Flash drying system for starch production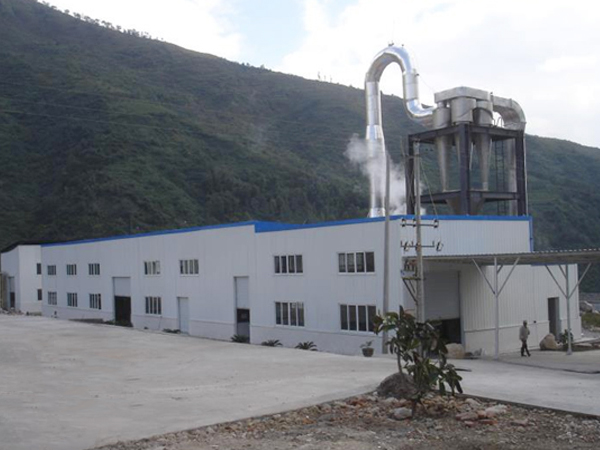 Factory direct sale contact number
Description of flash drying system
Flash drying system is the ideal equipment for tapioca starch production. Starch dried by this equipment features in clean appearance, glossy luster, smooth powder, and stable moisture while wheat gluten features in high water absoption, excellent activity and original flavor.
Flash drying machine can be designed and produced based on customers' requests on space and warehouse, which is convenient for installation, operation and maintenance.
Air speed in this flash drying system is continuously changed because of different section diameters of pulse tubes, therefore, heat transfer coefficient is high and mass materials can be dried well.
This equipment features in simple structure, easy operation, low investment, as well as compactness.
Structure of flash drying system: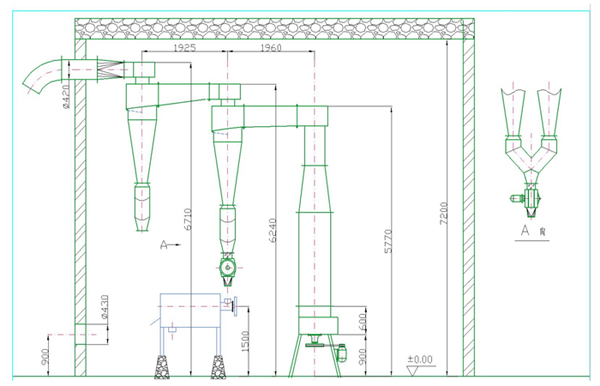 Working principle of flash drying system
Sludge, powder and granular material are in the state of suspension under the effect of high-speed hot air in this starch dryer machine. As flow speed is high, the wet tapioca starch particles suspended in air, the heat transfer surface and heat transfer coefficient of gas-solid is high, and drying time is short (most of the dry material less than 2 seconds), it is particularly suitable for drying of heat sensitive materials.
During the drying process, clean the air heater through the cold air from the wet starch after delivering the transport auger feeder into the air duct by the young wet starch mixture, are instantly dry, dry starch cyclone, discharging auger off air control exhaust, emissions into the atmosphere by the fan.
The machine can be controlled, both manual and automatic operation. When it is by automatic control, the exhaust gas temperature of automatic measure by water controlled will send back the signal to the previous feeding adjustable motor. By this way, the feeding capacity can be controlled. Also the output moisture content of tapioca starch production will be ensured.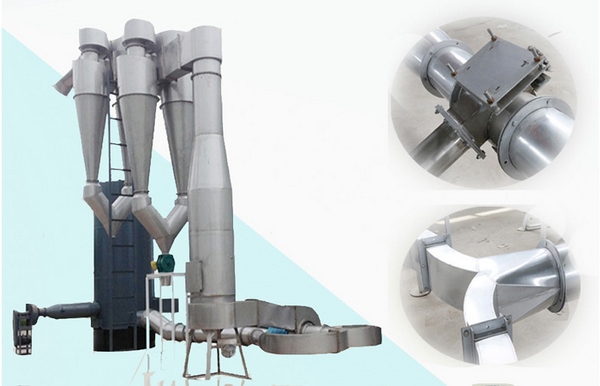 Flash drying system
Main technical specification of flash drying system
型号

Model

进料淀粉湿度Moisture of wet starch

出料淀粉湿度Moisture of product starch

淀粉产量

Starch capacity(t/h)

功率Power(kw)

DYFD -0.8

≤40%

12-14%

0.8

24.3

DYFD -1

≤40%

12-14%

1

26.6

DYFD -2

≤40%

12-14%

2

47.6

DYFD -5

≤40%

12-14%

5

123.4

DYFD -10

≤40%

12-14%

10

223.5

DYFD -15

≤40%

12-14%

15

321

DYFD -20

≤40%

12-14%

20

420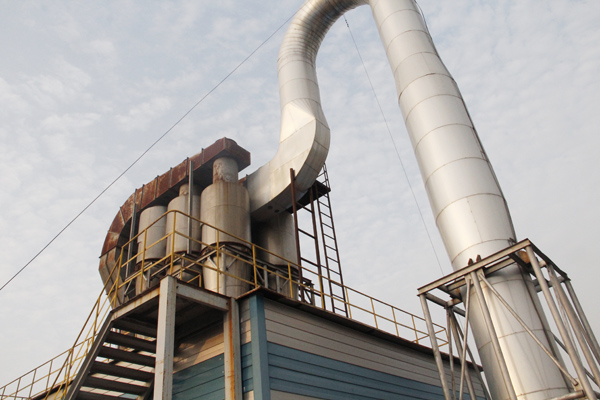 Flash drying machine
Characteristics of flash drying system
1. Using air instant drying principle, with the characteristics of high drying intensity.
2. Short drying time, low steam consumption and fast dewatering of flash drying system
3. High thermal efficiency and excellent quality of tapioca starch production
4. High drying intensity and strong dewatering ability
5. Simple structure, small area occupied and low investment in flash drying system
6. Negative pressure environment, clean and no pollution
7. Mature technology application in tapioca starch production
Application of flash drying system

DYFD Flash drying system is widely applied in the tapioca starch production which requires fast drying and heat sensitive powder. Slice material such as corn/wheat/potato, protein flour, rice bran, chemical industry and foodstuff, etc can all apply this drying system.
CONTACT US
DOING company offers cassava processing machine from single machine to the complete production line. If you want to get more details about cassava processing machine, please contact us:
Do you want to buy machine?
Yes, I want to buy machine
No, I Just learning
What is your raw material?
Cassava
Potato
Sweet potato
Others
2. What is the final product you want to produce?
Garri
Cassava flour
Cassava starch
Cassava chips
Attiekie
Bammy
Others
3.What is your capacity plan?
Small scale garri machine
1ton per day
2tons per day
3tons per day
10tons per day
20tons per day
Others
3.What is your capacity plan?
Small scale
5tons per day
10tons per day
20tons per day
50tons per day
100tons per day
Others
3.What is your capacity plan?
Small scale
5tons per day
10tons per day
20tons per day
50tons per day
100tons per day
200tons per day
300tons per day
Others
3.What is your capacity plan?
Small scale
Middle type
Large scale
What is your capacity plan?
Small scale
5tons per day
10tons per day
20tons per day
50tons per day
100tons per day
200tons per day
300tons per day
Others

Chat Online

Tel/WhatsApp
0086 135 2661 5783

Leave Message