Starch refining machine-Hydrocyclone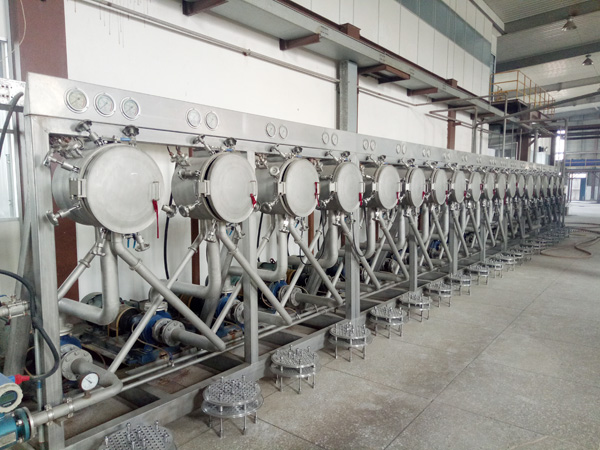 Factory direct sale contact number
Hydrocyclone station is one of key equipment used in starch production line. It is used to remove protein, cell liquids, etc., concentrate and wash starch milk, ensure finished starch meet high quality requirement. The general process of full hydrocyclone includes three parts: concentration, recovery and refining.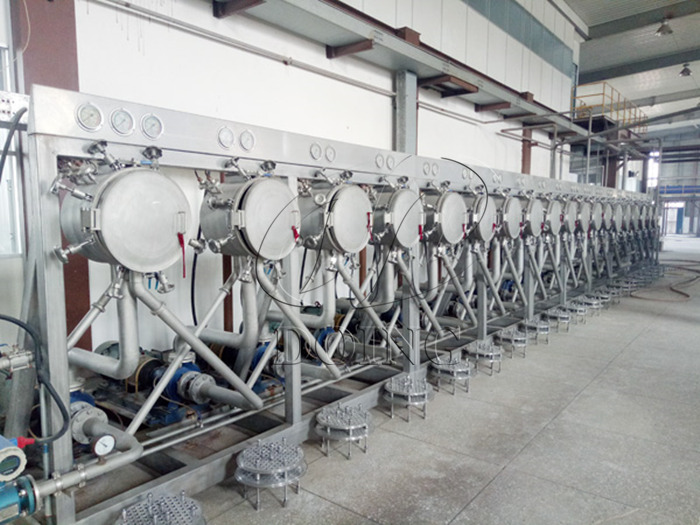 18-stage complete hydrocyclone unit
Equipment structure:
The equipment mainly consists of body structure, cylinder, cyclone pipes, feeding port, overflow port and underflow port.
Working principle:
The material enters at the tangential position of the cyclone tube at a certain pressure, rotates in the tube, and generates large centrifugal force. The particles or substances with larger specific gravity move downward and are discharged from the underflow hole. The particles with smaller specific gravity move upward from the overflow and discharged. Starch particles have larger gravity that will separated and discharged from underflow port.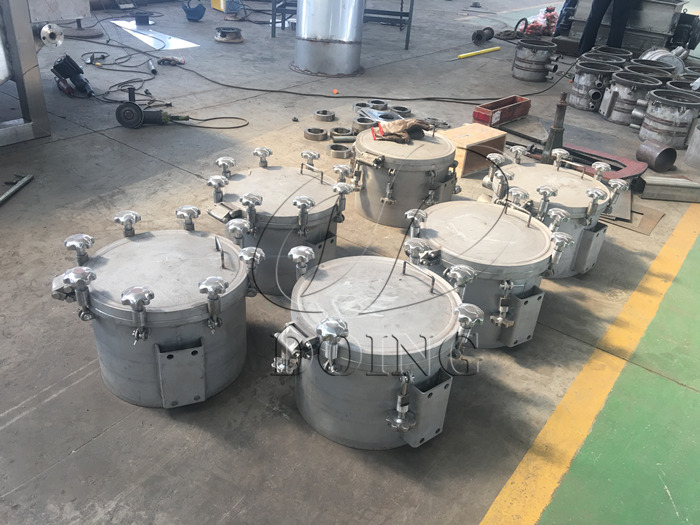 Cylinders of hydrocyclone
Design advantages of hydrocyclones:
1.Our hydrocyclone is designed using a full cyclone process for starch washing and refining. Usually the hydrocyclone consists of 18 stages in series. The first to third stages are used for starch recovery, the fourth to fifth stages are used for starch milk concentration, the sixth to seventh stages are used for starch recovery, and the eighth to eighteenth stages are used for concentration, washing and refining.
2.The starch slurry is concentrated and washed gradually from the first stage to the last stage of the hydrocyclone. The whole process adopts the counter-current principle, and clean soft water is added in the final stage of the hydrocyclone to ensure that the starch milk is clean and pure.
| | | | |
| --- | --- | --- | --- |
| Model | DYX-362 | DYX-438 | DYX-516 |
| Capacity (t/h) | 3-4 | 5-6 | 7-8 |
| Material | Stainless steel | Stainless steel | Stainless steel |
| Plate diameter (mm) | 362 | 362 | 516 |
| Power (kW/stage) | 7.5-11 | 11-22 | 15-37 |
| Weight (kg) | 360 | 520 | 630 |
CONTACT US
DOING company offers cassava processing machine from single machine to the complete production line. If you want to get more details about cassava processing machine, please contact us:
Do you want to buy machine?
Yes, I want to buy machine
No, I Just learning
What is your raw material?
Cassava
Potato
Sweet potato
Others
2. What is the final product you want to produce?
Garri
Cassava flour
Cassava starch
Cassava chips
Attiekie
Bammy
Others
3.What is your capacity plan?
Small scale garri machine
1ton per day
2tons per day
3tons per day
10tons per day
20tons per day
Others
3.What is your capacity plan?
Small scale
5tons per day
10tons per day
20tons per day
50tons per day
100tons per day
Others
3.What is your capacity plan?
Small scale
5tons per day
10tons per day
20tons per day
50tons per day
100tons per day
200tons per day
300tons per day
Others
3.What is your capacity plan?
Small scale
Middle type
Large scale
What is your capacity plan?
Small scale
5tons per day
10tons per day
20tons per day
50tons per day
100tons per day
200tons per day
300tons per day
Others

Chat Online

Tel/WhatsApp
0086 135 2661 5783

Leave Message